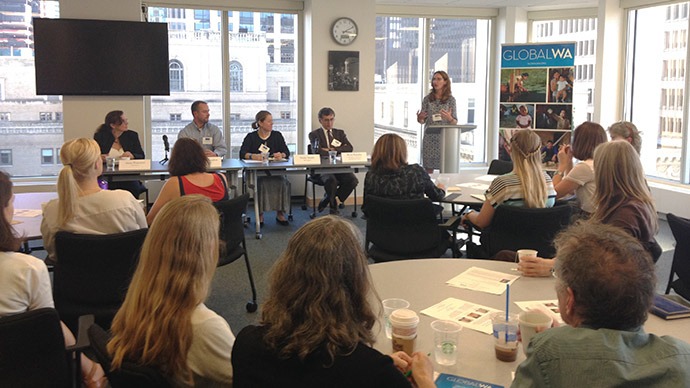 On September 14, Global Washington hosted a panel discussion on mass migration and its effect on our world. Resat Kasaba, Director, Stanley D. Golub Chair of International Studies for UW's Jackson School moderated the panel. Participants included Anne Peterson, Senior Vice President of Global Programs for Americares; Jonathan Scanlon, Senior Advocacy Advisor for Oxfam America; and Nicky Smith, Executive Director of IRC Seattle. The speakers addressed their leadership in regards to the crisis, and how their organizations are tackling the challenges and opportunities that lie ahead.
The Global Washington panel was strategically placed in the week leading up to meetings in New York and Washington, D.C. — The United Nations General Assembly gathers in New York this week, and President Barack Obama is hosting a Leader's Summit on Refugees in D.C. While funding, refugee resettlement and legal framework are among the issues that will be addressed, many are skeptical as to how much change these two summits will accomplish. Furthermore, world leaders Vladimir Putin, Xi Jinping and Angela Merkel will all be absent from the summits.
While Syria is largely the focus of conversation on the migration issue, Global Washington panelists touched on just how widespread the crisis really is. Kasaba's questions were simple and direct but panelists' answers were packed with information revealing the complexity of the issue. Peterson shined a spotlight on the basic health needs of refugees and migrants and stressed the importance of reaching out to those most difficult to find. In addition, she said there is a constant need for healthcare workers. Supplies sent to rural areas cannot be used unless someone is there to distribute and apply treatment.
Smith described the difficult journey that many suffer. This crisis begins with people being uprooted from their homes in the blink of an eye, with little opportunity to pack or think about what to take. Refugees are often away from their homes for years, with a large percentage never having the ability to return home because of a lack of safety. Smith also touched on the danger and depression found within refugee camps and mentioned that some chose to move to cities instead of staying in camps.
Scanlon touched on the local angle, and discussed what everyone in Seattle can do today.  For example, he explained the large disparity that exists between the number of refugees allowed to enter the U.S. and the funding allotted to their resettlement. Scanlon feels that U.S. migrant and refugee policies have a long way to go and that we all have the responsibility to notify our representatives of what we want to see happen.
Kristen Dailey, Global Washington's Executive Director, closed the discussion by stressing the enormity of this crisis — 24 people are forced to leave their homes every minute. She encouraged the audience to think about how many migrants and refugees are our neighbors, friends and colleagues. Individuals and families forced from their homes are not merely numbers. When we humanize the issue and educate people on its multidimensionality, we can more easily move forward with improving assistance and outcomes for those uprooted from their homes.