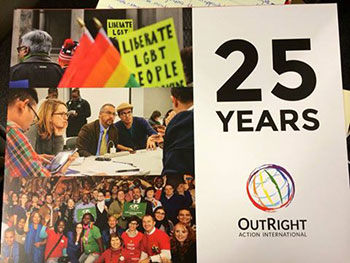 Nearly three billion people live in areas of the world where the rights of LGBTIQ individuals are abused. While LGBTIQ rights are gaining visibility and people in all walks of life are better understanding the importance of these rights, there is a battle to be fought and this is only the beginning.
OutRight Action International, a GlobalWA member, is on the frontlines of this fight. OutRight is dedicated to worldwide human rights advocacy for those who experience discrimination because of their perceived or actual sexual orientation, gender or expression. Jessica Stern, OutRight's Executive Director based out of the New York headquarters, led the April 28 GlobalWA Executive Director Roundtable. Amie Bishop, Co-Chair of OutRight's board and a Seattle resident, joined her at the table, along with Ashton Giese, OutRight's Development Associate.
The lively discussion kicked off with Stern stressing that we are presently in a time of both opportunity and crisis — opportunity because the LGBTIQ community is rapidly gaining visibility; crisis because, with this increase in visibility, the security of activists is compromised.
Jonathan Scanlon from GlobalWA member Oxfam America asked a question at the Roundtable that is on many people's minds. How do people start the conversation of LGBTIQ awareness within their organizations and leadership teams? OutRight believes that the conversation should be started organically. Stern shared that the opportunity is often right in front our noses and she used an example from the 2010 Haitian earthquake.
Because of the extreme devastation in Haiti, many were left without shelter or food. Amidst crisis, some believed the cause of the natural disaster was LGBTQI people and many in the community were discriminated against and not given aid because of their perceived or actual sexual orientation or gender identity. OutRight came to the realization that the focus in Haiti didn't need to be advocacy for the LGBTQI people as much as it needed to be simply getting people the food they needed so desperately. This led to opportunities for other aid-based organizations to get involved. OutRight believes that, if we keep our eyes open for opportunities like this, partnerships will often present themselves.
In the quest for LGBTIQ human rights justice, OutRight promotes advocacy, training and documentation. Their strategy is to promote documentation of injustices in order to hold governments accountable. In 2010, OutRight became the first U.S.-based LGBTIQ organization to gain consultative status at the United Nations, and they can now better influence governments and affect how these governments implement policies and actions in order to support LGBTIQ communities worldwide.
While OutRight leaders believe general awareness of the LGBTIQ community has dramatically improved over the past five years, their team and supporters are determined to continue growing this visibility so that societies and laws move towards greater equality for all. The international development community has an opportunity to weave this narrative throughout their work in meaningful ways, so that all people are lifted up.