Welcome to the March 2015 issue of the Global Washington newsletter.
IN THIS ISSUE
Letter from our Executive Director
Ok, I'll admit it. I've seen the movie Mad Max and I fear the fictional Water War could become our reality. 1 in 9 people around the world lack access to safe water and the World Economic Forum deemed the water crisis one of the top 10 global risks likely to occur within 10 years.
As we approach World Water Day on March 22, let's recognize the organizations, many of which are based here in Washington state, that are tackling the crisis head on and creating solutions and hope for a better future. Here are a few Global Washington members sharply focused on increasing access to clean water:
Water 1st
Water for Humans
Splash
PATH
Living Earth Institute
Global Brigades
Etta Projects
Cascade Designs/Mountain Safety Research
Bainbridge Ometepe Sister Island Association
Also in March, Global Washington will be co-hosting experts from Central America to discuss President Obama's $1 billion funding request for the region as a potential catalyst to improve the root causes of poverty. We'll also host 501 Commons Executive Director Nancy Long this Thursday at our monthly Executive Director Roundtable. Nancy will present tools and services to enhance the operations of NGOs.
In the midst of resource and water scarcity, I'm inspired by the work of Global Washington members and how they're combatting the world's most complex problems. Washington state is truly the "Global State" of international development.


Kristen Dailey
Executive Director
---
Question of the Month

GlobalWA will ask you a question every month and synthesize the responses and make available to our member organizations. Please take a moment to respond to the question for this month:
World Water Day 2015 is Sunday, March 22. Is your organization holding an upcoming event to celebrate?
---
In the News
World Water Day: March 22
By Kaitlin Marshall
On March 22, 1993, the United Nations General Assembly declared the first World Water Day (WWD). It is now an annual, global event that brings attention to water-related issues that affect people around the world. It's a day to celebrate water, but also a day to prepare for how the global population will manage water in the future. This year's theme is "Water and Sustainable Development," which refers to "how water links to all areas we need to create the future we want."
While humans can survive for weeks without food, they can only last days without water. It is necessary for survival and everyone needs a way to access a clean and stable water supply. Huge gains have been made to increase the number of people who have access to sanitary and sustainable water sources. There are, however, still 748 million people who don't have access to an improved source of drinking water and 2.5 billion people don't use an improved sanitation facility. Clean water is critical to disease prevention and keeping people healthy. Furthermore, water is a requirement of food production. By 2050, agriculture will need to produce 60 percent more food globally and 100 percent more in developing countries. One liter of water is needed to produce one calorie of food, and the current growth rates of agriculture demands on the world's fresh water supply are simply unsustainable.
Water, in addition to being vital to human health, is essential for populations to develop and thrive. Every manufactured product requires water and the global water demand for manufacturing is expected to increase by 400 percent from 2000 to 2050. The more companies maximize water efficiency, the more water there will be to boost industrialization in developing nations. Industrialization drives development by creating jobs and income. Investment in efficient technologies is crucial to sustain the global water supply. Without a sustainable global water supply, there is no guarantee that everyone will one day have access to the water they need to survive and continue developing.
There are 24 Global Washington member organizations dedicated to ensuring people have access to clean water. From creating dependable sanitation to building systems that bring water closer to communities, there are a myriad of ways to help create access to water. Below are several members who are working to develop innovative solutions that will bring water to those in need and ensure there is clean water for generations to come.
For over 40 years, the brands of Cascade Designs have manufactured and sold innovative, durable products. Mountain Safety Research, a Cascade Designs' brand, partnered with GlobalWA member PATH to develop a compelling electrochlorination product for use in the developing world.
Etta Projects works with local communities in Bolivia, providing them with access to clean water and sanitation training. The organization installs sustainable designs and teaches Bolivians how to maintain their water projects for future generations.
Living Earth Institute works in southeastern Nepal and Central America developing clean water supply and leading sanitation projects. They also invest in income generation training, micro-lending programs, literacy programs and other programs deemed necessary to support the sustainability of their projects.
Splash is dedicated to ensuring children everywhere have access to clean water and works with foreign governments and businesses to create safe water projects in poor cities. By combining modern technology with hygiene education and sustainable sanitation, Splash has created an innovative solution to bring lasting water supplies to kids everywhere.
By working with and listening to communities, Water 1st supports water projects in Bangladesh, Ethiopia, Honduras and India. They are committed to bringing convenient water supplies to people in need and integrating hygiene training into their projects. Water 1st applies a comprehensive evaluation system to monitor the progress of its projects.
Water for Humans brings reliable sanitation and clean drinking water to underserved communities worldwide through partnerships with local and international NGOs, universities and governments. They create sustainable solutions to wastewater treatment and management, and aim to stimulate local economies and protect local water assets.
Learn more about these organizations and others on the GlobalWA Member Map. For more information on the importance of water, the global water crisis, and what you can do to help conserve water resources, visit the United Nations official World Water Day web page.
---
Featured Organization
Medical Teams International
By Danyal Lotfi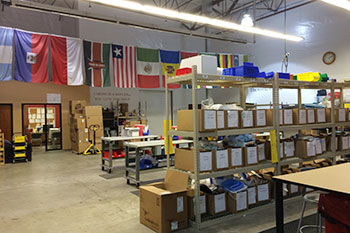 Medical Teams International (MTI), a global health, relief and development agency, was founded in 1979 by Oregon businessman Ron Post. While Post had no medical background, he felt compelled to help alleviate the mass suffering of Cambodian refugees fleeing genocide. Over the years, MTI has continued to expand and reach people in need around the globe.
Since its founding, MTI has sent over 2,500 teams of volunteer medical professionals and $2 billion in medical supplies to more than 72 countries. Motivated by faith, MTI strives "to come alongside people affected by poverty, disaster and conflict, in very meaningful, impactful and sustainable ways," just as Post did when he reached out to Cambodians over 40 years ago.
With international headquarters in Portland, OR and domestic satellite offices in Redmond, WA and Zeeland, MI, Medical Teams International focuses on responding to disasters when local infrastructure cannot meet the demand for aid. The Global Washington member provides medical services, as well as training and supplies, to vulnerable communities that lack sustainable health services. MTI's long-term work will continue to grow more important as the organization deals with more human-driven conflict than ever before.
Three out of five of MTI's current disaster relief projects are in response to human-driven conflicts. "The face of vulnerability is changing," said Jeff Pinneo, who joined the organization as its President and CEO after several years on the board while working nearly three decades with Horizon and Alaska Airlines, most recently as Horizon CEO. MTI is currently working with displaced Syrians in Lebanon, Congolese Refugees in Uganda, and South Sudanese Refugees, also in Uganda.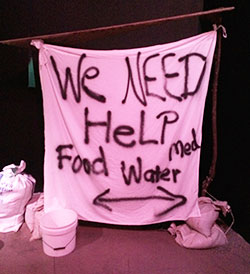 Over one million Syrians, for example, have been displaced from their homes by the conflict and forced to flee into Lebanon. MTI provides emergency medical relief to Syrian refugees and works to protect their livelihood. The Syrian MTI medical team has various projects, which include monitoring outbreaks of infectious diseases and facilitating a community-based health education program. Helping Syrians rebuild their lives is crucial as war continues to rage in the refugees' home country.
When asked about MTI's operations, Director of Advancement Cindy Breilh spoke of how important teamwork is to the success of her organization. Breilh firmly believes that this culture of teamwork is vital to MTI's ability to respond quickly to devastating disasters such as Typhoon Haiyan in the Philippines and the Ebola epidemic in Liberia. With every disaster, MTI collaborates with local governments, evaluates the disaster's impact, and coordinates with trained volunteers to send aid within 48 hours. Even though MTI had never worked in the Philippines before the Typhoon, the team was able to quickly and successfully implement a response plan.
With every disaster response, MTI trains local health care communities to help ensure their self-sufficiency. In Liberia, MTI teams worked hard to educate Liberians on how to prevent the spread of Ebola. While the national media has largely taken over educating the public about the infectious disease, MTI continues to work with community leaders on containment strategies. This is the kind of sustainable work that Breilh and MTI are most proud of.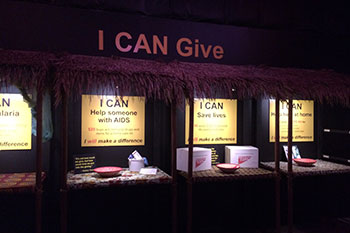 In addition to all the work MTI does globally, the organization also works to help local people in need. They operate 640 mobile dental clinics annually in Washington state, serving underserved populations in impoverished areas, particularly rural and migrant communities. MTI's mobile dental clinics provide free or low-cost urgent dental care services to those who would otherwise not have access to such services.
MTI will continue working tirelessly to achieve the organization's goal of doubling its reach and impact by the year 2020 in saving and improving the lives of over 5.5 million of the world's most vulnerable. With so many people and organizations in the Pacific Northwest dedicated to humanitarian efforts, MTI's dedicated staff feels fortunate to be where they are. "It's a great time to be engaged in global health and be based in this community," said Pinneo.
---
Changemaker
Dmitry Sherbakov, Director of Global Outreach and Programs, The Northwest School
By Kaitlin Marshall
Dmitry Sherbakov didn't plan on having a career with an international focus. He was born and raised in the Russian city of Cheylabinsk which, until the early nineties, was closed to foreign visitors. He received his PhD from Southern Ural State University (SUSU) and figured he would remain in the field of science his entire life. "I grew up in a family of engineers," Sherbakov explained, "so for me it was a natural path. I did not even see another choice."
With the collapse of the Soviet Union, however, life for Sherbakov and the city of Cheylabinsk took a turn. Cheylabinsk was opened to the outside world and, in 1992, the University of Toronto invited Sherbakov to work as a graduate assistant in its science department.
When he made the trip to Canada, it was Sherbakov's first time studying and working abroad. He was exposed to people from an array of cultural backgrounds and experienced the rewards of international education. After his nine-month assignment ended, he returned to Russia. Sherbakov initially planned to continue his research but changed his mind after receiving an offer from SUSU to lead its new foreign affairs department. What began as a temporary job ultimately became a new career path.
Through 1992, there was not a single international student among the 40,000 enrolled at SUSU. Sherbakov's job was to bring international students to the university and he knew he was up to the task. "I like dealing with people, I like dealing with international students. Helping them, it's a very cool feeling. And that's what made me change my profession." Since 1993, Sherbakov has worked exclusively in international education.
From 2003 to 2007, Sherbakov served as the Deputy Director of the Ford Foundation International Fellowships Program at the Institute of International Education in Russia. He then moved to the United States with his family and served as the Associate Director of International Student Recruitment at City University of Seattle from 2009-2013. Since 2013, he has worked at The Northwest School (NWS) as the Director of Global Outreach and Programs helping the school provide its students with life-changing experiences similar to the one he had in Canada over 20 years ago.
NWS was founded in 1980 to offer middle and high school students a liberal arts education that helps shape them into global citizens. The school has approximately 500 enrolled students and is the only school with an international boarding program in Seattle, which currently has about 70 international students. Domestic and international students attend classes and participate in various extracurricular activities together, which encourages them to create a global network of friends at a young age.
Students at NWS have multiple opportunities to study abroad and gain international exposure outside the classroom. NWS's global partner network of schools and organizations in China, Ethiopia, El Salvador, France, Spain and Taiwan serves as the foundation of the school's global learning programs, and students have the opportunity to spend an academic term abroad studying at a partner school. Every fall, exchange students from partner schools in France and Spain attend classes at NWS and live with host families. In the spring, groups of NWS students participate in culture and language immersion programs in El Salvador, France, Spain, China, and Taiwan. Last year marked the beginning of faculty exchanges between NWS and its partner schools.
A global perspective is instilled in nearly every course at NWS. Whether it is humanities, arts, math or science classes, students are exposed to a global perspective on the subject they are studying and they learn how to recognize and understand the cultural, political and economic complexities of the world. The NWS encourages students to take personal responsibility and action in dealing with global issues locally and globally. Last year, NWS students volunteered in Ethiopia, Cambodia, Israel, Thailand and Guatemala, working with girls at risk, refugee camps and local hospitals.
Sherbakov firmly believes that everyone should study abroad at least once in their life, and advises students to embrace the experience with an open mind. He explains that when you study abroad, "you become less judgmental, more flexible, and you start realizing what is really important in your life." He is passionate about how NWS pushes students outside of their comfort zones to be engaged with the global community. Sherbakov describes the students' experiences studying abroad as akin to moving from a two-dimensional life to a three-dimensional one. "They start looking at things from a completely different view and they realize that things which may first look simple, are actually far more complex."
---
Welcome New Members
Please welcome our newest Global Washington members. Take a moment to familiarize yourself with their work and consider opportunities for support and collaboration!
International Foster Care Alliance: IFCA is a nonprofit that intends to create opportunities for the United States and Japan to engage in discussions and activities to better the child welfare system. www.ifcaseattle.org
---
Member Events
March 24: Habitat for Humanity Seattle – King County // Annual Spring Luncheon
March 24 & 26: NPH USA // Faces of Hope
April 13 – 18: UW Foster School of Business // Global Business Case Competition
April 14: University of Washington // Obesity and Poverty: Linking Food, Health, and Incomes
April 25: OneWorld Now! // Get Global Youth Conference
---
Career Center
Highlighted Positions
Office Assistant – Associates in Cultural Exchange
Director of Corporate Relations and Events – Habitat for Humanity Seattle – King County
Project Administrator – PATH
---
For more jobs and resources, visit https://globalwa.org/resources/careers-in-development/
---
GlobalWA Events
March 19: Executive Director Roundtable
March 19: Can President Obama's Billion Dollar Plan Change the Future of Central America?
March 19: Networking Happy Hour with Friends of GlobalWA, Humanosphere and World Affairs Council
May 20: New Member Orientation