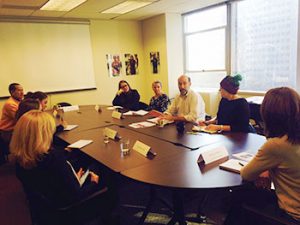 On November 13, a group of executive and program directors gathered for Global Washington's ED Roundtable to discuss a challenge that all NGO leaders face: fundraising. Brad Rutherford, Executive Director of the Snow Leopard Trust (SLT), led the lively discussion and talked about the success he's had in his almost 15 years with the Trust.
"Executive Directors wear many hats," stated Rutherford. "Fundraising is similar in that it's never one size fits all." Rutherford described SLT's three main sources of fundraising – Snow Leopard Enterprises, donors and subscriptions, and annual events.
Snow Leopard Enterprises, a conservation program run by SLT that employs women of the Snow Leopard range countries, is a strategic community-building program that raises funds for both the Trust and communities in Mongolia, Kyrgyzstan and India. The local families sharing land with the snow leopards are often herding communities, with their livestock critical to their livelihoods. If a snow leopard causes a loss in livestock, herders may retaliate against the endangered cat. Snow Leopard Enterprises is a way for supporters of SLT to buy authentic goods made by these communities and, in turn, contribute to the conservation of snow leopards by both increasing the women's household incomes up to 40% as well as supporting the conservation agreement that comes with the work arrangement.
Rutherford also expressed the importance of having a strong relationship with donors. Through social media and email marketing, the Snow Leopard Trust is able to stay connected with their existing members and reach out to potential new SLT members. "We went from having 100,000 likes on Facebook to 525,000 in just one year," Rutherford told the group. He stressed the importance of producing strong content as well as having meaningful conversations through these mediums, so that the relationship between NGO and subscriber is consistent and new relationships are always forming.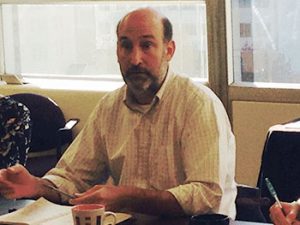 Lastly, Rutherford talked about the importance of SLT's interactive events that are held for supporters and donors. One example is the annual Fall Dinner, which allows SLT members to experience a simulation of the snow leopard habitat at Woodland Park Zoo in Seattle. Events like this have proven to be a way for the partners and donors to have a fun, memorable experience that brings them a little bit closer to the cause. In addition, it is a way for the organization to express its deep appreciation and gratitude for its members.
While fundraising won't always look the same for every group, Rutherford stressed the importance of sustainable decision-making as an NGO leader. Developing and growing an NGO takes time and persistence, and making smart decisions at every stage is absolutely crucial for long-term success. It takes a certain kind of leader to be honest about what works and what doesn't, when it comes to fundraising or just overall strategy. Rutherford is this kind of leader, and the Snow Leopard Trust is now benefiting from his patience and persistence over the years.