On September 21 at Westlake Park in downtown Seattle, thousands congregated as part of a global movement called the People's Climate March – the largest example of climate activism the world has ever seen, and an effort to build on the momentum generated by the UN Climate Summit which took place in New York in late September.
UN Secretary General Ban Ki-moon hosted the UN Climate Summit in an effort to encourage world leaders to engage in climate action and end the gridlock that has been surrounding climate dialogue for decades. While the active participation of global leaders at the Climate Summit was critical, it was the narratives that came out of the marches that gave a face to many of the issues being discussed in New York. The People's Climate March was organized by the group 350.org, a grassroots climate organization, alongside more than 1,000 additional participating organizations.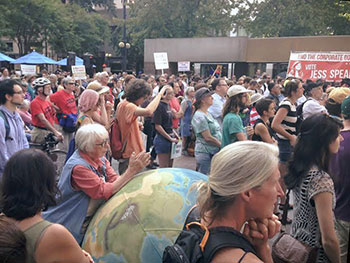 Citizens took to the streets in cities across the globe including New York, Seattle, Melbourne, Cairo, London and Rio de Janeiro. Over 400,000 people participated in the New York march alone.
In Seattle, speakers addressed an audience of over 2,000 and shed light on why climate change is not only a global issue, but also a local one. The Puget Sound Region is home to four counties with the highest cancer rates in Washington state, and residents of these counties spoke at the march about family members who suffered serious health problems. There are proposals to build North America's largest coal export terminal near Bellingham, WA. The region has already been impacted by this industry when, just two months ago, an oil train derailed in Seattle and the city admitted to having no emergency plan for such occurrences.
Taking a cursory look at the variety of partners for the Seattle march gives insight into how many people have a stake in the outcome of these negotiations. Some partners included: Socialist Alternative, Sierra Club, NAACP and the Transit Riders Union. Though the coordination of faith groups, environmentalists, labor unions and environmental justice organizations meant that there was not a specific policy ask, Socialist Alternative candidate for the House of Representatives, Jess Spear, Sheley Secrest of the NAACP and Jeff Johnson of the Washington State Labor Council all reminded us that our environment is where we live, work and play. We should all care.
Indeed, the slogan of the Seattle Climate March, "Two Crisis – One Solution," addresses how both the environmental and economic crises could find stability in joint solutions by focusing on green technology and renewable energy and reigning in our reliance on the fossil fuel industry. But finding solutions will require support from a broader audience than was present at the September 21 march. Despite the large turnout and diverse crowd, it was clear that, just as with the UN Summit, many people remain absent when it comes to climate politics.