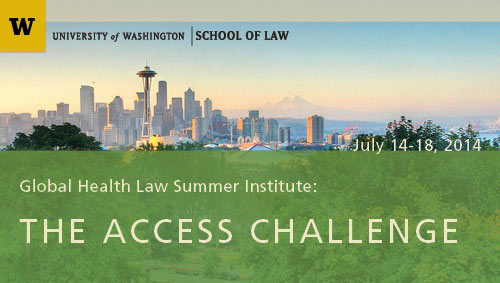 The University of Washington School of Law is pleased to announce that it is sponsoring a Global Health Law Summer Institute from July 14-18, 2014. Keynote speakers include:
Dr. Allyn Taylor, Georgetown University
Bruce Plotkin, International Health Regulations Secretariat Team Lead, World Health Organization
Juan Carlos Botero, World Justice Project
Thomas J. Bollyky, Senior Fellow for Global Health, Economics, and Development, Council on Foreign Relations
Richard Wilder, Bill & Melinda Gates Foundation
Dan Laster, General Counsel, PATH
Dr. Kristie Ebi, and many other leaders in global health law
Registrants can sign up for a single day, three days or all five days of the program.
Early registration has been extended for GlobalWA members until June 7, 2014. When registering, select early registration and include "GlobalWA member" under "Special Requests/Detail Description."
For more information including the full agenda and speaker list, visit the Global Health Law Summer Institute website.