"You grow people, and people grow the business."
On May 14, Howard Behar enlightened and inspired a packed room of Seattle-area leaders from the nonprofit, university and business worlds with his candid talk on leadership and the importance of putting people first. Behar, former president of Starbucks North America and former (and founding) president of Starbucks International, said he always knew it wasn't about the coffee.
"We're not in the coffee business serving people; we're in the people business serving coffee." Behar shared with the group his personal philosophies on managing teams and motivating employees, and talked about how this people-centered approach has been integral at Starbucks from the start.
Behar isn't your typical corporate president. He made major culture shifts in his 21 years at Starbucks, and changed the way the company looks at both customer and employee relations. Admittedly, Behar wears his heart on his sleeve, and admits to being an emotional and fiery manager. But, he always insisted on open communication within his teams, hired people who are different from him, and then encouraged them to speak up. He said that this diversity of thought ultimately leads to team success.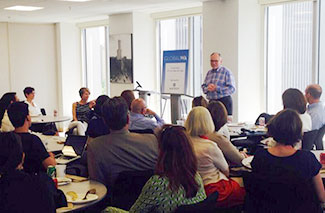 Behar talked at length about his relationship with friend and current Starbucks CEO Howard Schultz. Behar and Schultz were part of a trifecta of strong personalities during their time together at Starbucks. They weren't successful because they agreed on everything all the time, admits Behar. They were successful because they brought different styles, strengths and opinions to the table, and worked together to come up with the best decisions for the company.
Behar also believes strongly that everyone within a company should have a say in decisions made within their area of expertise.
"The person who sweeps the floor should get to choose the broom," he says. He doesn't understand why it would be any other way. Behar pinpointed fear as the single most destructive element when it comes to employee teams, and admitted that it took time for Starbucks employees, referred to as "partners" within the company, to open up at staff meetings and feel comfortable saying what they feel, no matter their job level. How did they get there? "You have to give love and trust to get it, and it takes time," said Behar.
Behar keeps things in perspective. It really isn't about the coffee to him; it's about both workplace and personal happiness. Patience, truth and serving others are three things that Behar thinks are necessary to obtain that happiness.
"Too often, we forget why we're here. We're human beings serving other human beings."