Running an effective awareness campaign was the topic at last week's Global Washington Executive Director Roundtable. Jennifer Norling, Director of Development and Communications for Seattle-based Water 1st, was the presenter. She was speaking to the group in the aftermath of the organization's successful World Water Day campaign that took place in March.
Water 1st chose to use Facebook to launch its World Water Day campaign. It asked its followers on the social media site to post self-portraits or "selfies" of themselves holding a piece of paper with the message "Because I don't have to carry water 5 hours a day, I can" and asked them to fill in the blank. In the end, 200 people posted pictures and re-shared their messages in less than 24 hours. If you were using social media on March 22, I'm almost certain that you saw someone you know holding up their sign!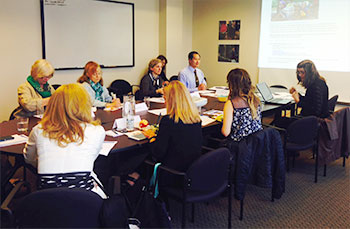 Norling surprised the group when she revealed that the team at Water 1st spent all of one week planning their campaign. The goal was to turn sad statistics about deaths due to water scarcity and the physical burdens of women and girls carrying water for hours a day in developing countries into positive messages that would resound with people in the developed world. The Water 1st team threw ideas around for awhile, and then went for it.  Norling emphasized the need to brainstorm collaboratively, keep the messages simple and straightforward, test messages internally first, refine your messages, and set realistic expectations about the role of social media.
The use of social media in campaigns sparked a discussion among roundtable participants about how far it alone can take a campaign. One opinion is that not too much energy and resources should be dedicated to social media because the return on investment likely will be low. On the other hand, there is the possibility of getting more out of social media because of the potential for a worldwide audience. If it is used well – with some weeks or more of forethought, for example – a social media component of an awareness campaign can certainly get results.
Additional takeaways from the roundtable included how to identify audiences for your campaigns, how best to connect with each, and novel ideas for communicating your messages. For its World Water Day campaign, Norling said Water 1st decided to first inspire its current members to participate, with the hope that they would then reach out to others via their own personal social media sites.
An interesting twist on the idea of connecting, some Global Washington members have found, is to talk to those you wouldn't normally think of or who you don't inherently agree with. There is value to ongoing dialogue and persistence. Roundtable participants also recommended involving public officials in campaigns because their voices by default reach larger audiences.
Global Washington holds Executive Director Roundtables monthly, and invites leaders of member organizations to share their experiences with one another. Through the series, members have the opportunity to connect with each other and share successes, failures, tips and best practices, so that all members can gain new knowledge and a new way of looking at things. The group will explore a variety of topics throughout the series with the goal of collaborative learning, in turn improving the effectiveness of GlobalWA members' work and their collective impact on the world.