If you were near the Seattle Center last Friday, you might have felt the collective energy of the 15,000 students and educators packed into Key Arena.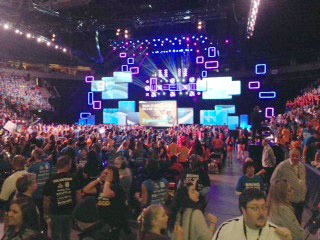 They screamed at the top of their lungs to break the world record for the loudest We Day ever with help from someone who knows a little something about being loud at a stadium, Seahawks Coach Pete Carroll. Carroll, along with several of his players from the 2014 championship team – Russell Wilson, Derrick Coleman, Bobby Wagner and Jermaine Kearse – and a jaw-dropping lineup of actors, singers, activists and community leaders, participated in Seattle's 2nd annual We Day, a one-day event culminating Free the Children's We Act program, a year-long initiative which offers curricular resources, campaigns and materials to help harness the energy and passion of young people and turn it into sustained activism. Microsoft, a valued member of Global Washington, sponsored the day's activities, and their YouthSpark Reporters talked about how young people can create global change.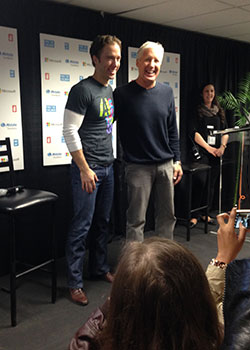 The day began with a crowd-pleasing performance by Seattle-area dance group, The Connection, dancing to a backdrop of powerful images including those of Martin Luther King, Jr. His eldest son, Martin Luther King III, then came on stage and delivered a commanding message about strength and conviction. Following King, Craig and Marc Kielburger, co-founders of Free the Children, thanked the Washington students and educators in attendance for working hard as part of the past year's We Act program, and for teaming up to create change, both locally and globally.
The excitement in the arena continued to build throughout the day as celebrity after celebrity came on stage and wowed the young people. Edward Norton, actor and co-founder of CrowdRise, spoke about the level of power that kids are capable of if they just think creatively and commit to take action. Cody Simpson, award-winning Australian singer, played some of his hits for the screaming crowd. And, the noise level in Key Arena was near deafening when Joe Jonas, member of the band Jonas Brothers and a Free the Children Ambassador, took the stage to lead a youth panel discussion.
The audience then welcomed Washington Gov. Jay Inslee to the stage where, to the delight of the crowd, he officially proclaimed March 21, 2014 as We Day Seattle.
In addition to the power of celebrity, several inspirational speakers moved the crowd with their messages. Spencer West, a Free the Children ambassador, author and double amputee, spoke about his recent accomplishment of climbing Mount Kilimanjaro in the face of adversity. In addition, youth participants Hannah Alper and Jape Seisu, accompanied by the Seattle Rock Orchestra, received a standing ovation for their stories of Pakistani youth activists Malala Yousafzai and Iqbal Masih. And, Lisa Brummell, executive vice president of human resources for Microsoft, ensured the crowd that Microsoft and We Day would be "Best friends forever" as she promised years of continued support of the event.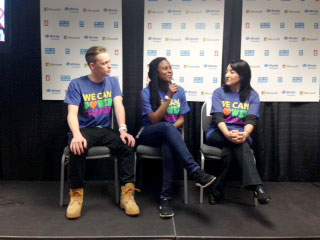 The party came to a close with international recording artist Flo Rida playing four of his hit songs. I think every student and teacher in Key Arena was on their feet for the performance, continuing to dance even after a day's worth of excitement.
As I left the arena with ears ringing, I had gained an entirely new respect for initiatives undertaken by today's youth. I feel fortunate that so many young people are thinking creatively to bring awareness to the world's most pressing issues. And, they aren't stopping with awareness; they're taking action. In their schools, throughout their communities and on a national and global level, these young people are making waves. If the We Day Seattle crowd is any indication of our future generations' ability to lead and create change, we are in good hands. I expect amazing things from these young minds, and I can't wait to see what they do next.