Global Washington recently hosted its monthly Executive Director Roundtable featuring Ndudi Ikoro Chuku, Executive Director of Mission Africa. The organization aims to empower children and families in the remote villages of Nigeria, Tanzania, Uganda and Kenya by providing support in three core areas: education, healthcare and poverty alleviation.
Ms. Chuku talked about her work in Africa and the challenges of running a small NGO, and she shared insights on her strengths and weaknesses as a leader. This led to a robust discussion among everyone in the room, touching on issues that cross sectors and issue areas. Chuku was joined by several leaders of other GlobalWA member organizations: Theo Chocolate, Literacy Bridge, The Post Harvest Project, Antioch University and Dwankhozi Hope.
Chuku described Mission Africa's work of providing for the poor and under-educated in Nigeria, and did a "SWOT analysis" (Strengths, Weaknesses, Opportunities and Threats) for the group. Strengths include having functional offices in Nigeria, the financial support of the Bill & Melinda Gates Foundation, and the integrity to have financial accountability when working in Nigeria, where bribery and corruption run rampant. Chuku said a key weakness is trying to run an NGO out of her home with only one other person (her husband) and a handful of volunteers. Chuku travels frequently between the U.S. and Africa.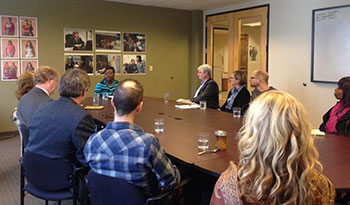 Mission Africa has many abilities and opportunities, including identifying gaps in aid, focusing on remote villages, and collaborating with other countries and NGOs doing similar work. Chuku described working with "development unions," which are small organizations that are scattered throughout Africa and comprised of young adults who meet on a regular basis to discuss development within their individual villages. Chuku said that, to these groups, the term "development" means anything from cleaning out rivers to rebuilding homes, with an overall focus on making constant progress in Africa. Chuku also briefly acknowledged threats, among them a negative perception of Nigeria, capability vs. accountability, and the Nigerian economy.
The roundtable discussion ended with a question: What has Chuku found most surprising about her experience with Mission Africa thus far? Her answer: A lack of information in general, including data that has yet to be compiled and the lack of legitimate African NGOs to partner with (Chuku says many are funded by local politicians).
Despite the many challenges of her job, Chuku said she wakes up every day inspired. Her work has been very rewarding and she knows that she's lucky to be able to make an impact. Mission Africa's scholarship program is an example. Chuku beamed when she said that all students who it funds to go to school have graduated. Impressive indeed.