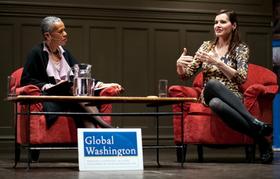 Actress Geena Davis was in Seattle on Monday for a forum on women and girls organized by Global Washington, a membership group for the state's global health and development sector.
It was an unusual pairing; the Academy Award-winning actress founded a nonprofit focused on improving the portrayal of women in U.S. media, while Seattle-based Global Washington has an international development focus.
Davis spoke at Seattle's Town Hall, where an estimated 800 people enthusiastically welcomed the star, who shared the stage with Andrea Taylor, Microsoft's director of corporate giving for North America, and Chris Grumm, the former CEO of the Women's Funding Network.
Geena Davis speaks in Seattle on women in the media
Puget Sound Business Journal |  Valerie Bauman | March 13, 2012