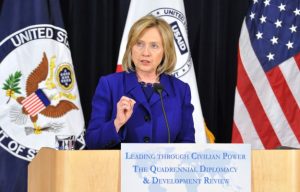 Secretary of State Hillary Clinton announced the release of the long-awaited Quadrennial Diplomacy & Development Review (QDDR) final report today.  The QDDR is a sweeping assessment of how the Department of State and USAID can become more efficient, accountable, and effective- it aims to be a blueprint for elevating American "civilian power" to better advance our national interests.  One of the four key areas of the QDDR is to "elevate and modernize development," which includes focusing investments on areas of comparative advantage, and building the capacity of USAID to be the world's premier development organization.
This review has been ongoing for over a year, and its release has been postponed many times since last spring.  The development community has been waiting, sometimes impatiently, for the QDDR's release, because it could spell important changes for the way development assistance is carried out by the U.S. government.  There were concerns about a power struggle between USAID and the State Department, and that the QDDR findings would be in conflict with the concurrently developed PSD (Presidential Study Directive) on development, now known as the PPD (Presidential Policy Directive) on Global Development (read in our blog about the PPD here). 
We have only had a short time in which to digest this 200+ page document and the summary materials, but it seems that some of the worst fears about the QDDR have not been realized.  It puts forward some important support for USAID, and makes positive statements about the direction of development policy in general.  USAID is named as the leader of the White House's Feed the Future initiative, and the Global Health Initiative.  It also supports the "USAID Forward" program, with specific objectives for strengthening USAID.  For the most part the QDDR seems to support the PPD.  There are however some important areas of concern, namely that short-term political objectives may override longer-term development goals.  As InterAction puts it, "With State Department officials having ultimate oversight of development strategies and budget proposals, it is unclear how short-term political objectives will not harm the delivery of longer-term development outcomes, namely poverty reduction and local ownership by key stakeholders."
Quick Links for the QDDR
Download the QDDR in its full 240 page glory from the State Department's website here.
View Secretary Clinton's town hall event releasing the QDDR here.
Download the official QDDR fact sheet here.
Download the QDDR executive summary here.
Read Secretary Clinton's prepared remarks at the town hall here.
News and Views about the QDDR
InterAction analyzes the QDDR, breaking down the positive elements and areas of concern. 
See InterAction's QDDR page here.
MFAN Statement on the QDDR.
Oxfam's Press Release: "State's QDDR vision is compelling yet incomplete"
The Cable (Foreign Policy blog) reports on the QDDR release