by Linda Martin, guest blog writer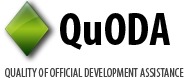 Those interested in aid reform may enjoy trying out QUODA, an assessment tool which tracks, compares, and ranks the quality of aid based on data provided by 31 donor countries and 152 aid agencies. QUODA was co-created by Nancy Birdsall, president of the Center for Global Development, and Homi Kharas, deputy director of the Brookings Institution's Global Economy and Development program. They hope the tool will be a catalyst for dialogue, and help drive the movement to results based aid.
How It Works
The tool ranks quality using 30 indicators grouped into four aspects or "dimensions" of aid, which were identified through a consensus of actors including academics, donors, civil society organizations and INGOs. They are: 
Maximizing Efficiency – This gauge attempts to evaluate poverty alleviation efforts, against a global standard of how to best accomplish sustainable growth, and rewards donors for allocating more aid to poorer countries and better governed countries.
            Highest Ranked: Agency – Finnish Government, Country – GFATM
Fostering Institutions – refers to how well countries and agencies perform in terms of supporting local ownership and engagement in the aid process, fostering local institutions, and sustainable solutions in recipient countries.
            Highest Ranked: Agency – Japan Bank for International Cooperation, Country – Ireland 
Reducing Burden – this dimension ranks donors higher, who "decrease fragmentation, increase project size, contribute to multilaterals, coordinate their missions and analytical work, and use higher shares of program-based aid".
Highest Ranked: Agency – New Zealand International Aid and Development Agency, Country – IFAD 
Transparency and Learning – reflects donor's commitment to collecting, reporting and sharing program data with other donors and recipient countries, the frequency of sharing, and the degree to which donors support counties with good M&E frameworks, so they can track their own progress.
            Highest Ranked: Agency – Norway, Office of the Auditor General, Country – Australia
Where does the U.S. stand in ranking?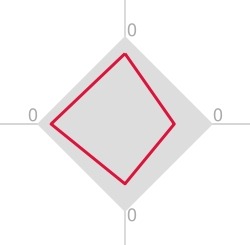 QUODA's Quality of Aid Diamond tool enables users to quickly compare countries and agencies across all four dimensions.  The figure to the left demonstrates that the U.S. rates below the mean in all four dimensions, when compared to all other countries.
            Maximizing Efficiency: – 0.41 
            Reducing Burdon: – 0.64
            Fostering Institutions: – 0.87 
            Transparency: – 0.34
According to a recent Global Prosperity Wonkcast, the US ranked second to last in fostering institutions. This may be due, according to the authors, to a reliance on contracts (which may do a good job), but may be less likely to contribute to local ownership of projects.
QUODA offers thought provoking results.  At the same time, the tool is based on a specific set of standardized indicators with their own bias.  For example, one of the indicators used in the reducing burden dimension is median project size, and appears to reward larger size, standardized projects.  In the Global Prosperity Wonkcast, the tool co-creators point out there are approximately 80,000 new aid projects a year, and the medium size of an aid project is $70,000. While not all aid projects have to be huge, they indicate a need to have the ability to scale up a project.
One might argue that local projects in the poorest countries more often than not start out small, and may be successful in large part because they are a manageable size and less hampered by the bureaucracy often associated with large projects. There needs to be a balance between the efficiencies gained in standardization, and an appreciation for appropriate small scale projects, responsive to local conditions and resources.  
To their credit, Nancy Birdsall and Homi Kharas solicit suggestions and feedback on the QUODA web site.  They want to help make sure your aid dollars go into environments where they can have an impact, and where countries are determined and dedicated to promote their own development, so we are reasonably sure of success.
Good Aid? Bad Aid? QuODA Tracks How Donors Stack Up. Interview with Nancy Birdsall and Homi Kharas