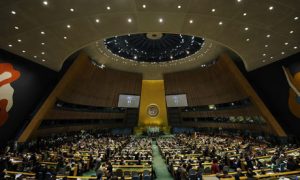 The UN Summit on the Millennium Development Goals kicked off in New York today, and will continue through Wednesday, Sept 22nd.    World leaders are gathering to discuss the progress made and work to be done toward meeting the Millennium Development Goals (MDGs).  On Wednesday, the event will culminate with an address by President Barack Obama.
If you are looking for background and general information on the MDGs and the Summit, take a look at some of Global Washington's previous blog entries on the MDGs.  Bono also wrote an opinion piece in the New York Times on the importance of the MDGs, which serves as a primer for New Yorkers who are fed up with the Summit-related traffic jams on the upper east side.  The UK newspaper The Guardian has a whole page devoted to live MDG Summit updates and news.  Finally, the Brookings Institute has a page full of links with research and commentary on the MDGs.
This morning, the Gates Foundation sponsored a TEDxChange event, featuring a live broadcast from New York City coinciding with the Summit kickoff.  Speakers at this event included Melinda Gates, Hans Rosling ("the most entertaining statistician in the world" according to Tom Paulson on the Humanosphere), India's own "Mr. Condom," (a family planning and AIDS activist), and Graca Machel (Nelson Mandela's wife).  You can view a recording of this highly engaging webcast here.
You can also view the actual Summit live on the UN Webcast, which features 6 different channels- you can watch each world leader's statement with English translation or in the original language, if you want to practice your French or Croatian.  The UN News Center also has rather comprehensive live Summit news.
MFAN puts the spotlight on the prognosis for US foreign aid reform, and tells us what to watch out for at the Summit.  If you are interested in US policy, you should also take a look at a new bill introduced by Representative Barbara Lee (CA-9) last week, which is a resolution supporting the ideals and objectives of the UN Millennium Declaration and related MDGs and calling on the President to ensure the United States contributes meaningfully to the achievement of the MDGs by the year 2015.
The Center for Global Development offers a different perspective in What's Not to Like about the MDGs? – a critical look at the MDGs.