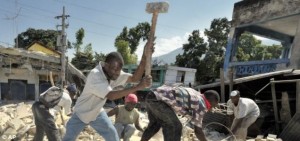 Even with the massive humanitarian response to the January earthquake in Haiti organized by the developed world, the New York Times' Lawrence Downes reports that the reconstruction effort is failing to meet the needs of all citizens. Security concerns have not been met in some of the sprawling re-settlement camps. Debris and rubble left over from the earthquake has yet to be cleared in order to allow for new construction. Sufficient clean water is not being delivered, and as a result sanitation is suffering. But there is still hope, as Downes contends in his article "Haiti's Do-It-Yourself Recovery."
To make up for the lapses in the organized reconstruction effort, the Haitians have taken it upon themselves to rebuild. In most cases, these efforts are exemplary of one of Global Washington's principles of aid of effectiveness: local ownership of aid projects.
Haitians have organized volunteer patrols to provide safety in areas of refugee settlements not overseen by any United Nations security presence. With the help of a retired engineer, Frantz Liautad, a group of Haitians have begun their own campaign to deliver clean water and food to the refugee settlements, as well as clear debris still left over from the earthquake.
Also, in an effort to increase transparency, coordination and local ownership of aid projects, three of our principles of aid effectiveness, Haitians have created the Civil Society Watchdog Group. The Civil Society Watchdog Group has charged itself with monitoring and evaluating the humanitarian efforts in Haiti to ensure the aid groups are accountable to the Haitian population. In order to strengthen coordination, this group is working to facilitate communication between the organizations and projects responsible for Haitian reconstruction. To promote local ownership, the Civil Society Watchdog Group encourages Haitian citizens to take a more active role in the reconstruction process.
It is encouraging to see that where the top-level efforts have come up short, local citizens are taking it upon themselves to ensure Haiti's reconstruction. Such a show of commitment and ingenuity is a positive sign that sustainable development can be achieved if the right steps are taken. Using our principles of aid effectiveness as a framework, we can reform the aid process and take the right steps in order to ensure everyone the opportunity to achieve a happy and healthy life.
To learn more about Global Washington's principles of aid effectiveness, please download and read our white paper.