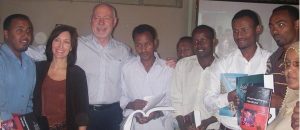 Ethiopian pharmacy trainees show off the textbooks that UW pharmacy professors delivered on behalf of UW pharmacy students, who raised the funds to donate the books. Refer to article below.
University of Washington:
Teams bring sustainable solutions to address poverty to UW in annual international competition
University of Washington students compete in the sixth annual Global Social Entrepreneurship Competition (GSEC) to pitch business plans for commercially sustainable solutions that address issues of poverty in the developing world. Student teams from around the world will be in Seattle to compete and their plans will be judged on three criteria: effect on the quality of life and poverty alleviation in the developing economies; financial sustainability; and, feasibility of implementation.
Pharmacist's role in patient care advanced in Ethiopia
UW pharmacy professor Andy Stergachis, and UW pharmacy students conducted five days of training for almost 40 pharmacy and health care representatives — including faculty members, students and deans from the four Ethiopian schools of pharmacy, government officials from Ethiopia's equivalent of the Food and Drug Administration, and the president of the Ethiopian Pharmacy Association. They also donated more than $1,100 worth of textbooks to the Ethiopian pharmacy students, thanks to a fundraiser that UW pharmacy students had organized back at home. Stergachis is collaborating with colleagues from the UW and other institutions to implement various programs — from drug safety initiatives to medication-access programs — in multiple developing nations, including Ethiopia, Namibia, Rwanda and Vietnam.
Seattle University:
Seattle University's "Hoops for Haiti" benefit raises $3,600 for relief efforts
Coach Cameron Dollar called on the Seattle University community to help Haiti and they responded in a big way at Saturday's men's basketball game. Fans at the "Hoops for Haiti" benefit game donated more than $3,600 to support the work of Catholic Relief Services (CRS) in Haiti.
Washington State University:
Director of the Center on U.S.-China Relations for the Asia Society to lecture at WSU Pullman
Famous lecturer concerning US-China, Schell, a Fellow at the East Asian Institute at Columbia University and the director of the Center on U.S.-China Relations for the Asia Society, will present a public lecture titled "Is China's New Development Model More Competitive than Our Own?"
Other Global Education News:
Symposium: Global awareness an increasingly important skill
Educators need to rethink how they look at the global community, said Francesc Pedró during the ninth annual Consortium for School Networking (CoSN) International Symposium: Do they view other countries as competition, or as an opportunity for collaboration?
A Chance to Reinvigorate the Global Community Around Education
2010 has all the makings of being "The Year of Global Education."  Important events throughout the year include the G8 chairmanship by Canada, a country that historically has been a champion of global education; the FIFA partnership with the 1GOAL campaign, which endeavors to ensure that education for children in Africa and throughout the developing world will be the lasting legacy of this summer's World Cup in South Africa; news that South African President Zuma will invite fellow heads of state to commit to coordinated action on education on the eve of the World Cup; the UN secretary-general's Millennium Development Goals (MDGs). Review Summit () prior to the UN General Assembly in September, which will assess the reality of achieving education for all; and South Korea deciding that core development issues including education must be part of the newly-empowered G20's top-line agenda for November.
Study shows global education is key to reducing apathy
DEA, a coalition which promotes global learning, brings together development and environment NGOs, as well as education NGOs, conducted a study that suggests people who learn about global issues feel more empowered to tackle them, rather than being overwhelmed by the extent of the problems. DEA's Chief Executive, Hetan Shah said, "learning about the wider world leads to people who are more open-minded towards each other in the UK, but also encourages care for the rest of the world."  Their full report will be available online here.
Initiative for Global Development publishes new report on foreign aid reform
US-based business alliance Initiative for Global Development published a report that draws connections between the economic growth of developing country markets and the economic health of the U.S. The organization also observed how foreign-assisted programs on health, education and poverty eradication in developing countries helped uplift the quality of lives in the world's poorer states, eventually creating markets for US's export industry.