Blog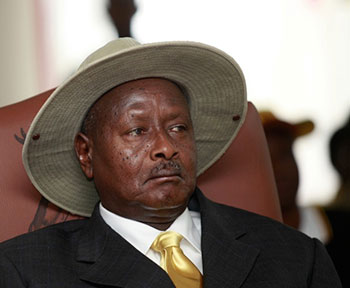 When Ugandan President Yoweri Museveni signed an anti-gay law in late February that effectively criminalizes the LGBTI community of over half a million people and any who support it, he sent a strong message to the world. Now, one of his spokespersons is tweeting provocative responses to the world's reactions, including such missives as "The West can keep their 'aid' to Uganda over homos; we shall still develop without it."
A law promoting bigotry of this magnitude and forcing the opinion and compliance onto its citizens is a sad step backwards for a country that has had a recent history of promising growth. [Read more]
Studying overseas can provide an opportunity to gain valuable experience in the field of international development. However, the experience often comes with a high price tag, one that many college students cannot afford.  Also, many schools lack study-abroad programs in developing countries.
Help is available through several federally-funded grants, including the Critical Language Scholarship (CLS) and the Foreign Language and Area Studies Program (FLAS). Each provides full or partial funding for students studying languages and volunteering in a variety of countries.  [Read more]
Global Washington recently hosted its monthly Executive Director Roundtable featuring Ndudi Ikoro Chuku, Executive Director of Mission Africa. The organization aims to empower children and families in the remote villages of Nigeria, Tanzania, Uganda and Kenya by providing support in three core areas: education, healthcare and poverty alleviation.
Ms. Chuku talked about her work in Africa and the challenges of running a small NGO, and she shared insights on her strengths and weaknesses as a leader. [Read more]
FSG, a GlobalWA member and nonprofit consulting firm, recently evaluated 50 of the largest U.S.-based international non-governmental organizations (INGOs). The findings, published in the report Ahead of the Curve: Insights for the International NGO of the Future, provides systematic direction on how to be a more effective INGO.
The main focus of FSG's report is the "innovator's dilemma," which suggests that INGOs are saddled with an outdated organizational model that will fail to meet the demands of the future.  [Read more]
Dairy farmers who raise their cows on grass and legumes were once again shut out of the subsidies that go to non-organic dairies in the 2014 Farm Bill. That means organic milk will continue to cost more in the grocery store than its non-organic counterpart, however it may be worth the higher price.
GlobalWA member Washington State University recently completed a study which may make you think differently about the milk you're drinking. [Read more]
Days after the Seattle Seahawks beat the Denver Broncos to win Super Bowl XLVIII, sex trafficking task force units continue their battle. News articles and op-ed pieces describing the Super Bowl as a magnet for prostitution and human trafficking are prevalent these days. Congressman Ted Poe (R-TX) made a speech on the House floor condemning the spike in trafficking that takes place during one of America's most beloved sporting events, and asked Congress for support of the End Sex Trafficking Act. [Read more]
The terms "eat local" and "sustainability" have quickly taken root in American culture. Popular authors and films (think Michael Pollan and Food, Inc.) showcased these two themes to a wide audience, quickly ramping up fervor and action among society. While I cannot deny the effectiveness on illuminating the injustices and lack of traditional farming in the U.S. beef, poultry, and seed patent industries, there has been little explanation about how the seafood industry, especially shrimp production, has adapted to meet increasing demand at low cost. [Read more]
Immigrant populations around the world continue to grow. Statistics show that over 180,000 Africans immigrate to the UK annually, about eight percent of Italy's population is foreign-born (with the figure set to rise in the next 50 years), and more than 50,000 asylum-seeking Africans have entered Israel in the past seven years. Washington State, too, has its own large immigrant population.
Despite growing numbers, immigrants are being brutally rebuffed as they seek refuge and better lives. [Read more]
The United States is the largest provider of food aid with approximately three billion people in 150 countries benefitting from USAID's Food for Peace, the largest American food aid program.  However, since the program's establishment in 1954, little has changed in policies dictating how aid is delivered.  The delivery system to countries in crisis is usually predicated by the Farm Bill:  currently, food aid commodities are shipped from the U.S. [Read more]
By Holly Koch
Nicholas Kristof recently "sat down" with a panel of experts in the field of modern-day slavery for a Google Hangout to discuss the future of the cause. Contributors to the conversation included: Nicholas Kristof (New York Times op-ed columnist, Co-Founder of Half the Sky Movement); Rachel Lloyd (Executive Director of GEMS, author of Girls Like Us); Susan Bissell (Head of Child Protection at UNICEF); Gary Haugen (Founder of International Justice Mission, author of The Locust Effect); and David Batstone (President & Co-Founder of Not for Sale, author of Not for Sale). [Read more]
Nine out of ten people living in rural regions of Africa do not have access to modern energy, according to the UN Sustainable Development Knowledge Platform.  Out of 1.3 billion people who do not have access to electricity, more than half live in a Least Developed Country (LDC) and 95 percent live in Sub-Saharan Africa or developing areas of Asia.  At the fourth UN Conference on LDCs held in 2011, the Istanbul Programme of Action for the decade 2011- 2020 recognized that access and efficient distribution of affordable, reliable, and renewable energy and related technologies are keys to accelerating growth, improving livelihoods, and advancing sustainable development in LDCs (view the full report here). [Read more]