Welcome to the April 2009 issue of the Global Washington newsletter. If you would like to contact us directly, please email us.
IN THIS ISSUE
Note from our Executive Director
Spotlight: Global Washington is Hiring
Featured Organization: OneWorld Now!
Changemaker: Washington Teacher of the Year Susan Johnson
Global Entertainment: The Blue Sweater
Announcements: Send Global WA Your Press Releases! Become a Business Associate!
Upcoming April Global Washington Events
Other April Global Development Events
NOTE FROM OUR EXECUTIVE DIRECTOR

Greetings-
I hope that all of you are enjoying the beautiful spring days.    I am happy to report that we continue to be extremely busy with many great programs and ideas for future programming.
Networking and Convening: Global Washington is convening global development organizations by country, region, and issue area that they are working in. These events increase communication and collaboration between organizations working in the same country or on the same issue, as well as provide a venue for informal best practice sharing of new and innovative models. On April 21 we will be convening groups working in Nepal, and on May 26th we will be bringing together groups working on environmental issues in the developing world.
Capacity Building: Global Washington offers capacity building programs that increase the visibility and impact of organizations and global development issues in Washington, and increase financial resources for our member organizations.   On April 28th we are facilitating a media roundtable for communications directors of our member organizations.
Special Initiatives: We are continuing to work on developing a set of guiding principles and values for delivery of foreign aid.   On April 27th, we will host the second event in our policy series, Redesigning Foreign Aid from the Group Up, which will contribute to this effort. Once these principles have been finalized through community participation, we will work to get endorsements from across the global development industry and propose them to our policy makers as principles to guide the delivery of foreign aid in the developing world.   Global Washington staff and members have already started meetings with our state policymakers to keep them engaged in this process.
For more information on any of our upcoming events, please check out our calendar.
Thank you all for coming to us with all of your great ideas.   I hope to see you at these or other upcoming programs.
In unity,
Bookda Gheisar, Executive Director


SPOTLIGHT: GLOBAL WASHINGTON IS HIRING!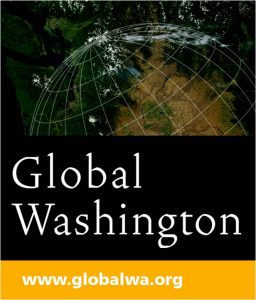 Global Washington announces a position opening for Communications and Administrative Coordinator.
ORGANIZATIONAL STRUCTURE:Global Washington promotes and supports the global development industry in the state of Washington.  A broad-based, statewide organization linking the private, public and civil society sectors, members include businesses, government agencies, associations, individuals, foundations, organizations, and educational institutions.
Global Washington focuses on four areas of global development enterprise: Economic empowerment and development; Global Health; Education and Global Engagement; and Food, Agriculture and the Environment.
The vision of Global Washington is to promote Washington as a recognized center of innovative, productive and collaborative global engagement.
FUNCTION SUMMARY:The staff includes: Executive Director, Research and Learning Coordinator, Media Relations Advisor and Policy Coordinator.  The Communications and Administrative Coordinator works closely with the Executive Director and other staff to increase the visibility of Global Washington through the website.  This is a part-time (32 hours per week),administrative position.
Please email resumes to bookda@globalwa.org