Blog
This is the second in a series of articles written by the Adventure in Focus team. While traveling throughout Southeast Asia, AIF is documenting the projects of several GlobalWA member organizations that are working on the ground in the region. Jesse submitted this article from Thailand, while working with Bill Taylor of SE Asia Children's Foundation.
Bill Taylor, the energetic and affable founder of SE Asia Children's Foundation, is retired. You wouldn't know it by spending time with him, though. He spends three to four months each year in Southeast Asia, visiting the projects he works year-round to fund. His foundation, a long-time Global Washington member, is helping children – especially girls – break the cycle of poverty into which they were born and from which they are not likely to escape without outside assistance. Bill's positivity is infectious and his love for his work is present in everything he does. A former management consultant, he uses the knowledge and skills that he's accumulated throughout his career to help build capacity, train leaders and strategize for organizations in Southeast Asia that are helping at-risk children obtain a stable and nurturing environment.

We met Bill in the small city of [Read more]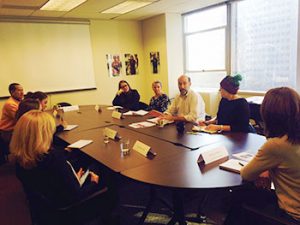 On November 13, a group of executive and program directors gathered for Global Washington's ED Roundtable to discuss a challenge that all NGO leaders face: fundraising. Brad Rutherford, Executive Director of the Snow Leopard Trust (SLT), led the lively discussion and talked about the success he's had in his almost 15 years with the Trust.
"Executive Directors wear many hats," stated Rutherford. "Fundraising is similar in that it's never one size fits all." Rutherford described SLT's three main sources of fundraising – Snow Leopard Enterprises, donors and subscriptions, and annual events.
Snow Leopard Enterprises, a conservation program run by SLT that employs women of the Snow Leopard range countries, is a strategic community-building program that raises funds for both the Trust and communities in Mongolia, Kyrgyzstan and India. The local families sharing land with the snow leopards are often herding communities, with their livestock critical to their livelihoods. If a snow leopard causes a loss in livestock, herders may retaliate against the endangered cat. Snow Leopard Enterprises is a way for supporters of SLT to buy authentic goods made by these communities and, in turn, contribute to the conservation of snow leopards by both increasing the women's household incomes up [Read more]
Last week I traveled to Paraguay to meet with social enterprises, agricultural producers and a government official as part of our research into new investment opportunities. Nearly a quarter of Paraguay's population lives below the poverty line, but the country's underdeveloped economy is currently experiencing rapid economic growth. With this kind of growth comes the chance to catalyze and expand opportunity for people living in poverty. As I flew over much of the small, land-locked country in a tiny Beechcraft plane, I noticed the flatness of the land, its many rivers, and the countless tracts of well-watered but unused farmland. It is evident that Paraguay's agricultural sector has tremendous potential for growth.
Social enterprises
During my five days in Paraguay I was able to visit four social enterprises:
[Read more]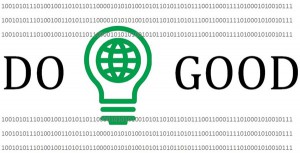 We live in the age of data. It's a well-used buzzword, a trending topic among a wide range of people from marketers and social media experts to business analysts and tech nerds. This is for good reason: data does help organizations manage themselves more efficiently and plan better.
More recently, however, data has been touted as a tool for greater social good, for the shared benefit of society at large. It has become popular in the nonprofit sector; whole fellowships and degree programs have sprung up around it—such as Data Science for Social Good Fellowship at the University of Chicago. Just peruse our own website and you'll see that we also subscribe to the idea that data is a powerful tool for doing good, and one worthy of investment.
So data has broken out of the strict business model and is now an inspirational tool for change. How?
1. Data collection and analysis are tools that can guide mission-driven organizations to make a greater impact on the world.
As Melinda Gates said at the Clinton Global Initiative 2014 conference, "Data instructs where & how you work. You have to have data to know where you're making progress." The reverse is [Read more]
Ghana is a nation that has always produced some of the world's most essential national resources, from gold to cocoa. However, when the country discovered 3 billion barrels of sweet crude oil beneath its soil in 2007, it drastically changed the country's standing in the global economy. With expected revenues averaging $1 billion per year, the question on everyone's mind was how the country would choose to spend this revenue windfall.
On Sept. 22, Oxfam America, Global Washington and Seattle University's Poverty Education Center hosted a panel discussion about Ghana's Oil for Food Initiative. This initiative focuses on directing oil revenue towards the promotion of sustainable and inclusive development through agriculture modernization.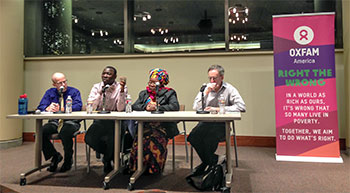 Panelists included Dr. Mohammed Amin Adam, Executive Director of the Africa Center for Energy Policy; Victoria Adongo, Program Coordinator for the Peasant Farmers Association of Ghana; and Ian Gary, Oxfam's Senior Policy Manager for Extractive Industries. The discussion was moderated by Dr. Benjamin Curtis, PhD, Assistant Professor and Director of Seattle University's Poverty Education Center, and opening remarks were given by Congressman Adam Smith (D-WA 9th District).
Smith spoke about the desire for more people to get actively involved in tackling the issue of global poverty. He highlighted [Read more]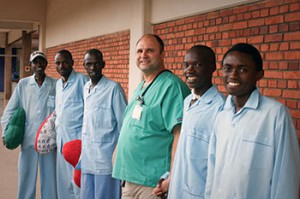 The 1994 Rwandan genocide crippled the country, leaving it torn by violence and death on a massive scale. The recovery from this atrocity was made more difficult because an estimated 75 percent of the Rwandan medical community was murdered or forced to flee the country, which left the healthcare system in shambles. The situation has since improved, however, there are still only about 400 physicians to treat a country of more than 11 million people.
Healing Hearts Northwest (HHNW), a Spokane-based Global Washington member, works to remedy this situation. Founded in 2008, HHNW began with a meeting in Rwanda's King Faisal Hospital, which then inspired subsequent medical missions to perform operations on Rwandan patients. HHNW continued to provide medical training and equipment so that the hospital could better manage acute patient care and better handle complex patients. HHNW hosts annual training seminars and lectures for Rwandan nurses and physicians, and obtains funding for equipment that improves the capabilities of Rwandan medical facilities.
Today, HHNW has four goals: providing open heart surgery where these services are currently unavailable, teaching general cardiac care and treatment for cardiac emergencies, encouraging participation of nurses in post-operative cardiac care to enhance intensive care skills, and [Read more]