Global Washington sent out a press release today announcing the work that organizations in Washington State are doing in the Philippines after the devastation caused by Typhoon Haiyan/Yolanda, the strongest ever to make landfall on the planet.
Organizations such as Oxfam America, Mercy Corps, UNICEF, World Vision, Save the Children, Peace Winds America, International Rescue Committee, and OFFERS-Panay are looking for much-needed donations to provide aid to those affected by the typhoon.  According to the UN, around 11.3 million people have been affected by Haiyan, with over 670,000 people displaced.  USAID states that the official death toll is at 1,774 as of November 11, 2013, with some projections estimating up to 10,000. [Read More]
From Our Blog

People are beginning to understand that women and girls hold the key to eradicating poverty. Countries that support women frequently show a better rate of economic and social development, as well as other measures of societal progress, than countries that lag behind when it comes to women and girls' rights. Consequentially, there has been an increase in "investing" in women and girls all over the world. Because of the pivotal role that women play in development as well as the depth of resources now available, it is important to have accurate recommendations and research when it comes to funding.
"Watering the Leaves and Starving the Roots" was written by Angelika Arutyunova and Cindy Clark and sponsored by the Association for Women's Rights in Development, and paints a picture of overall inequality for women across the world. Based on a survey of over 1,100 women's organization, the survey results and subsequent article help decode a changing social landscape to promote more efficient use of resources. [Read More]
---
Recent posts from our blog
---

Subscribe to our blog
Featured Member Organization
Mercy Corps: Realizing a Vision with Technological Innovation
Neal Keny-Guyer, Mercy Corps' Chief Executive Officer, will be a keynote speaker at the 5th Annual Global WA Conference this month. We took a minute to sit down with Mercy Corps' Senior Communications Officer Andie Long to highlight some of the organization's accomplishments in the last year and one of its biggest ideas underway.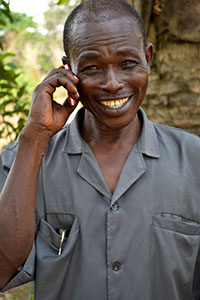 For more than 34 years, Mercy Corps, a relief and development organization with deep roots in the Pacific Northwest, has worked in some of the world's toughest places, responding to crises and helping people build a better future. Since its beginning in 1979 aiding refugees from the Cambodian civil war, Mercy Corps has helped 19 million people in 114 countries around the world recover from disasters, build stronger communities and find their own solutions to poverty.
One of America's most effective and efficient nonprofits, Mercy Corps has responded to a variety of crises over the last year. Mercy Corps currently supports nearly 2 million people affected by the crisis, including 800,000 Syrian refugees and host communities in Jordan and Lebanon. In the protracted conflict in the Congo, Mercy Corps provided thousands of people with food, clean water and sanitation. Across Africa's drought-stricken Sahel region, Mercy Corps provided food to vulnerable families and helped them maintain their livestock, a precious asset. [Read More]
Members In The News

You could say I've been involved in neglected tropical diseases and public health since grade school. I was 6 years old when we moved to Quito, Ecuador, where my dad, a medical pathologist, was put in charge of doing mobile medical care for a local hospital. Using a medically equipped van, he and his crew would go to the rural areas of Ecuador to do public health. During the day they would see patients, and at night they'd show reel-to-reel Disney health videos in Spanish, followed by a gospel message by the local pastor.
I would accompany dad on these trips whenever I could.
Dad always took his camera with him to document the way disease presented itself on patients, and one time I remember sneaking downstairs to watch him review the slides, only to receive a warning not to look at them. [Read More]
---
Recent Members In The News
---
Get Involved
Career
Careers In International Development
Find paid positions, internships, volunteer positions, board of directors positions with our member organizations.