From Our Blog

July 11 was World Population Day and no region of the world is feeling the impact of demographic change like sub-Saharan Africa. More than half of the growth predicted by 2050 is expected in this region, where the number of people is set to more than double, from 1.1 billion to 2.4 billion. Within the same period, Nigeria's population is expected to surpass that of the United States. Of course, sub-Saharan Africa is not the only region to experience this phenomenon, as the most rapid increases are expected in the world's 49 least developed countries1. However, what makes the region unique is the growth of its overwhelmingly young population.
According to the World Bank, 62 percent of the population of sub-Saharan Africa, more than 600 million young people, is below the age of 25, and this population also represents three-fifths of the region's unemployed. Its share of the world's working-age population (ages 15-64) is set to double from about 10 percent in 2010 to about 20 percent in 2050 – to 1.22 billion people2.
---
Recent posts from our blog
---

Subscribe to our blog
Featured Member Organization
Landesa and its "Security for Girls Through Land Project"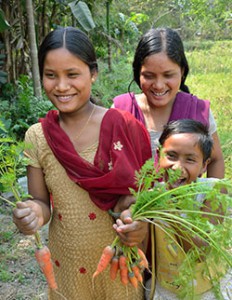 In a village in the rural Cooch Behar district of West Bengal, India – amidst rice paddies, banana trees and other lush green surroundings – a young girl is showing off a radish bigger than her arm that she has grown. She is surrounded by her proud family and neighbors. Another village girl has started a vegetable garden and is growing and selling produce at the local market. She brings home more than half the income her father makes in a day. In another area, a small group of girls has collectively created a plot and are cultivating, selling and dividing income among themselves, all the while creating a new social space to come together.
They learned these skills thanks to the Security for Girls Through Land Project (also known as the Girl's Project) sponsored by Seattle-based Landesa, a Global Washington member organization that works to help secure land rights to the world's poorest people. In this case, it is working to help adolescent girls realize their land rights as they become women.
"Land rights for girls is a trigger point for many issues; we know that with land, women can accrue all types of benefits for themselves, their families, and their communities," said Melany Grout, an attorney and land tenure specialist for Landesa. "In the immediate term, helping to position girls to realize their land rights has the effect of reducing certain vulnerabilities, including child marriage, adolescent pregnancy, lack of education and malnutrition." [Read More]
Members In The News

BuildOn runs afterschool youth service programs that mobilize urban teens to lift up their communities and change the world through intensive local community service and by building schools in some of the poorest countries on the planet. They are a movement of students, educators and communities.  BuildOn has been a valued member of the GlobalWA community since 2010.
By Davie Munkhondya
BuildOn, an American non governmental organisation working in Malawi in the education sector has promised to help uplift education standards in the country by constructing modern classroom blocks to improve learning environment.
The organization has also said it would also furnish the constructed classroom blocks with desks and improve hygiene standards through the construction of toilets and other sanitary facilities. [Read More]
---
Recent Members In The News
---
Get Involved
Career
Careers In International Development
Find paid positions, internships, volunteer positions, board of directors positions with our member organizations.