From Our Blog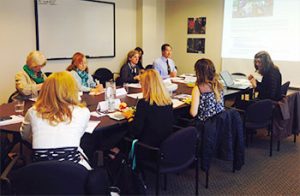 Running an effective awareness campaign was the topic at last week's Global Washington Executive Director Roundtable. Jennifer Norling, Director of Development and Communications for Seattle-based Water 1st, was the presenter. She was speaking to the group in the aftermath of the organization's successful World Water Day campaign that took place in March.
Water 1st chose to use Facebook to launch its World Water Day campaign. It asked its followers on the social media site to post self-portraits or "selfies" of themselves holding a piece of paper with the message "Because I don't have to carry water 5 hours a day, I can" and asked them to fill in the blank. In the end, 200 people posted pictures and re-shared their messages in less than 24 hours. If you were using social media on March 22, I'm almost certain that you saw someone you know holding up their sign! [Read More]
---
Recent posts from our blog
---

Subscribe to our blog
Featured Member Organization
Splash
On Seattle's Capitol Hill, nestled between two colorful storefronts, is the door to Splash. Behind it is a staff with an unwavering dedication to the role clean water plays in the health and education of children in the developing world.  "We know what clean water means for them," explained Director of Strategy Peter Drury. "Healthier lives, more school, greater economic opportunity, and as adults, they're going to demand clean water in the future."
From its early beginnings as a manifesto on the pages of Founder and Director Eric Stowe's notebook, Global Washington member Splash has become a formidable force behind clean water projects in some of the most impoverished regions in the world.
For example, Splash began working in China in 2007 with a focus on its more than 1,000 orphanages in 31 provinces. "By the end of this year," said Drury, "we're going to have secured clean water in every orphanage in China."
To reach efficacy at such scale requires an austere examination of the practices within global development. "A great deal of international development work is focused on an initial gift, an act of seeming benevolence," explained Stowe, "and then post-implementation there's really this quick reduction of services for these same communities which often results in failed projects." [Read More]
Members In The News
Alumni Highlight: Luke Black, MATL

Each one of our students within the Master of Arts in Transformational Leadership program have been drawn to holistic leadership through a range of life experiences, with alumni taking "transformational leadership" to a variety of career applications. Luke Black, a 2012 alumnus, shares what brought him to transformational leadership. [Read More]
---
Recent Members In The News
---
Get Involved
Career
Careers In International Development
Find paid positions, internships, volunteer positions, board of directors positions with our member organizations.