From Our Blog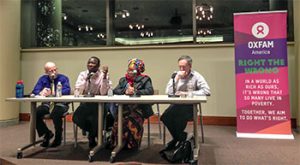 Ghana is a nation that has always produced some of the world's most essential national resources, from gold to cocoa. However, when the country discovered 3 billion barrels of sweet crude oil beneath its soil in 2007, it drastically changed the country's standing in the global economy. With expected revenues averaging $1 billion per year, the question on everyone's mind was how the country would choose to spend this revenue windfall.
On Sept. 22, Oxfam America, Global Washington and Seattle University's Poverty Education Center hosted a panel discussion about Ghana's Oil for Food Initiative. This initiative focuses on directing oil revenue towards the promotion of sustainable and inclusive development through agriculture modernization. [Read More]
---
Recent posts from our blog
---

Subscribe to our blog
Featured Member Organization
Featured Organization: Global Visionaries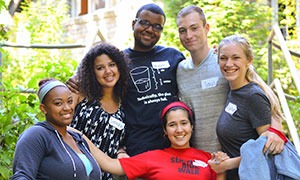 During last month's United Nations Climate Summit, more than 400,000 people took to the streets of New York and other cities across the globe to participate in the largest mobilization of climate activism the world has ever seen. In a time of multiple global problems such as climate change, racial and ethnic tensions, resource shortages, wars and class disparity, these demonstrations exemplify the desire to find solutions to seemingly insurmountable global challenges.
Chris Fontana, executive director of Seattle-based Global Visionaries, believes that our youth have a major role to play.[Read More]
Members In The News

MovingWorlds today opened a new online matching service designed for people who want to travel abroad to make a difference through volunteering.
The platform is focused on what MovingWorlds calls "Experteering" – connecting people with specific skill sets to projects that could use the experience they have. Whether that's mentoring startups or creating websites, it's a way to help people to maximize their impact as a volunteer.
Read more: http://www.geekwire.com/2014/movingworlds-opens-platform-help/
---
Recent Members In The News
---
Get Involved
Career
Careers In International Development
Find paid positions, internships, volunteer positions, board of directors positions with our member organizations.