From Our Blog

My brother recently informed me that he had installed new disk brakes on his truck entirely by himself. Albeit an intelligent man, I knew for a fact that he had never performed such an operation before. I asked where he had suddenly gained the skills and knowhow to take apart his vehicle, to which he simply replied, "YouTube." To my astonishment, searching "1994 Ford Ranger Disk Brake" yielded over 2,000 results, many of which were step-by-step tutorials.
We live in a day and age where, if you're unsure of what to make for dinner, you can just search "recipes" on Pinterest and be inundated with options. While DIY crafts, home décor tips and BuzzFeed Top 20 lists may not represent technology at its finest, they are indicative of something much larger — the desire of everyday people to share their knowledge. So how does this translate to global development? It could mean a free education, the start of a small business enterprise, templates for new homes, and so much more. [Read More]
---
Recent posts from our blog
---

Subscribe to our blog
Featured Member Organization
Featured Organization: Global Visionaries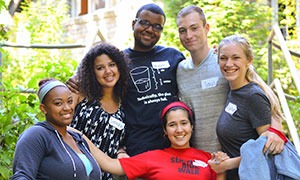 During last month's United Nations Climate Summit, more than 400,000 people took to the streets of New York and other cities across the globe to participate in the largest mobilization of climate activism the world has ever seen. In a time of multiple global problems such as climate change, racial and ethnic tensions, resource shortages, wars and class disparity, these demonstrations exemplify the desire to find solutions to seemingly insurmountable global challenges.
Chris Fontana, executive director of Seattle-based Global Visionaries, believes that our youth have a major role to play.[Read More]
Members In The News

Ross Reynolds interviews Carolyn Anderman, director of international programs for One By One, a Seattle-based group helping women in Africa recover from a devastating birth complication called obstetric fistula.  Affected women are often shunned in their communities for a condition that can be fixed with a $500 operation.
Listen to the interview at http://kuow.org/post/500-operation-can-change-lives-african-women.
---
Recent Members In The News
---
Get Involved
Career
Careers In International Development
Find paid positions, internships, volunteer positions, board of directors positions with our member organizations.