2021 was a year of continued evolution of COVID, which exposed and exacerbated many weaknesses in our global society including gender inequality, supply chains, and vaccine inequities. Additionally, there have been many crises including the Haiti earthquake, the Taliban takeover of Afghanistan, refugees fleeing violence in the Tigray region of Ethiopia, and the famine in Yemen, to name but a few.
Our global community has been responding, some with much success, to these and many ongoing issues. Below is a summary of our 2021 Issue Campaigns, events, spotlights, and features we have been reporting on culminating with an amazing Goalmakers Annual Conference. We hope you find these informative and useful for your ongoing mission work.
2021 ISSUE CAMPAIGNS
February: Climate Justice (SDG 13): Climate change has a greater impact on people living in low- and middle-income countries with few monetary resources, poor health conditions, insecure land rights, and fragile infrastructure. The climate impacts we are already seeing include severe droughts, growing food insecurity, wider disease transmission, and rising seas that threaten the very existence of many coastal cities and island nations. As is often the case, those who are most affected by a crisis have a great deal of insight and knowledge to create effective solutions. While Indigenous communities are often at greater risk from environmental degradation and climate effects, their long history of living from and caring for the land provides a unique perspective and an integrated set of solutions that can make sustainability a reality and help turn the tide on the climate crisis. Our February Issue Brief, Organization Profile on Landesa, Goalmaker Spotlight on James Mulbah from the Earthworm Foundation, and guest blog from Agros talks to the above points and issues. Additionally, we co-hosted an event with the Posner Center for International Development on "Climate Justice and Indigenous Rights".
March: COVID-19 Vaccine Equity: Late February 2021, the first COVID-19 vaccines were received in Ghana, marking the start of a rollout in low- and middle-income countries. While this was incredibly hopeful, there is still worry that the vaccine will not have an equitable distribution globally. And, that the pandemic will continue for years to come if we do not mobilize for a quick worldwide vaccination campaign. Our March issue brief provides a good overview of this topic and discusses how Global Washington members are working to ensure equitable access to COVID-19 prevention and treatment options in low- and middle-income countries. Included in this month's campaign was a focus on Fred Hutchinson Cancer Research Center and our Goalmaker Spotlight on Nikolaj Gilbert from PATH. We hosted a virtual event on March 24 with speakers from VillageReach, Bill & Melinda Gates Foundation, Medical Teams International, and the International Rescue Committee.
April: Water and Peace Building: Throughout history, water has been a source of conflict, as nations wrestle for sovereignty over key waterways, groups fight for access to critical water sources, and populations are forced to leave their homes due to water scarcity. Accelerated by climate change, erratic rainfall, severe droughts, and other extreme weather events create more competition for a diminishing water supply that leads to more water-related conflicts. Increasingly, humanitarian and development organizations are seeing water emerge as more than just a basic human right – it's also an instrument of peace building. Not only can water security reduce conflict  triggers in water-scarce areas, but water, sanitation and hygiene (WASH) projects present an opportunity for communities to build social cohesion and social capital around a shared resource. The April Issue Brief focuses on these topics. Included in this month's campaign was a focus on World Vision and a Goalmaker Spotlight on Fred Auch from Rotary District 5030. We also hosted a webinar on Water and Peace building featuring representatives from World Vision, Yemen Relief and Reconstruction Foundation, and EverVillage.
May: Crisis Response: In addition to the sustained global development work of the Global Washington network, several GlobalWA members responded to emergencies around the global. The COVID crisis in India brought attention to the need for a stronger global response to the pandemic. COVID also reached other low- and middle- income countries such as Yemen, adding a health crisis to communities already experiencing food insecurity, violence, and poverty. Additionally, political violence in early 2020 created a humanitarian crisis in both Ethiopia and Myanmar, which are on-going. The global development community is responding and supporting the direct needs of people living in these countries. For this month, we put together an action alert that highlighted GlobalWA members working in response to these various crises. The lists of Actions Alerts can be found here.
June: Civil Society Building and Human Rights (SDG 16): The constant work of building peaceful, inclusive societies is one of the most challenging aims for civil society organizations. Policymakers often prefer to adopt approaches that are more visible and appear to initiate change faster – such as supporting foreign leaders that align with democratic values and pouring billions of dollars into short-term interventions. Of course, national leadership plays an important role in good governance and peaceful societies, but local community groups, activists, and individuals are often the ones moving the needle day-by-day toward Sustainable Development Goal 16:  "Promote peaceful and inclusive societies for sustainable development, provide access to justice for all, and build effective, accountable, and inclusive institutions at all levels." Local groups not only understand the present and historical context in which they live, but they also know what their communities need most urgently, are trusted by community members, and are the first to respond to events. Our June Issue Brief highlighted members who are actively working to support civil society on the ground and at a policy level. Our organization profile was World Justice Project,   and our Goalmaker spotlight was on the late Rose Berg-Fosnaugh.We hosted a webinar on Building and Strengthening Civil Society featuring GlobalWA members Tostan, OutRight International, and Partners Asia.
July: Gender Equality: Women in Leadership and Decision Making (SDG 5): Only 22 countries have women Heads of State or Government; 119 have never had a woman leader. Four countries – Rwanda, Cuba, Bolivia and the United Arab Emirates – have 50 percent or more women in parliament in single or lower houses. And globally, women under age 30 make up less than 1 percent of parliamentarians. Yet, there is growing evidence that political decision-making processes improve when women hold leadership positions. In India, for example, communities with women-led councils had 62 percent more drinking-water projects than those with men-led Other studies have found that countries in which women enjoy greater social and political status produce fewer carbon dioxide emissions and have lower climate footprints. Our July Issue Brief focuses on several of our member organizations who are focused on efforts to help women rise through education, and economic and societal empowerment. Our organization profile was Girl Rising, and we interviewed Kirthi Jayakumar for our Goalmaker spotlight.
During the month of July, as part of our theme of women in leadership, 61 members participated  in a gender equality gathering consisting of 3-4 other members divided into 17 groups based on their SDG work of interest. We gave the option to gather either online or in-person. Survey responses indicate our members valued the opportunity to meet others working in the area and appreciated the facilitation of the meeting, whether in-person or virtual.
August: Education: Expanded Role of Education NGOs during COVID (SDG 4): With the global COVID pandemic came the school closures and the economic aftershocks that have effectively ended the educational prospects of millions of children around the world. The world could limit its educational recovery response to just returning enrollment and learning to pre- pandemic levels. But many experts see the pandemic as an "opportunity to reset education." The world was not on track to achieve SDG 4 by 2030 because of glaring inequalities in the global education system. COVID-19 highlighted and exacerbated those challenges. The question is, since we have to rebuild education anyway, shouldn't we do it in a way that's more inclusive, more equitable, and of better quality? Experts say that if we don't, not only will we still fail to achieve SDG 4, but we will be setting ourselves up for another crisis down the road when another major disruption strikes. In a world with increasing climate disasters, it seems all but inevitable. Our August Issue Brief  included member organizations focused not only on education and support systems, but also new ways of teaching including education delivery in the wake of the global pandemic. Our organization profile was Alliance for Children Everywhere, and we interviewed Atul Tandon from Opportunity International for our Goalmaker spotlight. In collaboration with Alliance for Children Everywhere, we hosted a webinar on Reimagining Education in Light of COVID-19.Members represented in the panel were from Mona Foundation, Alliance for Children Everywhere, and The Hunger Project. The event was moderated by Linksbridge.
September: Shifts in Economic Opportunity during COVID (SDGs 1 and 8): This month's Issue Brief focused on how COVID has affected local economies and how member organizations are innovating, shifting strategies and tactics, and creating new opportunities. Although the pandemic has been devastating for many organizations, there are many that have also taken the opportunity to evolve, become more resilient and build the resilience of the communities they work with. For example, GlobalWA member Awamaki, which provides opportunities for artisan weavers in Peru through sustainable tourism, had to make a sudden shift to food relief as well. With the help of small and large donors, Awamaki has been able to provide their partner artisans with monthly food baskets during this trying time. Also, like many organizations, technology has been critical to Awamaki's adaptation during the pandemic. Prior to the pandemic, they never  designed goods for online sales. They didn't have to, as their store in Ollantaytambo, near Cuzco, made about $80,000 a year from tourists. Without that store, they had to start selling online. They  received a grant to specifically design products, particularly home goods, for online sales, and they  also partnered with Amazon to host virtual shopping tours. Through a beta platform called Amazon Explore, shoppers can book virtual visits to their store. You can read the full issue brief here and feature stories about Spreeha and Mercy Corps' new CEO Tjada McKenna.
October: Food Security & Food Systems (SDG 2): This month, the UN once again celebrated World Food Day, with a focus on promoting sustainable agri-food systems, defined as food systems in which affordable, nutritious food is available to everyone, less food is wasted, the supply chain is resilient against shocks, and production does not exacerbate climate change or harm the environment. Not only is this critical to achieving a UN goal of nourishing 10 billion people by 2050, but it is also critical to addressing profound inequalities and severe environmental degradation caused by the way we currently produce, consume, and waste food. In the October Issue Brief we featuredHeifer International as our org profile and Chege Ngugi who is the Africa Regional Director of ChildFund International as our Goalmaker.
November: 2022 Global Philanthropy Guide: Each November, instead of an Issue Brief, we publish our yearly Global Philanthropy Guide. In this year's edition are stories of non-profit organizations addressing one of the most critical issues of our time: Climate Justice – the imperative of centering equity within climate action. This issue is also one that impacts everyone on the planet, and the actions we take today will determine the future for generations to come. The 2022 Guide chronicles how nine organizations are tackling this challenge. For reference, a list of 100+ GlobalWA members are included in the Guide with a description of their mission and a link to their website.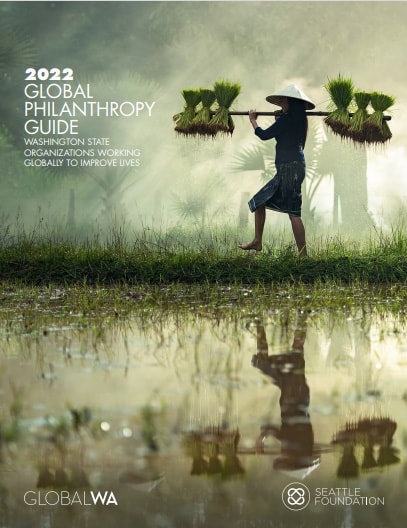 2021 ADDITIONAL EVENTS

In 2022 we look forward to providing more in-depth discussions, timely updates, and great events on topics affecting the international community! Please check out our 2022 Editorial Calendar to see what we have lined up.
– The Global Washington Team