For recent graduates and students interested in international development work, finding that first professional position can be daunting. Students often juggle volunteer work, unpaid internships and endless networking in hopes of getting a foot in the door.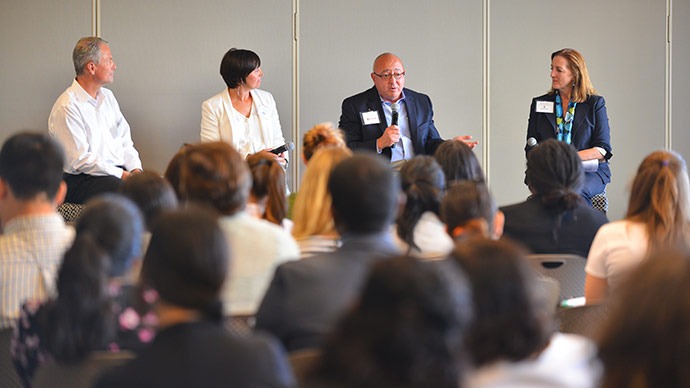 On July 24, Global Washington members along with international development students and interns gathered at PATH's headquarters in Seattle for Charting a Career in International Development, featuring an accomplished panel of speakers: Lincoln Miller, Senior Director, Program Management at Landesa; Nancy Ward, Chief Engagement Officer for World Justice Project; and David Wu, Chief Development Officer at PATH.
Melissa Merritt, Vice President and Managing Director of Executive Search at Waldron, moderated the discussion. Merritt opened by sharing what she has discovered in reviewing resumes for Waldron, where she helps numerous nonprofits and foundations find executive leaders. No two leaders have the same path, she explained, and what may sometimes feel like a frustrating, circuitous route is often a path that leads to future success.
Nancy Ward echoed Merritt's comments when asked about her own career path, which included multiple internships while holding down jobs in retail and service. At each stop, Ward told the audience, there was an important lesson that she carried with her to her next opportunity.
Both Lincoln Miller and David Wu spoke with the students about how difficult entering the international development space can be, particularly in Seattle, where there are more skilled individuals wanting to work for an organization making a difference than there are opportunities. All three panelists encouraged students to be open to gaining skills and building their resumes in the private sector.
Miller spent significant time in the private sector before joining the nonprofit world, and the professional skills he picked up were exactly what Landesa needed. He stressed to the audience the importance of not only having passion for the mission, but of also "bringing something to the table," such as software proficiency, communications skills or other well-developed, professional competencies.
As the discussion wrapped up, audience members asked numerous questions of the panelists and there was further dialogue about how to best gain experience in a new field, applying for positions you feel under-qualified for and how to navigate asking for more out of an internship.
As this future cohort of bright, thoughtful talent seeks to find work where they can make an impact on the world, they will undoubtedly face challenges. However, with perseverance and belief in what they're trying to achieve, students will find their own paths and navigate their way through a career in international development.