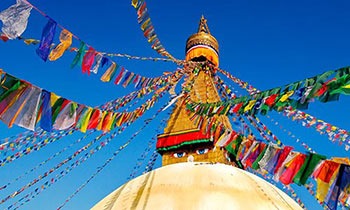 On April 25, a devastating 7.8-magnitude earthquake struck 50 miles outside of Nepal's densely populated capital city of Kathmandu and the government quickly declared a state of emergency. Washington state responded quickly with a number of Global Washington members rushing to help victims of the quake by providing lifesaving supplies and services, medical assistance and shelter.
The World Health Organization estimates that for every 10,000 people in Nepal there are only two physicians and 50 hospital beds. Three GlobalWA groups — The Adara Group, Medical Teams International and UNICEF — are staffing mobile health units which are traveling the treacherous mountain terrain to provide pivotal healthcare to people in remote parts of the country.
In addition to urgent medical care, shelter and supplies are a necessity throughout Nepal. Tens of thousands of people were displaced when the earthquake struck. To make matters worse, numerous aftershocks and heavy rains rocked the country soon after the quake. Six GlobalWA groups — Bo M. Karlsson Foundation, Habitat for Humanity, Mercy Corps, Oxfam, World Concern and World Vison — are currently providing shelter, food, water and supplies to the people of Nepal. They are ensuring that citizens are warm and dry, and distributing tents, mosquito nets, sleeping bags and sanitation equipment.
In addition to Global Washington organizations providing direct emergency relief in Nepal, many others have been working hard in the country for years to improve infrastructure and quality of life. Groups such as buildOn, Engineers Without Borders, Healing the Children, Knowledge for People, Living Earth Institute, Orphans to Ambassadors, PSI, Rose International Fund and Splash will certainly be key in the long, arduous rebuilding process.
The symptoms of underdevelopment cannot simply be treated by scrambling to send relief when a disaster occurs. Rather, we must tackle the disease by supporting the development of infrastructure and community to help prevent disasters such as this earthquake from being so devastating to a country and its people. The collaborative work of Global Washington members and the greater international community will certainly strengthen immediate relief efforts in Nepal as well as rebuilding in years to come.
Global Washington would like to be a resource for potential donors and media. We encourage you to visit our site and view our member map to learn more about Global Washington organizations working in Nepal.