Zero Hunger – What Would It Look Like and How Do We Get There?
Subscribe to Goalmakers Blog by Email
By Mark Ritchie, President of Global Minnesota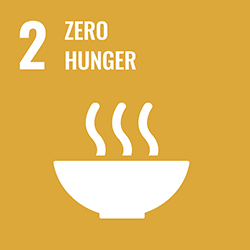 Every year, on October 16th, people around the world take time to observe World Food Day, commemorating the creation by the United Nations of the Food and Agriculture Organization (FAO). This year Global Minnesota organized a day-long virtual symposium under the theme "Countdown to Zero Hunger in 2030." We focused on forging the new partnerships needed to accelerate our progress on Sustainable Development Goal #2 – Zero Hunger.
This happens to be the 75th anniversary year of the UN and the FAO, both launched right after World War II, in 1945. On the 50th anniversary of both of these vital global institutions a coalition of groups, coordinated by the Institute for Agriculture and Trade Policy,  gathered the surviving founders of the UN and the FAO to both honor them and to learn as much as we could about their motivations, their hopes and dreams, and how they saw the outcomes after 50 years. We gathered in the original settings – the Opera House in San Francisco and the Chateau in Quebec City, to recreate as best we could the original atmosphere and context. Without exception, the speakers opened and closed their remarks with the reminder that they had seen two World Wars, and a Great Depression that came out of the first and led to the second, so their motivations were simply stated – to prevent and if possible to survive a third world war.  The cruelty of nuclear holocaust was visible to all as they gathered to forge a new world order.
The year before this we had gathered the founders of the IMF, World Bank, and the International Trade Organization in Bretton Woods, New Hampshire, and it was pretty much the exact same message. They knew from their own experience that we could not survive another world war and that it would take a truly global effort to address the underlying causes of war.
The founders of the FAO were especially interesting to me, as I had spent much of my life working on issues related to food and agriculture, including a few years in the production and marketing of eggs as part of a family of cooperatives centered in Northern California. It's a passionate interest of mine that came from growing up in a family where hunger was often a topic of intense discussion.
My father was in the U.S. Marine Corps, serving in China during and right after the Second World War. After he was mustered out of the military duty, he returned to his home in Georgia with heartbreaking stories about the wonderful people he met in China that were facing hunger and malnutrition as a result of the war  – and about some who died from starvation. This experience motivated his entire life. He used the GI bill to go to college in agriculture and then to get his master's degree in biochemistry at Michigan State. There he used his radio technician training to help develop the electron microscope, and then went on to devote himself to public service through scientific research on animal diseases that he believed could be prevented if we could understand their genetic make-up and find vaccines. He spent more than 20 years on just one disease, hog cholera, and decades more on everything from scrapes in sheep, a cousin of Mad Cow disease, and avian flu.
He believed that his work could help farmers everywhere, and that by helping farmers he could help the planet someday reach Zero Hunger. His passion to make the planet hunger free did not have a target date, but he did believe that there were many ways to harness human intelligence and science to prevent hunger and malnourishment.
As a child I got to live in lots of different parts of the USA, as we moved to a new laboratory as soon as they were built by the USDA. Born in Georgia, I also had the great privilege to live in other places where there were scientific research centers – including Pennsylvania, Florida, Maryland, and Iowa. I also trained in biochemistry when I first headed off to Iowa State University, but halfway through I got hooked on studying history. I have kept both passions alive throughout my life – exploring both how science can help us eliminate hunger and studying how hunger has haunted us throughout history, ever since.
When I first heard about the global agreement among heads of state to put "Zero Hunger by 2030" as the number two Sustainable Development Goal, I was thrilled to have this kind of "governance by goal" approach to a life-long obsession. And for five years there was a lot of good news – we were on track towards that goal – but then the pandemic hit. The bad news is now we've fallen backwards, at least for the moment.
Zero hunger will not come because we taught people how to double or triple their production. We have done this in the USA and we have more hungry people today than at any time since the 1930's Depression.
But the two primary causes of hunger historically give me a different perspective on how to advance on this goal in the future.
The chief cause of hunger is the presence of war or some other form of violent civil conflict. As long as some people continue to fight with lethal weapons others will flee, and they will need food every day they are displaced. Zero Hunger means we are ready and able to get food to people suddenly out of their homes and away from their crops. We have to have enough food in storage and properly positioned around the planet to catch hunger quickly.
The second most common cause of hunger is sudden violent weather – floods, hurricanes, etc. – and again hunger will happen and there has to be a very robust and courageous emergency food delivery system poised and ready.
Regardless of the cause of hunger, we must have prepositioned food stocks in place along with the logistic muscle to move quickly.  This is one of the concrete objectives we need to reach by 2030. Zero hunger as a goal is do-able if we are well-prepared to tackle both the short-term and the long-term natural and man-made disasters that deprive people of their normal source of food. It will require a plan, the implementation of that plan, and the global agreement to share the cost of that preparedness as fundamental to survival of the planet.
We can handle it all – short and long-term, natural and man-made, physical and economic. And we have agreed we will do this together, all of us. Let's go!