By Andie Long, Communications & Marketing Director for Global Washington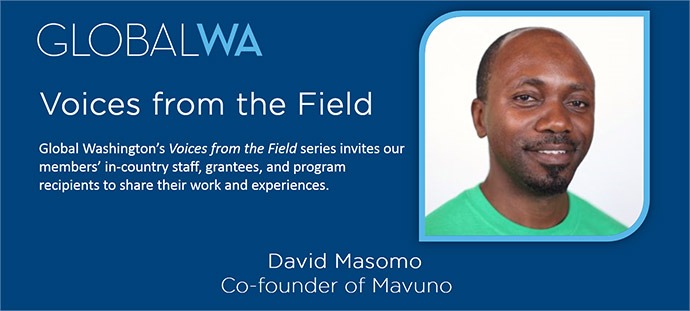 On a recent Thursday morning, David Masomo, the co-founder of Mavuno, met with members of the Global Washington community to discuss his organization and the challenges it faces empowering local leaders with the goal of ending extreme poverty in the Democratic Republic of Congo (DRC).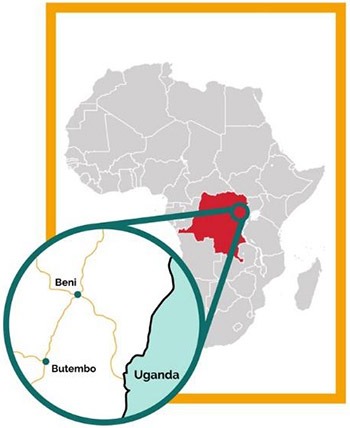 Having titled his presentation, "Congo: The Forgotten Heart of Africa," Masomo said his country really is a place forgotten by the Western world. As one example, he noted that when he went to set up an iPhone recently, he was asked to select his country. Countries bordering the Congo – Uganda, Rwanda, Zambia, and Tanzania, among others – are listed but the DRC is nowhere to be found, despite the fact that it's the second largest country in Africa, and the 11th largest in the world.
In fact, being forgotten by Apple in this context is more than a little ironic, considering the DRC is by far the world's leading producer of cobalt, a critical component in the rechargeable lithium-ion batteries that smartphones and laptops depend on. It also supplies more than 50 percent of the coltan used in tech gadgets worldwide.
A classic case of the so-called "resource curse," Congo's natural resources are estimated at $24 trillion (at 2011 prices), making it a coveted prize and a center of intrigue and bloody proxy wars, according to a recent story in the New York Review of Books. Nowhere is this truer than in Beni, the gold- and oil-rich city in the eastern part of the country, where some of the worst violence has occurred.  
It is in Beni that Mavuno, named for a Swahili word meaning "Harvest," decided to literally set down roots.
Masomo is intimately familiar with the problems his homeland faces, having been born in eastern Congo and raised in abject poverty and chronic hunger. During the country's tumultuous wars, he witnessed the deaths of many friends and was himself forcibly abducted by a rebel group from whom he eventually escaped.  
"Kidnappings and killings are a regular occurrence," said Masomo. And because of the uncertain loyalties of combatants, nearly all of whom wear uniforms, "You never really know who's the good guy," he said.
Seeking a better life for himself, Masomo ended up studying agricultural development, first working for the Congolese government and then the NGO sector. He won a scholarship to study internationally in India and South Korea, and achieved his master's degree in rural development. It was while studying in South Korea that Masomo learned of that country's struggle to overcome extreme poverty in the 1960's. Today, South Korea is a standout in development circles, itself a donor country to impoverished places. If South Korea could do it, he thought, why not Congo?
It was also in South Korea that Masomo met and found common cause with U.S. military veteran Daniel Myatt. Together the unlikely pair co-founded Mavuno.
Mavuno is a registered 501(c)(3) in the U.S. and a registered non-profit in Congo. The organization currently works in 20 villages in eastern Congo, and its work touches the lives of 1,500 families. In each village where Mavuno works, the organization sets up a grassroots cooperative through which farmers can apply to receive in-kind loans, such as seeds and tools, which are then paid back at harvest time. The organization has also set up demonstration farms to show farmers how to incorporate more effective irrigation, greenhouse designs, and planting techniques.  
It's not an easy path to tread, but Masomo has already achieved more than skeptics thought possible. As it grows, Mavuno has been exploring export market opportunities for the villagers' products, including maize flour, plantain flour, dryland rice, and starting this year, cocoa. Profits would be ploughed put back into the organization to achieve sustainability, and used to promote continued development.
To learn more about Mavuno, visit their website at https://mavuno.org.