GlobalWA//GATHER Salon Series
In the spring of 2012, Global Washington launched a new speaker series to connect thought leaders in the field of international development with Seattle's growing global community. We all know that the problems of global development are complex and multifaceted. Meaningful and sustainable solutions will come from innovative responses that draw from a complex knowledge base which is the main focus of the GATHER series. The goal of these events is to host convenings that foster innovative discussions and solutions to the complex problems of fighting global poverty.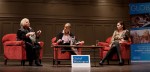 In mid March, actress and activist Geena Davis was in town to meet with Microsoft to promote the work she does through
The Geena Davis Institute on Gender in Media
. Global Washington had the opportunity to partner with Microsoft to host a discussion at TownHall on 'Women & Girls' featuring Geena Davis, Christine Grumm, former CEO of the
Women's Funding Network
, and Andrea Taylor, director of North America Community Affairs at Microsoft.
[Read more]

Peter Diamandis, Founder of
Xprize
, cofounder and chairman of
Singularity University
, author of the newly-released bestseller
Abundance
, and a powerfully persuasive global optimist was in Seattle in April and teamed up with Global Washington as a part of our GATHER series.
[Read more]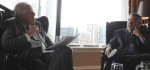 Noble Prize winning economist and New York Times columnist Paul Krugman was in Seattle at the end of May to promote his new book
End This Depression Now!
During his trip, Krugman partnered with Global Washington's GATHER series for an intimate salon and conversation with representatives from Seattle's international development community. Roughly 90 individuals from the nonprofit, business, and philanthropic sectors met on a rare sunny afternoon at the Sorrento Hotel to hear Krugman's take on how to solve the Global Depression.
[Read more]