Washington State is making a difference for women and girls locally and globally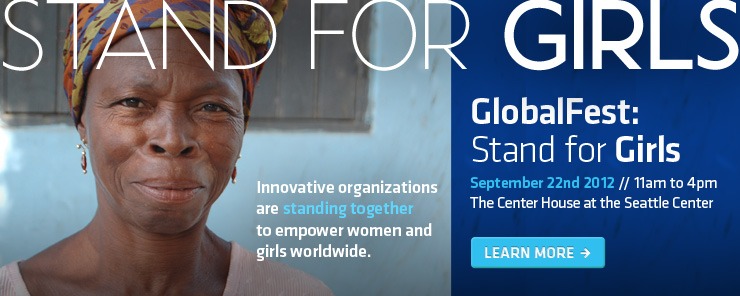 In partnership with the Seattle Center's Next Fifty, the Office of the Mayor of Seattle, and participating member organizations, we are thrilled to announce GlobalFest 2012: Stand for Girls. On September 22nd, we celebrate the achievements of women worldwide and the innovations of Washington State's collaborative global development organizations. Discover how these organizations are advancing the well-being of thousands of girls each day by making education accessible, expanding economic opportunities for women, and ensuring the health of mothers and children. Washington organizations are collaborating to stand for women and girls: you can too!
GlobalFest welcomes the entire family to the Center House at the Seattle Center and will feature:
Interactive booths and exhibits from 40 of Washington's leading global development and health organizations
Live music
Opportunity to celebrate our state's achievements with others in the community
Date: September 22nd 2012
Time: 11am to 4pm
Location: Seattle Center // Center House
Website: www.stand4girls2012.org
GlobalFest is part of a September Stand for Girls Campaign, organized by Global Washington in collaboration with 10 small high impact member organizations. We believe that we can make a deeper impact on behalf of women and girls both locally and globally by working together. We are raising awareness about issues affecting women and girls worldwide and encouraging the community to stand with us on these issues. Stand for Girls by giving $20 or $12 in 2012 to benefit girls around the world; join us in celebration at GlobalFest; and mobilize your own community on October 11, the Day of the Girl, by hosting a girl-focused party, book club, fundraiser, or discussion group. For more information, visit www.stand4girls2012.org.
---
Stand for Girls for the Next 50!
Seattle's Next 50 is Global

The Next Fifty is a six-month celebration of our region's past and future on the 50th anniversary of the 1962 World's Fair in Seattle. The anniversary is cause for celebration and action as Washington State and the world face new priorities, challenges and opportunities. The economy, the environment, and communities will thrive as we find solutions to common global problems. A world that is healthier, safer and more equitable will benefit us all.
Global Washington in partnership with the Seattle Center's Next Fifty, the Office of the Mayor of Seattle, and participating member organizations, celebrates Washington's leadership in global development. Our state's leading businesses, nonprofit organizations, and foundations are exporting more than coffee and software–they are exporting a better quality of life for people all over the world.
For more information, visit:
www.seattlecenter.com
www.thenextfifty.org

Join Global Washington in welcoming distinguished leaders from the Vietnam Union of Friendship Organizations to strengthen ties between Vietnam and leaders of Washington State NGOs, universities, and corporations.
The delegation will represent the Vietnam Union of Friendship Organizations and the People's Aid Coordinating Committee (PACCOM). They will present an update on Vietnam's current socio-economic situation, the most pressing development needs that Vietnam faces, and ways that the Washington State community can help.
The briefing will include a formal presentation with remarks from the delegation and local leaders, followed by a brunch reception.
This event is free and open to the community.
---
Vietnam Friendship Organizations Briefing
Date: Wednesday, June 27
Time: 10:00am to 11:45am
Location: TBD
Price: Free
Brunch will be provided!
Register: click here 
A Roundtable Luncheon with Sam Worthington, CEO of Interaction
Sold out! Email admin@globalwa.org to be added to a waiting list.
Interaction is the largest coalition of U.S.-based global development NGOs and a leading voice on policy issues affecting the sector. Don't miss this opportunity to hear from Interaction's CEO, Sam Worthington, as he discusses the current state of global development work and how to navigate key changes in the field.
Date:
Tuesday, May 29th
Time:

Registration and lunch:
Program:
12:00pm
12:30-1:30PM
Location:
Riddell Williams
1001 Fourth Avenue
Suite 4500
Seattle, WA 98154-1192
Price:
$5:
$10:
GW members (use member discount code at checkout)
Non-members
Lunch will be provided
Thanks to our sponsor!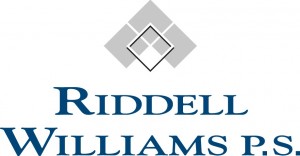 In one of the few sunny days of Seattle's early spring, over fifty people traveled to iLEAP's presentation and meeting space for Global Washington's Second Global Workers event. The second installation of this series asked speakers Andrea Ballard and Deborah Agrin to dissect a question that many current and prospective professionals struggle with: What is it that employers really want?
Andrea Ballard, Human Resources Consultant and Career Coach, and Deborah Agrin, current Director of Development and Engagement at Vittana, both brought different perspectives on the job hunt to their talks. The event began with a networking skills workshop led by Ballard. All attendees were asked to practice networking skills they would soon use with employers with each other; and began meeting fellow professionals in the process. The event culminated with a question and answer session addressed to both speakers to build on each other's perspectives. When asked for final tips, Agrin suggested "be[ing] curious and experiment[ing]". Ballard implored attendees to "get out of [their] houses and away from [their] computers" when applying for jobs.
But what experimentation did Agrin mean? What did Ballard suggest other than endlessly filling out job applications over the internet?
Both speakers attested to the need of certain skills in the development community, and both speakers assured the audience that those skills could be refined in a number of environments. In short, a perfect candidate for the development field may not come from the development field. Project management is one capacity that the audience was told employers find impressive. The ability to set targets, plan strategically to carry out an assignment, and follow through is a necessity in a field where funding is always at risk. Impact evaluation was also cited as an attractive ability. The speakers pointed out that specialists in statistical analysis, research, or project design could find their skill sets welcomed in this field. Finally, business management was highlighted. Knowing how to do what you say and knowing how to run projects and organizations efficiently makes candidates more competitive.
Both speakers also noted that the most effective people in this field are those with a certain faculty of flexibility. A person who has lived overseas demonstrates that they can survive and work in another culture while a person who is entrepreneurially minded demonstrates a mental agility to take advantage of opportunity where others may not.
When the conversation turned to resumes, several points stood out. Ballard advised applicants to list job accomplishments rather than job duties on their resumes. Often an employer has a partial idea of what you do based on the title you've been given. Using your resume as a way to elaborate on how well you did a job or how you did your job differently than most is a good way to display competence in the small space on a resume. Displaying a fluency in different kinds of language is also a skill that many possess but few use their resume to highlight. "Good communication skills" is a common resume phrase. A phrase like "able to adjust communication to fit written, verbal, and business settings" may more accurately describe the importance of your communication abilities.
Ultimately, both speakers were at the event to illuminate the many paths a person with ambitions to enter the development field could take. Recent graduates and students were encouraged to take on all the internships and fellowships they could to accumulate direct experience and responsibility. Mid-career professionals were urged to leverage the skills they've already acquired to interview better and build up their resumes. Global Washington thanks the speakers, and those that were able to attend the workshop. We look forward to seeing you all at the next event in the Global Workers series.
by Bryan Gamble
Many people who, like me, have crossed into the social sector from a for-profit background, want to see nonprofits take advantage of business principles to generate ever better outcomes. Continuous improvement is one such tool.
To oversimplify, continuous improvement involves capturing crucial performance data in ongoing feedback loops so staff can make enhancements to better serve customers. This process is best known in manufacturing, but the principle has been applied broadly. In service industries, where products are not purchased, cycles of market research and satisfaction tracking can still shape how companies iterate in delivering benefits to customers.
The process involves noticing, capturing, and sharing data on all sorts of dimensions to uncover problem patterns or discover what could be done better. Practitioners react to the information and develop new insights. They adjust what they do and then see how that changes things, starting a new cycle of data gathering. This is exactly how we hope social causes progress. In order to use continuous improvement techniques, an organization needs to watch for leading indicators (earlier than outcome metrics) so changes can be tried sooner, more frequently, and with different subgroups. Unlike traditional monitoring and evaluation, a continuous improvement process is less concerned with maintaining a stable baseline or consistent treatment for comparison at an end point, but instead fosters regular course adjustments, observing what appears to achieve the desired effect.
For-profit businesses invest millions of dollars in market research and customer satisfaction feedback to inform this process. When driven to satisfy customers and the bottom line, companies chase questions most relevant to potential improvements and find ways to embed monitoring into daily operations. They know the resulting insights enable them to create the kind of value that leads to increased purchasing.
While continuous improvement principles can be applied by any nonprofit or social enterprise, microfinance institutions (MFIs) are especially well-placed to employ them. MFIs already operate as a business, are data-driven, and have used similar processes to achieve high repayment rates or to control costs. That's how they can affordably provide masses of hard to reach people with loans as little as $50.
With the research of Portfolios of the Poor, microfinance is at an inflection point, more aware of the hardships resulting from erratic incomes for people in poverty and the importance of diverse financial tools like insurance to protect against inevitable shocks or savings to provide stability and asset growth. Continuous improvement could be used to assist MFIs in moving from this recognition of client needs to creating effective products and services that fulfill those needs.
It's a balancing act to diversify services that both address clients' needs and operate profitably enough to keep expanding into unreached markets. MFIs could apply a continuous improvement approach in these three areas: a) product designs and delivery, b) customer satisfaction feedback systems, and c) social performance management. If MFI's can build client satisfaction feedback loops they can pay closer attention to and adjust how different products help lives improve. R&D responsive to real-time client input could more rapidly prototype products that meet client-focused needs in new ways. Social performance management can add greater value if designed to glean insights that fuel ongoing improvements vs. react to external questions of impact. Fortunately, with the spread of mobile phones, rough but real-time customer satisfaction tracking, market research, and social performance management surveys could feasibly become automated, and the resulting improvements in operations and product designs could make it worth paying for customer texts (if not covered by a corporate partner).
Thought leaders in the social sector are beginning to outline the elements of such an approach. Former American Evaluation Association President, Michael Quinn Patton "assume[s] a world of multiple causes, diversity of outcomes, inconsistency of interventions, [and] interactive effects at every level".  To address this, he says in "Evaluation for the Way We Work", we need embedded evaluators partnering and shaping the "long-term, ongoing process of continuous improvement, adaptation, and intentional change" with more of a "probe-sense-respond" outlook. See Patton's table in the paper that outlines the qualities different from traditional methods and case studies put in action by FSG's Strategic Learning & Evaluation Center. Dean Spitzer, another corporate authority, applies his "Performance Measurement Cycle" to turn data into wisdom, action, and continuous learning for social objectives ("Dean Spitzer on Interactivity: The Key to Improving Performance Mea…"). Behavioral economics is incorporating psychology to tweak poverty interventions, such as through Princeton's Eldar Shafir's study on the role of marketing in supporting U.S. financial inclusion.
What's necessary for continuous improvement success? It will take cost-effective feedback mechanisms, expertise, and understanding funders. The social sector needs to build expertise and incentives if it is to benefit from continuous improvement disciplines. MFIs and NGOs will see greater success by owning this problem and building capacity so they can drive the process of learning to make swift adjustments for better outcomes rather than reacting to external scrutiny. Funders need to support this process with tolerance of instructive risks and failures, flexible reporting and budget designations, and resources for social organizations to develop new expertise.
Let's set a benchmark for an ideal percentage of budget that NGOs spend on continuous improvement (not merely tracking and reporting), similar to what companies spend on market research. And let's not punish that as "inefficient overhead," but rather as "sharpening the saw" for better results as Stephen Covey observes in 7 Habits of Highly Effective People. Let's learn to publicly celebrate and reward whenever an organization discovers a mistake and makes a change to fix it or takes advantage of a new experiment. Even if trials fail, and those lessons inform other attempts, let's learn to rejoice with Thomas Edison who found 999 ways not to make a light bulb.
We can't wait for perfect solutions to such urgent problems, but better outcomes should evolve faster from the "speed-of-business" operations of microfinance or emerging social enterprises as they develop mechanisms for rapid response to client needs. Investing in this approach is one way the corporate world thrives at creating value, wealth, and products/services that people want, so let's apply it in the social sector to meet human needs.
Further Reading:
 Editor's Note:
This blog was first published on the Center for Financial Inclusion Blog, and is reproduced with the permission of the author.
As ACCION International's Senior Director of Corporate Partnerships and Adjunct Professor of Northwest University's master's course on sustainable organizations, Chris Wolff applies his business background to companies seeking to achieve business plus social objectives through "shared value" or corporate social responsibility.  For more information, visit www.accion.org/corporate.
You can follow Chris on Twitter (@ChrisAWolff)

When: Tuesday, November 13, 4:00pm to 6:00pm
Where:The Wing Luke Museum of the Asian Pacific American Experience
719 South King Street  Seattle, WA 98104
Ticket price: $30
A reception with beverages and light hors doeuvres will follow the talk.
In 2000, Lama Tenzin, a Tibetan Buddhist monk, traveled with his two brothers through the Upper Dolpo region of the Himalayan border between Nepal, India and Tibet. During his journey, he rescued abandoned and neglected children (mostly girls) and founded an orphanage called the Children's Educational Development Society (CED ). The subsequent journeys to the Dolpo region continue. They involve trekking 10 hours/day for 20-30 days while climbing over altitudes of 18,000 ft through treacherous conditions. The brave monk and his group of children walk against insurmountable odds to reach the orphanage.  
Now Lama Tenzin is expanding his mission to focus on girls with disabilities. The new Girls' Institute for Technology (GIFT) rescues girls formerly shunned by society and works to develop them in to independent professionals. GIFT provides free scholarships, residences and an unconditionally loving family environment.
As Lama Tenzin continues to grow his CED and GIFT organizations, he has most recently set out to start a music school for girls called Sound of Soul (SOS) where the children will have Music Therapy, Music Appreciation, and Applied Music (lessons) available to them.
Lama Tenzin, the CED, GIFT, and SOS are all located in Dehradun, India in the foothills of Mussoorie, the first settlement in India for the 14th Dalai Lama upon his exile from Tibet. Close to the Ganges River and the mighty Himalayas, Dehradun provides a haven for Lama Tenzin's children.
By Akhtar Badshah, Senior Director, Citizenship and Public Affairs, Microsoft
I landed in Cairo earlier today a few hours ago expecting to see significant changes. In many ways everything has changed yet on the drive from the airport to the hotel in Zamalek to across the Nile, Cairo is still the same. The wonderful energy, the crazy traffic with cars moving in a slow dance – it was Friday evening after all and people were out and about enjoying the beautiful evening. Traffic was snarled in some places with the Presidential campaign in full swing and supporters out in the streets waving signs and banners in support of their candidates. For life in a very big city it seems very normal. Yet for many their whole world has been changed completely. Many of us hope for the better but not everyone is that sure.
Right after my arrival I met with 25 youth leaders that have been part of the Microsoft Tech Hope program. This is a program where they are using technology to bring about social change. After the initial introductions the conversation quickly turned to the Arab Spring and the revolution. I asked them if they had been part of the demonstrations in Thahrir Square and all but two raised their hands. The other two were from outside Cairo and participated in local demonstrations. I was surprised as the room had equal number of men and women.
I wanted to know their opinion on the revolution and how they all felt. Almost all of them felt that they, the middle class youth, now felt more empowered. They all felt that they can now do something on their own. They do not have to go into just another job. One of them was very clear, he told me 'before the revolution my plan was to leave the country and study abroad, find a job there and stay there'. There was no future for him in Egypt. Now he is full of optimism and will stay here and work to bring about positive change in the underserved communities.
Every single one of them felt the revolution had impacted them, but for the poor there has been no immediate impact and for them change will be very slow. All of the youth in the room were concerned about this and as a group felt that they should work together towards equitable change.
I also asked them for their experience with the revolution and if anyone deserves any or some credit for it. One of the young men said the Ministry of Interior. I was taken aback and asked him to explain. He said that January 25 started out as a day of protest as it was Police Day – a day to celebrate the police- and what started out as a protest against the Ministry of Interior spun out of control over the next several days because of the brutal force the Ministry used to squelch the demonstrations. His opinion was if the Ministry had not taken this approach there would not have been a revolution as no one started out wanting a change in power.
One young lady put it best, she said it was the 'butterfly effect', one butterfly takes off and then another and suddenly you have a whole flight of butterflies. Everyone got involved, young and old, men and women, rich and poor and that is why she believes everyone is a hero. I just thought that was a great sentiment.
The conversation lasted late into the night and they were all bouncing different ideas off each other about how they can continue to drive positive change and how they all can make a difference together.
At one point, someone asked if the women in the room felt they would lose out when the new regime comes into power. They felt that was not the case, everyone participated and even some try people will not go back and not let anyone push them back.
Hope was the common sentiment in the room, though many are wondering how they can ensure that everyone will benefit from this change.
On Sunday we will launch of Innovate4Good@Microsoft for the Arab region and if this conversation was any indication we're in for a fantastic event. We have young leaders from across the region including Libya, Tunisia, and Iraq attending the event. I cannot wait to hear their stories.
The butterfly effect – what a great way to start the conversation in Cairo.

Deo Niyizonkiza and Village Health Works 
an intimate salon and conversation with Village Health Works founder and star of a New York Times best seller  
Co-presented by Fremont Abbey Arts Center and Pangea
When: Thursday, November 1, 4:00pm to 6:00pm
Where: Fremont Abbey Arts Center
4272 Fremont Ave N, Seattle
Ticket price: $30
A reception with beverages and light hors doeuvres will follow the talk.
Deogratias Niyizonkiza is the co-founder and director of Village Health Works, a non-profit organization that takes a comprehensive approach to health and development in Burundi, one of the world's poorest countries.
Deo's extraordinary story is the subject of Tracy Kidder's best seller, Strength in What Remains . Deo grew up in rural Burundi under military dictatorships, and was a medical school student at the country's only university when an ethnic civl war tore his world apart. He narrowly escaped with his life only to land in New York City with just $200 and no English. After months of delivering groceries and nights sleeping in Central Park, he met a nun who facilitated introductions to generous benefactors. Deo eventually graduated from Columbia University and went on to Harvard's School of Public Health and Dartmouth Medical School.
With encouragement from Paul Farmer, Deo returned to Burundi in 2006. He rallied the southern Burundi community of Kigutu and established Village Health Works. With land donated by the community and an army of committed volunteers, the clinic opened in December 2007. VHW has served over 60,000 people, runs programs in healthcare, education, and agriculture, and is now planning a new center devoted to women's health. It is unique in being entirely community-driven.
A frequent lecturer on global health, Deo is the recipient of multiple awards including the 2011 International Medal Award of St. John's University and the 2010 Women Refugee Commission's Voices of Courage Award. 
During Q&A, Deo will be joined by VHW co-founder and Health Programs Director, Dr. Dziwe Ntaba. Dziwe is Clinical Instructor in Emergency Medicine at Columbia University and Associate Physician in the Division of Global Health Equity at Brigham and Women's Hospital.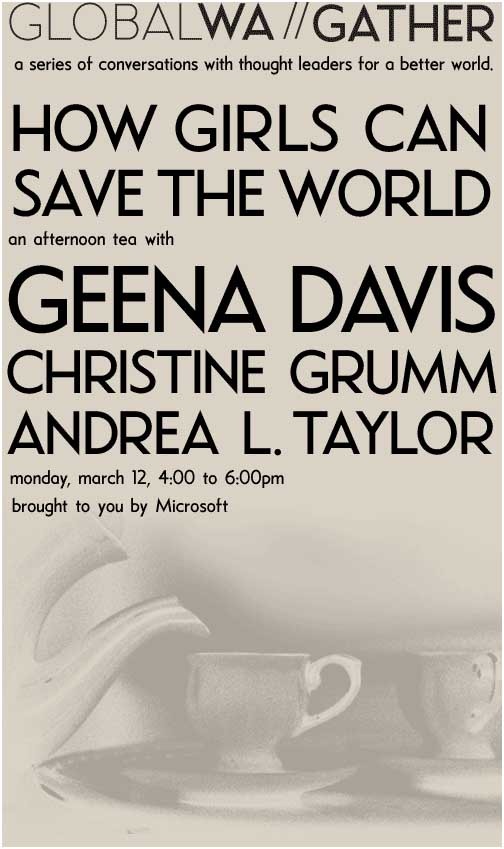 Thanks to our in-kind donors:
How can we make sure our daughters grow up in a world where they have every opportunity to achieve success? Gender inequality can manifest itself in some unexpected places—from rural India to your television screen. These leading advocates for women and girls will discuss the challenges and solutions to achieving a world where all have equal opportunity, regardless of gender.
Location: Town Hall Seattle
1119 8th Ave
www.townhallseattle.org
Date:  Monday, March 12
Time: 4:00 to 6:00
Cost: Free thanks to a generous sponsorship by Microsoft!
RSVP: Register now!
Please note that Secretary Clinton will speak at 10:45 am tomorrow at a USAID Town Hall addressing the agency's reform agenda and accomplishments in innovation.  Additional details are available in USAID's press release.
Briefing on the 2013 State Department and USAID Budget
Special Briefing
Thomas Nides
Deputy Secretary for Management and Resources
Rajiv Shah
USAID Administrator
Washington, DC
February 13, 2012
---
MR. TONER: Good afternoon, everyone. As all of you know, just a few hours ago, the White House presented President Obama's budget request for Fiscal Year 2013. And joining us this afternoon, our Deputy Secretary of State for Management and Resources Tom Nides and U.S. Agency for International Development Administrator Rajiv Shah to discuss in more detail Secretary Clinton's Fiscal Year 2013 budget request for the State Department and USAID.
They're going to speak briefly, take a few questions. I know Deputy Secretary Nides has to run. He's traveling to Iraq later today. But following the briefing, we do invite you to join us across the hall where we're going to have an on-background discussion in greater detail if any of you need to indulge your inner wonk on some of these issues.
But without further ado, Tom.
DEPUTY SECRETARY NIDES: Thank you. Thank you all very much. Good morning. Let me start by welcoming you today to the rollout of the 2013 budget request for the State Department and USAID. I know tomorrow is Valentine's Day and I was going to actually give some of you flowers, others of you chocolate, but because of the budget constraints, what I've done is given you this very, very pretty book and you can take it home with you and enjoy it. It's just considered a very nice pre-Valentine's Day present. So with that – I thought that was funnier earlier, but I guess it wasn't as funny for you guys. (Laughter.) Okay. Steve's laughing. Okay, and I'm obviously delighted by USAID Administrator Raj Shah, who will discuss in greater detail the development programs for all of you.
This budget follows a year of transformational change in the world, as you all know. New powers are emerging, America is strengthening relationships in the Asia Pacific region, while keeping commitments around the world. In Iraq, we completed the largest military-to-civilian transition since the Marshall Plan, and the budget reflects the beginning of a normalizing of our footprint. And Afghanistan has 33,000 U.S. troops who surged in come home. Our civilians will continue to do their work to secure our hard-won gains. This budget also reflects that.
Meanwhile, the Middle East is reinventing itself before our eyes. And since I presented last year's budget, there hasn't been a day when we weren't managing multiple crises at once. The demands on us have never been higher, and you will see all of that in this budget request. Of course, this is also a time of economic hardship in our country, and we all get that here. And so this budget seeks to stretch every tax dollar as far as possible without compromising our core national security interests.
Now, if my high tech skills serve me correctly, I will show you in graphic detail how our budget fits into the overall federal budget. First, as you know, 58 percent of the federal budget is spent on mandatory programs like Social Security, Medicare, and Medicaid. Second, 22 percent supports discretionary national security programs at the Department of Defense, Homeland Security, and Veterans Affairs. Third, 13 percent goes to discretionary non-security programs run by Transportation, Education, Justice, Commerce, and HUD. And fourth, 6 percent pays the interest on our federal debt. And if you think there isn't a lot left over, you're right. State and USAID account for just 1 percent of the federal budget. See that thin, yellow line? That's us – 1 percent. Today, I want to explain how we use that 1 percent to make the outsized contribution to America's prosperity, security, and leadership.
From day one, Secretary Clinton has made it a priority to work smarter and more effectively. This is the first budget that reflects reforms outlined in the Quadrennial Diplomacy Development Review, better known as the QDDR, where we have streamlined our efforts, we've not shied away from making tradeoffs, and painful but responsible cuts.
Interestingly enough, a recent Gallup poll found that Americans believe we spent a quarter of our budget on foreign assistance. But let me remind you again what the chart shows: State and USAID do all of what I have described – not with 25 percent of the federal budget, but with little less than 1 percent.
So let me take a few minutes to quickly go over some of the numbers. My colleagues will stick around after this to go into more details if you wish. As you know, FY 2013 budget for International Affairs programs, known as the Functional 150 account for all of you budget folks out there, totals $56.4 billion. This includes State and USAID, but the 150 account includes the Treasury's international programs, the Millennium Challenge Corporation, the Peace Corps, among others. So within the 150 account, you will find the State Department and USAID's requests, which totals $51.6 billion. And that is what I'm going to focus on today, the $51.6 billion.
We have limited our requests to what is absolutely necessary to achieve our mission. Even as our needs and responsibilities grow, our budget increases by less than the rate of inflation. This money goes to four principal areas. Let me you show you the basic breakdown of the budget by the percentages.
Twenty-three percent of the budget is spent on the frontline states – Iraq, Afghanistan, and Pakistan. Twenty-eight percent of our budget goes to preventing conflicts, supporting our allies and partners through direct assistance and multilateral contributions, among other things. Another 28 percent is also spent on human and economic security. And the remaining 20 percent – or 21 percent supports our people, embassies, and global presence.
Now, the specific numbers. First, the 23 percent or one – or $11.9 billion of requests goes in defending our now security interests in the frontline states of Iraq, Afghanistan, and Pakistan. Our Civilian Overseas Contingency Operations budget, better known for OCO, funds the temporary extraordinary cost associated with these missions. Using the same methodology from the last year's request, we've asked for $8.2 billion in OCO, and $3.7 billion in our base budget for a total of $11.9 billion for the frontline states. And let me now just break it down to you specifically.
In Iraq, we're requesting $4.8 billion for next year, which is about 10 percent less than last year. The transition is already saving American taxpayers a great deal of money. With now – with State in the lead, and with the troops no longer on the ground, the government is spending $40 billion less this year than last. And as discussed during last week's press briefing, we're continuing to be thoughtful about the rightsizing of our presence in Iraq, hiring more local staff, procuring more goods locally, which should further reduce our spending.
In Afghanistan, we're requesting $4.6 billion. Civilians are vital to our efforts and they are securing our gains against the Taliban. They're helping us take Afghans lead responsibility for their own security and they're laying the groundwork for what comes next: sustainable economic growth, national reconciliation, and the long-term civilian partnership, all of which helps us ensure that Afghanistan never again becomes the safe haven for terrorists.
And then Pakistan, our 2013 request is $2.4 billion. Our relationship with Pakistan is challenging, but make no mistake, effective cooperation with Pakistan is critical to Afghanistan's future and to America's national security. Our request includes funds to strengthen democratic institutions, countering extremism, supporting joint counterterrorism efforts, and protecting our civilians on the ground.
Second, we devote 28 percent or $14.6 billion, preventing conflicts and supporting key allies and partners. This year, our request includes a new $770 million Middle East and North Africa incentive fund to support political and economic reforms in the region. Our investment in supporting our allies and partners includes everything from police training in Latin America, to efforts to promote stability in places like Haiti, in the South Sudan, to more than 70 military-to-military partnerships, which are managed by the State Department. It funds peacekeeping missions around the world and our presence in international institutions and it matches last year's record high of $3.1 billion for the State of Israel, which continuing – and continuing our efforts to support our Arab partners.
Third, we devote another 28 percent of our budget, $14. 7 billion, to our investment in human and economic security, specifically global health, food security, and climate change, poverty reduction, and cross-cutting efforts to empower women and girls in our humanitarian budget. For all these programs, we're focused on achieving measurable outcomes that have real impact on improving people's lives. Even with the financial constraints we face, this budget fully supports the President's goal of treating more than six million people infected with HIV/AIDS by the end of 2013. This is a $2 million – two million more than our goal, continuing our strong support of PEPFAR, that puts us on the path to an AIDS-free generation. The money we spend on human and economic security also funds humanitarian responses in the care for refugees. I will leave it to Ambassador – Administrator Shah to speak in more detail about the innovation programs implemented by USAID.
And fourth, 21 percent or $10.4 billion of this budget supports the men the women of the State Department and USAID, who make the work I have described possible. This budget pays for all of our operations in 274 missions around the world. It funds political officers who advance our interests and defends democracy and human rights. It funds development officers, who spread opportunity to make the world a safer place. It funds consular officers who help bring businesses to the U.S. and help America's emergencies around the world. And it funds economic officers who help American business compete in new markets and put America back to work, and as I like to say, not a bad return on our investment.
This is a moment of historic change around the world. They are also tight times for our government and for our people, the two truths that have guided us from day one. And so – as I like to remind you once again, which is 1 percent of the federal budget, the State Department USAID will maintain our country's leadership in a changing world, would help promote our values, jumpstart our economy, and above all, keep America safe in 2013 and beyond. And let me now turn the floor over to my friend, Raj Shah.
ADMINISTRATOR SHAH: Thank you. Thank you, Tom. And I want to start just by reiterating Tom's both opening and closing point that the entire budget and the activities all described live within the 1 percent of the federal budget that Tom highlighted. I intend to go into a little bit more detail in the core development priorities of the FY13 budget proposal, and starting with the point that the President and the Secretary have focused on elevating development as part of our foreign policy, because the lives we save around the world, the results-oriented investments we make in health, education, clean water, and fighting hunger, are part of our national security strategy to keep us safe and our part of our economic security strategy to ensure that we're expanding the number of countries and communities with whom we can trade and, as a result, create jobs here at home.
The budget accounts are familiar to you, things like development assistance, global health and child survival, the international disaster relief and Millennium Challenge accounts. In all of these areas, we're taking a more business-like approach to delivering results. The FY13 request demonstrates a willingness to focus and concentrate investments in those areas where they'll deliver maximum results and more value for U.S. taxpayers.
I'll begin by describing global health. At $7.9 billion, this is a budget request that focuses on cost-effectiveness and saving lives. It allows us, as Tom mentioned, to meet the President's goal of putting six million patients on treatment for HIV/AIDS, building on the progress we've already seen under this Administration of going from 1.7 to 3.9 million under coverage today. This is in part possible because of a more than 50 percent reduction in the cost of doing treatment, thanks to the leadership of Ambassador Goosby and the PEPFAR program. This will also allow us to invest in HIV prevention, including the elimination of pediatric AIDS by treating pregnant women.
This allows us to meet our global commitments in immunization, where by getting together with the global community we've made investments to help save more than four million lives over a five-year period by expanding access to new vaccines to poor children around the world. And it allows us to extend our investments in malaria and maternal and child health, where we've seen concrete and specific results. Since 2008, child mortality has been reduced by 16 percent, maternal mortality has been reduced by 13 percent, and very clear studies just coming out in the past few weeks have shown the effectiveness of U.S. investments in global health in places like Rwanda and Tanzania.
Second, our Feed the Future program, the President and Secretary's signature effort to advance food security around the world, is based – is funded at $1 billion and is predicated on the point that it's cheaper and smarter to help countries feed themselves than to address famine, food riots, and failed states that result from food insecurity. Again, this is an area where we've changed the way we work to focus on delivering results, measured as the number of people that move out of a condition of hunger through their own sustainable efforts, where we focus our investments on those countries that are taking on reforms to ensure they can be successful, and where we work more actively in partnership with the private sector to stretch taxpayer dollars even further.
We've seen important results in places like Bangladesh and Tanzania, where food production is up and the number of people and the number of children who are chronically hungry have gone down. We've implemented new partnerships, such as with Pepsi in Ethiopia and Wal-Mart in Central America, that are reaching tens of thousands of families and stretching U.S. taxpayer dollars even further in delivering these results.
Third, we have a priority in our humanitarian accounts. Across State and USAID, these accounts help us deal with food emergencies, address water when water is not available to needing communities, address refugee flows around the world, and support internally displaced populations in conflict and other countries everywhere around the world. In these areas as well, we've taken a reform approach and prioritized efficiencies, investing in early warning systems that highlight faster where disasters are likely to occur, pre-positioning food and supplies to reduce the cost and improve the time to delivery, and expanding both local procurement and initiatives like the Secretary's 1,000 Days Initiative that targets food assistance to pregnant women and children so that it achieves better results in terms of nutrition, learning, and outcomes.
These types of strategies allowed us to reach more than 4.6 million people who are at risk in the Horn of Africa during the past several months and the drought and famine that ensued. Despite the fact that that's now been downgraded in part due to effective humanitarian support, the U.S. will continue to make investments in humanitarian crises in the Horn, in the Sahel, and in other parts of the world where it's necessary. And we'll continue to use our leadership and our ability to make those investments to diversify the burden and ensure that the whole world is living up to its shared responsibilities at times of need and crises.
And finally, Tom mentioned that $10.4 billion of the overall budget is for investing in our staff and our reform initiatives across State and AID, including 1.5 billion for USAID's operating expenses and a set of reforms we call USAID Forward. These reforms came out of the Secretary's QDDR initiative and are allowing us to use new technologies, like mobile banking in Haiti and Afghanistan, to fight corruption and expand access to banking services and financial services. They're allowing us to invest in scientific and technical partnerships, like the Grand Challenges program, which – where we've launched programs like Saving Lives at Birth and efforts to use technology to help all children improve their literacy outcomes at grade levels.
In each of these efforts, every investment of one U.S. taxpayer dollar leverages three or four dollars from other donors and other partners before we go forward. And perhaps most importantly, these investments allow us to build a staff model that allows us to oversee contracts and programs in a way that's designed to reduce waste, fraud, and abuse, cut down on contractor costs, and save taxpayers' money.
So I would end just by recalling Tom's opening point, that this entire portfolio of investment takes place within 1 percent of the federal budget and is part – a critical part of keeping us safe and secure and improving our economic prospects around the world. Thank you.
MR. TONER: We have time for a few questions. Go ahead, Elise.
QUESTION: I'd like to ask maybe Secretary Nides about some of the areas where you're expected a cut in funding, for instance aid to Egypt, which although the 1.3 billion is in there, I mean, it doesn't – if things aren't resolved with the Egyptians it looks as if it was cut. Also I might refer to the UNESCO funding. Although this year you don't have an estimate, for next year you have close to $79 million.
DEPUTY SECRETARY NIDES: That's right. 79 million. Right.
QUESTION: Yeah. So I'm just wondering, are these in anticipation of resolving these issues? Are you kind of reserving the money? What – if you could explain that a little.
DEPUTY SECRETARY NIDES: Sure. Well, let's do UNESCO first. As you know, the Congress has prohibited us for funding UNESCO this year. And as you know, the President has also articulated quite clearly that he would like a waiver to allow us to participate in UNESCO. We have put the money in the budget, realizing that we're not going to be able to spend the money unless we get the waiver, and we have made it clear to the Congress we'd like a waiver. So we will work with them and work with our friends and colleagues on Capitol Hill in hopes that we can work an agreement out for us to fund. UNESCO does an enormously – a lot of enormously good work, and we'd like to make sure that we have a contribution commensurate with their work.
As it relates to Egypt, our goal is, is to provide the money which includes about $1.3 billion of FMF, which is the foreign military funding financing, and then the $250 million of direct assistance which is put into 2013. Our goal is, is to provide them those funds. I mean, it's obviously clear to all of us that we have issues that we need to work through, and we are working very aggressively to do so. But this budget reflects our commitment and our desire to make – to fully fund those initiatives.
MR. TONER: Go ahead, Andy.
QUESTION: I'm just curious – one follow-up on Egypt and then to the broader Middle East and North Africa Incentive Fund. Okay, this is – you're saying on the Egyptian side this is your hope that you'll be able to give them the money that you've outlined here. How much pushback are you expecting from Congress on these particular numbers? Do you have an argument for the people in Congress who are going to say that they shouldn't be getting this money? And secondly, on the $770 million for the broader incentive fund, how much of that is going to be actually new money and how much of that is sort of moved from other places?
DEPUTY SECRETARY NIDES: First on Egypt, we're going to have a – I think the desire from the Hill and certainly from the Administration is to resolve the issues that are currently occurring in Egypt. And I think there's bipartisan support once we can get these issues resolved is to support Egypt. I don't think that's – I think there would be no argument on that, at least from where we sit. And we have, obviously, issues we'll need to deal with and which we're actively engaged in. So our hope is and desire, as we proceed this year and have discussions around the budget, would be clearer to all of us as the situation gets clearer for us in Egypt, and that we'll be able to provide the assistance that we hope to provide.
As relates to the $770 million of the Middle East Transition Fund, this is something that Secretary Clinton has really – and with the President – has focused principally on. The notion is we're in a new world. The Arab Spring has come; we need to make sure we have the tools and the flexibility in which to fund these initiatives. I cannot tell you today where that money will be spent because we'll be, obviously, in consultation with the Hill. We'll be coming up with initiatives that we'll then be discussing with the Hill.
But this is something we coordinated and talked a lot about with our friends on the Hill, with – the idea is to have some flexibility to support everything from Tunisia, to support areas like potentially in Egypt and in areas where things are changing every day in Syria, things where changing – we have no idea – the world is evolving as we see it, and we felt it was important to have a pool of money. Some of it is money that we have taken from other areas. Some of it is new money. But it's obviously all capped in the overall budget request which, as I pointed out at the beginning, is basically up about 1.5 percent from last year. So as you can see, we're doing lots of trade-offs to come up with those monies.
Yeah.
QUESTION: Just a quick – one quick follow-up. Would that include the 250 million in non-military aid for Egypt?
DEPUTY SECRETARY NIDES: This is – that 770 is – that's a different pot of money.
QUESTION: Different pot of money, okay.
DEPUTY SECRETARY NIDES: It does not include – yeah, you have the Egypt money which is a billion five, of which is – the numbers here – I think doing it from memory – but a billion three is FMF, 250 million or 250-some million is for direct assistance. And – am I screwing this up? Okay, good. And then – I just saw him looking at me like with their hands on their face, so I just want to make sure I didn't get – I'm doing it from memory.
So the 770 is new money, yes.
MR. TONER: Go ahead, Josh.
QUESTION: Thanks. I'm looking here at –
DEPUTY SECRETARY NIDES: Don't stump me, Josh. Don't do that to me. (Laughter.) I was doing so well, okay? Okay.
QUESTION: No, no, no. Okay. So the core – the enduring budget, the core budget –
DEPUTY SECRETARY NIDES: Yes, sir.
QUESTION: — was funded at 43.7 billion and the request this year is 48 billion. That's a 4.3 or 10 percent increase.
DEPUTY SECRETARY NIDES: Yes – but you're good at math so you'll understand this – there's two ways they did this. The budget – they switched around between OCO and core budget, so the Hill last year in our budget request made a decision to move some items into the OCO account out of the base account. And we've had a lot of dialogue back and forth with them in – as relates to 2012.
We are making – we are shifting some of those things back into our base budget. The overall budget, especially in the frontline states, is basically up just a little bit as reflects to Afghanistan. So even though it looks like the base budget is up, in fact, the base and OCO together is basically flat, is up 1 percent.
QUESTION: Right, right. So my question is, since there are discretionary spending caps going into effect –
DEPUTY SECRETARY NIDES: Sure.
QUESTION: — for the first time based on the Debt Control Relief Act – Budget Act, do you expect these – that to be funded in the regular budget, or do you expect Congress to just shift it back? And how does this fit into your long-term –
DEPUTY SECRETARY NIDES: We'll – listen – you're – you've watched the Congress for a long time, as well as I. This is the beginning of a process. I mean, obviously, the benefit of the OCO account in general allows for all of you who report on this and for the Hill to look at the costs of our frontline states, to look at the costs of Iraq, Afghanistan, Pakistan, and that's important because you better see those costs come down over time. And that's why the – I think the idea of putting the OCO part of the State Department as relates to the frontline states was critically important. So that's the benefit of the OCO, and I think the Congress will look at that in '13 and I think my assumption is – strong assumption – they will continue to fund the OCO in a way that they feel reflects those costs.
QUESTION: One quick – very quick follow-up. So one specific thing is 626 million for assistance to Europe, Central Asia, and Eurasia, totally zeroed out in democracy assistance.
DEPUTY SECRETARY NIDES: 18 percent.
QUESTION: Out of 626 million down to —
DEPUTY SECRETARY NIDES: Yeah, Europe – these guys will get it. But Europe and Eurasia went down 18 percent.
QUESTION: No, but I'm saying that 18 percent is the democracy promotion funding?
DEPUTY SECRETARY NIDES: Yes, yes.
QUESTION: And that went from 626 million to zero, right?
DEPUTY SECRETARY NIDES: Is that –
STAFF: We'll follow up on that.
QUESTION: Well, what's the –
STAFF: We didn't zero out the democracy program (inaudible). The entire assistance to the region is down, but it's spread across lots of different sectors.
DEPUTY SECRETARY NIDES: You'll get —
QUESTION: So generally, why are we cutting all of our assistance to those three regions by whatever it is that we're –
DEPUTY SECRETARY NIDES: Well, again, I mean, I think we'll have – again, as the document will show, Europe and Eurasia is down about 18 percent. As the Secretary and the President has discussed many times, we have a limited amount of money, we have a huge amount of new activities occurring, and we need to shift resources based upon the activities that are occurring.
MR. TONER: Just – all right.
STAFF: It's on page 11.
MR. TONER: So let's save this for – let's save this for the backgrounder. Okay. Last question, anyone? Yeah.
QUESTION: Yeah.
MR. TONER: Yeah. In the back.
QUESTION: Go ahead.
QUESTION: I'm just wondering, the 2.4 billion for Pakistan with 1.5 billion the core money, is the core money what comes because – due to the Kerry-Lugar bill?
DEPUTY SECRETARY NIDES: Yeah. The Kerry-Lugar-Berman number went from one five to one one, I think, is the numbers.
QUESTION: Okay.
QUESTION: And the security assistance – has it come down, or is it staying the same level?
DEPUTY SECRETARY NIDES: The security assistance for Pakistan is staying the same, is that right – staying the same, staying the same.
QUESTION: Thanks.
MR. TONER: All right. Thanks, everyone. Appreciate it.
QUESTION: Quickly for Ambassador – for Administrator Shah?
ADMINISTRATOR SHAH: Sure, I can take one. Sure, sure. Yeah. Go ahead.
MR. TONER: If he has a chance to take – sure, go ahead. One quick question, but let's keep it lights out.
QUESTION: All right. We got a $313 million cut for global health programs. Could you please explain?
ADMINISTRATOR SHAH: Well, the global health budget was keyed against the results we've committed to. So the President made a commitment to put 6 million people on AIDS treatment. Given the cost structure of that, we have a budget that reflects an ability to do that. We've made a commitment to eliminating the transmission of HIV/AIDS from mothers to children with a budget that supports that effort. The President's made a commitment to support the Global Fund, and this reflects that as well. And this reflects areas like malaria, maternal and child health, where we've essentially been seeing very, very good and very cost-effective results in terms of the cost of saving lives. So at $7.9 billion, we're maintaining a very strong commitment to global health on the behalf of the President and Secretary.
MR. TONER: Great. Thanks, everyone.
Special Briefing
State Department and USAID Officials
Washington, DC
Link to More on Budget
February 13, 2012
---
MR. VENTRELL: Our briefers have to get up to the Hill in about 40-45 minutes (inaudible). This session is on background. We have State and AID officials, so since there's a mix, let's just call this Administration officials. (Inaudible). I'll let the three of them introduce themselves very briefly, and then I'll moderate the questions. So let's go ahead. You want to start?
SENIOR ADMINISTRATION OFFICIAL ONE: Sure. I'm [Senior Administration Official One]. I'm [position withheld].
SENIOR ADMINISTRATION OFFICIAL TWO: [Senior Administration Official Two], [position withheld].
SENIOR ADMINISTRATION OFFICIAL THREE: [Senior Administration Official Three], [position withheld].
MR. VENTRELL: Okay. Do any of you have any remarks you want to say before we go for questions, or we just want to go?
Okay, Josh, you look like you're ready to begin. Dig in.
QUESTION: Okay. Can we talk about the fact that Europe, Eurasia, South Central Asia – I'm looking at page 11 in the briefing book, where it says assistance to those countries will be zeroed out.
SENIOR ADMINISTRATION OFFICIAL ONE: Well, right.
QUESTION: Let me finish. And democracy funding, 115 million zeroed out. And migration and refugee assistance, minus 250 million, which is all in the OCO, which is —
SENIOR ADMINISTRATION OFFICIAL ONE: So let me explain the – Europe – and this is Europe and Central Asia money and the democracy. Those are – we've traditionally funded assistance in Europe, Eurasia, and Central Asia in a separate account. This year, we are taking those funds and we are funding those programs in our normal assistance accounts – economic support funds, the INL programs, and global health programs. So if you look at the tables in the back, you'll see those countries funded. We're discontinuing that account.
That account was set up – it had morphed over time but it originally – 20 years ago when the Berlin Wall fell, it was a separate set of accounts that were set up for that region. Twenty years have gone by, several countries have graduated into market democracy, into the international institutions – the EU, NATO – and we felt it was time to sort of normalize the assistance for those countries in the regular budget so that we no longer have a separate carve-out. So there is money in the budget for those reasons.
The same thing with Democracy Fund. The Democracy Fund is something that Congress always provides us as a distinct account. We have put the democracy money into the Economic Support Fund account. We do this every year. So it looks like it's a zeroing out, but it really isn't a zeroing out. You have to kind of go into the depth of the budget to sort of get that.
On humanitarian assistance, you're right. Most of that reduction from 2012 is in the refugee assistance account. We feel the $4 billion, roughly, that we have in total for humanitarian assistance in the food aid account, the refugee accounts, and the disaster assistance accounts are sufficient to allow us to do what we have to do. Plus I would just say two other things: One, a portion of the Middle East Incentive Fund is – we anticipate it could be used to deal with humanitarian emergencies in that region owing from the transition. We've already spent about $150 million over the last year in humanitarian assistance to Libya and in other places. So that's a place we can sort of stretch the main accounts. And we also have some money in the Feed the Future program that goes for more traditional development food aid programs. That will also help us stretch the account. So I think we're in pretty good shape on those accounts.
QUESTION: Thanks. A very quick follow-up. So the 250 from the migration and refugee assistance, that was all in the OCO, right? And then —
SENIOR ADMINISTRATION OFFICIAL ONE: Well, in 2012, it was split between the base budget and there was a few hundred million dollars that was put in the OCO.
QUESTION: Yeah.
SENIOR ADMINISTRATION OFFICIAL ONE: As the Deputy Secretary said, we're – our OCO proposal for 2013 is very much like it was last year. It's purely Afghanistan and Pakistan and Iraq. It doesn't have any of the humanitarian assistance in the OCO. So the – for all of you to get an apples to apples comparison from 2013 to 2012, you've got to look totals to totals, because we're – our methodology is different.
QUESTION: So practically, is there going to be a scale-down of migration and refugee assistance in those three countries?
SENIOR ADMINISTRATION OFFICIAL ONE: No. I think we have the flexibility to use the existing set of accounts to deal with humanitarian issues in those countries.
QUESTION: I'll let someone else.
MR. VENTRELL: Other questions? Go ahead.
QUESTION: Can I ask you something about the Kerry-Lugar number going down to about 10 – from 1.5 to 1.1? I'm just trying to understand now – wasn't it supposed to be 1.5 (inaudible)?
SENIOR ADMINISTRATION OFFICIAL ONE: Sure. The authorization bill, the Kerry-Lugar-Berman bill you refer to, authorized up to $1.5 billion over five years. This was the bill that was enacted in 2010. For the first couple of years, we have requested $1.5 billion. The Congress – and through the negotiation over the budget, we never got that high. And so given the budget constraints, given the fact that we're under caps, and the fact that we really had to look very hard at our spending, we have since decided to request something a little bit lower than the 1.5. We did the same thing last year.
So we're at about 1.1 billion for Kerry-Lugar – for the non-military assistance program. It just means that to get to the $7.5 billion of what we refer to as Kerry-Lugar-Berman funding, it's just going to take us a little bit longer. But we still have a very, very robust commitment to Pakistan.
In addition to the 1.1, there is money in military assistance, the traditional foreign military assistance, which is part of a multiyear agreement. And as the Deputy Secretary said, even though we have our challenges with the government right now, we wanted to make sure that the budget reflected the nature of the program, its importance to our security, importance to our efforts in that region. So a $2.5 billion Pakistan budget, which includes those two things plus the Pakistan Counterinsurgency Capability Fund, is a – is really, I think, a strong statement of support for what we're doing there.
QUESTION: So just to follow up, you're saying that the Kerry-Lugar, the 7.5 billion, is now going to take longer than five years?
SENIOR ADMINISTRATION OFFICIAL ONE: Well, it's going to. That's an authorization bill. That wasn't an appropriation. So we're – if we're not requesting nor are we receiving from the Congress the full 1.5, it's going to take us a little bit longer. But an assistance program at over a billion dollars is still – it's still one of the largest recipients of assistance in our budget. And so —
QUESTION: I'm sorry. How much did you get last year? I'm looking for it.
SENIOR ADMINISTRATION OFFICIAL ONE: We had about $1 billion in non-military assistance for Pakistan in 2012.
QUESTION: So if you're asking for the 1.1, do you anticipate that it's going to be a lot less than that, or you think you'll get —
SENIOR ADMINISTRATION OFFICIAL ONE: We've been having – the Pakistan levels have been hovering around that level for the last few years, so I'm pretty confident that that's sort of the sustained level that we're going to get if the Congress, although, as the Deputy Secretary said, this is a proposal. We're going to have a – we have a lot of negotiation to do, so we're going to make the best argument we can and we'll have to work out with the Congress ultimately what the final appropriation's going to be.
MR. VENTRELL: Go ahead.
QUESTION: Hi. Lisa Friedman with ClimateWire. Thanks. The climate change funding that Administrator Shah mentioned – the priorities seem very broad. Can you talk about what this is going to fund, and is this new money?
SENIOR ADMINISTRATION OFFICIAL ONE: Well, it's a sustaining – it's a sustained commitment we have to climate change programs in the developing world. I'll saying something, and I'll ask [Senior Administration Three] to amplify. When we began the Global Climate Change Initiative, we were doing so around the Copenhagen commitments we made a few years ago. And we've largely met those, the $6 billion in climate financing – this is over a period of years. So now we're into a sort of sustained level of effort on climate dealing from – everything from clean energy to resiliency to forest – sustainable forestry and other things.
So this is a continuation of programs that we funded, and whether – I don't know what your definition of new money is, but it is an allocation we have as part of our overall budget that's part of our overall tax that's going to go for the programs – I don't know, [Senior Administration Official Three], if you want to say anything about —
SENIOR ADMINISTRATION OFFICIAL THREE: Well, it's just – [Senior Administration Official One] is exactly right. This is not – these are not new programs. They're continuations of the same strategies that we've had, focusing in three areas: adaptation, clean energy, and sustainable landscapes. We're still focusing on things like the RED commitment, although as I think one of the things that will become clear when you go into the details is that commitment is probably going to have to stretch another year to meet that billion dollars, given the envelope we're working under. And – but it's the same commitments in the same three categories. And obviously, the State and AID piece is just one piece of the total. There are also the contributions through Treasury to the – to climate-related World Bank funds.
SENIOR ADMINISTRATION OFFICIAL ONE: So if you add the Treasury direct funding and you add our direct funding, we're at – almost at $769 million worth of climate funding in the total U.S. Government budget.
MR. VENTRELL: Go ahead, Elise.
QUESTION: I have a couple of things. So Burma – this is like the – when was the last time you gave kind of non-emergency —
SENIOR ADMINISTRATION OFFICIAL ONE: We've been doing – Burma. We've been doing programs in Burma for the last few years. This is – we're trying this year in the 2013 budget to keep the levels at sustained and a higher sustained level, given the fact that there's an opening there now. And I imagine assistance from humanitarian accounts in other parts of the budget over – when we're in actual 2013, the numbers will grow a little bit. So we're really trying – as late as those breaking developments were in our budget process, we're trying to make sure to keep the number as high as (inaudible).
QUESTION: Okay. And then on the Middle East and North African Incentive Fund, so you just arrived at the 770 kind of, not randomly, but it doesn't look like you have any kind of ideas on any —
SENIOR ADMINISTRATION OFFICIAL ONE: Right. So let me explain a little bit more about this fund, because it's an important part of the budget. First of all, the 770 million – I forget who asked the Deputy Secretary whether it was new versus moving around. There is 70 – 70 million of it is programs that are the – it's the Middle East Partnership Initiative and a small USAID program called OMEP – Office of Middle East —
SENIOR ADMINISTRATION OFFICIAL THREE: Office of Middle East Partnerships.
SENIOR ADMINISTRATION OFFICIAL ONE: — Partnerships. Those have been funded previously in the past. That's 70 million. Seven hundred million is, I would say, quote, new money. It's money that we have, through the various tradeoffs in the budget – have identified to allow us to help with the democratic transitions in the Middle East.
A little bit of background is helpful here. We came to the Middle East change without any resources dedicated to this in the budget. So over the last year, since last January, we have reprogrammed, carved out, made available almost $800 million for the response. That includes some of the Egypt money from their reprogramming out of their pipeline, the new Middle East response fund in 2011, a similar fund in 2012. All the humanitarian assistance is a – there's a – our effort to respond to the transitions over the past year have been robust. We needed a way in 2013 to sustain – have a sustainable way to fund these things.
You're right. There's nothing magic about 700 million. It's not allocated way in advance. I wouldn't know how to allocate that right now. But there's a few key points that I would make. One is we're trying to recast the relationship with these new governments in a way that we haven't done before. We want to focus more on economic growth; we want to focus more on democratic transitions. And the budget for the Middle East region historically has not been focused on those things. It has been largely security assistance related. And we needed to expand the envelope, if you will, of funding to that region to allow us to do those things which were not being done in the past.
And two is —
QUESTION: So you're not doing it within the individual country?
SENIOR ADMINISTRATION OFFICIAL ONE: No. This is over and above the bilateral programs to places like West Bank-Gaza and Lebanon and Tunisia and Egypt. This is additional money that we would then allocate as we work with those new governments to secure public commitments, commitments on reform, to allow us to do – and help them achieve the goals that we've – that's in all of our interests. So this is a new account, it's a new fund, it's an addition to everything else we're doing in the region. It doesn't come at the expense of any of the preexisting agreements we have with Israel and Jordan. So —
QUESTION: Well, far be it from us to get ahead of ourselves, but I mean, if you look at the money that, like, ended up being spent in Libya, for instance, when – once the international community stepped up its action against Libya, I mean, if something were to happen in another one of these countries – say Syria for instance – would the money come from this account or would that be – I mean, your 700 million can go to Syria, like in a (finger snap).
SENIOR ADMINISTRATION OFFICIAL ONE: Correct. It could – we could use this fund for places like Syria, and we actually are worried about what our response is going to be when Syria breaks one way or the other. And that's going to be dependent on timing. If we need to do something in Syria this fiscal year, we're going to have to use the resources we have in 2012. However, the resources we have in 2013 through this fund, if we have it appropriated by Congress, can be – finance part of the response. And it – and – but more importantly, it's available to us to be more proactive and add more sustainable bilateral relationship.
So you're right. Syria could be a big draw. I would hope it's not 700 million big, and I would hope that our response to whatever happens in Syria is coordinated with the international community, much like our response was to Libya. And – but that's what this fund is there for, for Libya, for Syria, for Yemen, for Tunisia, for Morocco. I mean, if there are transitions going on around the region, we want to have the ability to affect this proactively and in a more sustained way than reprogramming money, which is what we had to over the last year.
Go ahead.
QUESTION: Just on the West Bank that you mentioned, the numbers are slightly lower this year. I'm just wondering, first of all, why that is and if there would be any change based on the makeup of the government of Hamas (inaudible).
SENIOR ADMINISTRATION OFFICIAL ONE: The two primary reasons why West Bank is down is, one, we had a very robust police training program in the West Bank. Most of that was equipment, heavy training. That is sort of tailing off, and now we're into more sustainment and rule of law, which is more – which is cheaper than the equipment. So a large chunk of the reduction is just to reflect programmatic reality to the West Bank. And there is a reduction in the amount of cash transfer that we are proposing for 2013. This year, we're – we were planning on doing $200 million. Next year, the proposal is $150 million. We think the economic situation is slightly better, so it means we can give a little bit less. But obviously, when we get to 2013 and we have to work with the Congress on the allocations, we'll have to assess where that is a year from now.
QUESTION: And the makeup of the government?
SENIOR ADMINISTRATION OFFICIAL ONE: Even the makeup of the government.
QUESTION: And so, I'm sorry – just in terms of the numbers, so looking here at the FF money, and that's –
SENIOR ADMINISTRATION OFFICIAL ONE: That's the cash transfer, and the —
QUESTION: So then – so we're talking about the training with stuff, right?
SENIOR ADMINISTRATION OFFICIAL ONE: That's the – in the (inaudible) – the INL portion of the budget. So if you – there's an account table for the INL in that, too, and you'll see similar reductions.
QUESTION: Okay.
QUESTION: Can I ask you a little bit more about INL? So we have old money and we have a overall $500 million increase. And then on this page, on 164, we have 350 million more for Iraq and about that same amount reduced for Afghanistan and Pakistan. So what's going on here? Is the calculation that we don't – that drug –
SENIOR ADMINISTRATION OFFICIAL ONE: No.
QUESTION: — (inaudible) is not as important in Afghanistan?
SENIOR ADMINISTRATION OFFICIAL ONE: No. No, well – okay. So not to overly technicalize this, but to put the Afghanistan and Pakistan budgets in context, you've got to look at the base and the OCO together.
QUESTION: So it was switched to the base?
SENIOR ADMINISTRATION OFFICIAL ONE: Right. So there's INL money and counterdrug money in OCO for Afghanistan, for example, and you'll see it goes up. For Iraq, the police program is part of this transition near our – starting with the program in 2012, that's about $500 million. We are planning to strengthen that program in 2013. It'll be a bigger program, more advisors. That accounts for the big – for the increase from 2012 to 2013. But to do an accurate apples to apples comparison in Afghanistan and Pakistan, you've got to glue the two things together. I know it gets complicated.
QUESTION: You're saying that it's going up overall?
SENIOR ADMINISTRATION OFFICIAL ONE: Yeah. The drug programs, rule of law programs in Afghanistan, and particularly in Afghanistan because a lot of that is transition-related programs that DOD is not going to do any more work starting today. So you'll see when you do an apples to apples – and we can help you with it offline, if you like – you'll see those numbers grow. So the – looking at the one chart in the one part of the book doesn't really tell the whole story. So I know it's confusing, but that's the way the budget is constructed. We'll have to help you glue the pieces together.
MR. VENTRELL: (Inaudible.)
QUESTION: Yes. Can you just follow up on Kerry-Lugar? You said last year, you guys asked for and received $1 billion. How much have you guys received and spent, year to date?
SENIOR ADMINISTRATION OFFICIAL ONE: I will have to get back to you on the actual expenditures. The money has not moved as quickly as we would want, owing to various difficulties on the ground and with the government, but we'll have to get back to you with the status of those funds.
QUESTION: And if I can just ask about these numbers, 1.1 was Kerry-Lugar, and 800 million is the (inaudible) fund.
SENIOR ADMINISTRATION OFFICIAL ONE: Right.
QUESTION: And what's another 300 million –
SENIOR ADMINISTRATION OFFICIAL ONE: That's the foreign military financing portion. So those are the three main components of our assistance programs – the ESF, the – I'm sorry, the nonmilitary assistance piece, the foreign military finance piece, and the PCCF are the three components of our assistance to Pakistan.
MR. VENTRELL: A couple more. Andy?
QUESTION: Just a quick one on the numbers for Sudan and South Sudan on economic support. South Sudan obviously still has a lot more, but it seems to be trending down against last year, while Sudan itself is trending slightly up. What's the rationale there?
SENIOR ADMINISTRATION OFFICIAL ONE: We spiked in 2012 funding for South Sudan, given the fact that this is a big year of transition, it's a new government. And in the – all the tradeoffs we had to do, given the caps, we felt we could come down a little bit and still maintain very, very high levels to South Sudan. I don't have the number right in front of me, but I know it's multiple hundreds of millions of dollars.
SENIOR ADMINISTRATION OFFICIAL THREE: Two hundred million —
SENIOR ADMINISTRATION OFFICIAL ONE: Right, and then that's augmented with funding from other accounts. And on the regular part of Sudan, we're trying to build – we're in a different world now in Sudan. We've got two separate countries. We have issues in Darfur and other things we still have to do, so we felt we had to sort of strike the balance between the two countries. And so that's the main part of the difference.
QUESTION: Will there be any component – and this is my ignorance here, but is debt relief part of that equation or not?
SENIOR ADMINISTRATION OFFICIAL ONE: I'll address –
SENIOR ADMINISTRATION OFFICIAL THREE: It's funded. There is a – I don't know the exact number, but there is a significant number in Treasury. The department actually has an account for debt relief. And you'll notice, I think that spikes this year, like, from low double digits to 300 or – 200-300 million, and that is mostly if not all for Sudan debt relief.
SENIOR ADMINISTRATION OFFICIAL ONE: So you – the Treasury Department can give you more details on that.
QUESTION: Just a minor detail. The Israel aid is just a teeny bit higher. Is that just in keeping with the agreement under the MOU?
SENIOR ADMINISTRATION OFFICIAL ONE: That's the 10 – yes, that's the 10-year agreement.
QUESTION: Okay.
QUESTION: Is it correct – and I think it is, isn't it, that the only country that received IMET funds last year but is not this year is Guinea?
SENIOR ADMINISTRATION OFFICIAL ONE: There were a handful of IMET countries. Again, not very – these are not very big programs. There were a handful of IMET countries, right. Let me look.
QUESTION: I think it's the only one.
SENIOR ADMINISTRATION OFFICIAL ONE: Yeah, Guinea-Bissau is the one – the only one that we zeroed out.
QUESTION: And then every year it comes up and every year (inaudible). Why does the East-West Center keep getting money?
QUESTION: Why does the International Coffee Organization —
QUESTION: Well, that actually makes sense, but the East-West Center – every year, you guys come out and want to cut its funding, and every year it goes up to the Hill and it ends up getting more money than they – than anyone had ever asked for.
SENIOR ADMINISTRATION OFFICIAL TWO: East-West Center funding level for 2013 is consistent with the funding level that was in the President's request for 2012, and —
QUESTION: Yeah. It was also jacked up by the Hill.
SENIOR ADMINISTRATION OFFICIAL TWO: It was increased in the appropriations process by the Hill. We continue to believe that it does offer good programs. They're – at this funding level, it's likely that we will see greater focus to their programs in Hawaii, and that they will probably be closing down their headquarters operations here in Virginia. But they will continue to provide the educational programs that we've been —
QUESTION: Is that something that – really? That's something that they're going to do? They're going to shut down their office?
SENIOR ADMINISTRATION OFFICIAL TWO: That's why there are considerations for the lower level of funding.
QUESTION: Okay. All right.
QUESTION: One last one. I've got a quick one on the PEPFAR funding, if I could, for USAID. Could you just talk us through what this increase (inaudible) for what it is relative to last year, and how that's going to break down for medication versus prevention?
SENIOR ADMINISTRATION OFFICIAL THREE: I actually don't think I can.
SENIOR ADMINISTRATION OFFICIAL ONE: Right. I think —
SENIOR ADMINISTRATION OFFICIAL THREE: To do that —
SENIOR ADMINISTRATION OFFICIAL ONE: I know that Dr. Goosby was going to do a more detailed set of briefings on the PEPFAR program. They can get into some of that detail. The one thing I would add to what the Deputy Secretary and to what Raj said at the press briefing earlier is, yes, while the global health number is down below 2012, these are really cases of programs that are outcome-driven in terms of how we arrived at the number, and sort of taking advantage of their successes. Unit costs are coming down, they're becoming a lot more efficient, they were able to treat more people at lower cost, and so we are able for – it's rare in the budget world to have a program or set of programs that have measurable efficiencies where we can actually do a lot more with a little bit less money.
So I think it's important to note, as you get into this, that the budget, even though it's slightly down from 2012, still maintains the commitment on the 6 million treatment goal, still maintains our Global Fund commitment, still maintains our commitment to the —
PARTICIPANT: To GAVI.
SENIOR ADMINISTRATION OFFICIAL ONE: — to GAVI, the vaccine institution, still maintains robust funding for malaria and maternal child. So it's – so the numbers don't tell the whole story. I think Dr. – Ambassador Goosby can give you chapter and verse on the bilateral and country splits and kind of what their considerations were.
MR. VENTRELL: Shortly — one last question, then we've got to get our briefing —
QUESTION: The Administration's pivot to Asia Pacific, are there ways we can quantitatively see this in the budget?
SENIOR ADMINISTRATION OFFICIAL ONE: The budget – again, it's one of those things where I think the story is better told on the diplomatic side, where we have a number of – we're reengaging with Asia on – in several regional and multilateral institutions. The numbers are slightly below 2012 for the region, but I have to say most regions are slightly down, maybe with the exception of the Middle East, because the budget was that tight. So there are lots of other things that we're doing in that region with respect to Indonesia, with respect to multilateral institutions that complement the priority that you'll see out of the DOD strategy.
SENIOR ADMINISTRATION OFFICIAL THREE: I also – just to add to that, I think what you're going to see increasingly in that region is, for certain countries like India, moving from assistance to trilateral cooperation. So our strategy with India is going to increasingly be looking at working with the Indians on mutual development goals which may not all be in India; may be in third countries. And I know our Feed the Future Initiative has already started working with India on such a program similar to one we have with Brazil and Mozambique. So I think – and there are other countries, like Indonesia is starting up its own aid agency now. So I think you're going to start seeing more of that in – and Asia is going to be probably leading the way along with the two summits on Latin America on that effort.
MR. VENTRELL: Okay. Thank you all.