This guest post from Kunle Oguneye, president of the Seattle chapter of The African Network was originally posted in Humanosphere and is reposted here with permission.
One glaring omission which prevails in the global health and development community in the Greater Seattle region is the absence of Africans or Indians or Chinese or Vietnamese.  Those of us who live in the poverty-stricken regions of the world have no input in the so-called solutions to eradicate malaria or to fight global-poverty.
I find it quite disturbing that the so-called beneficiaries are not consulted when seeking solutions to the challenges that we face on a daily basis.  I would not be so concerned about this, but for the fact that some of the policies and activities of well-intentioned advocates may actually be detrimental to the poor communities of this world.  Why does the global development community assume that we Africans don't know what works in addressing poverty?  Why do they assume that we do not have the answers?  Why does a white man or woman visit Africa and immediately prescribe a solution based on their three-week visit?
Many of us in the African immigrant community have seen poverty first-hand.  Many of us have watched our relatives and friends pull themselves out of poverty or further fall into poverty.  We understand what solutions can and do work.  We understand that technology can help, but only to a point.  We understand that you cannot address a society's problems without boots on the ground.  We understand that no program will be successful without the buy-in of the community.
Another glaring omission in the debate around global development is the absence of the business community.  Communities thrive around business.  All the efforts to provide a village with bed nets and anti-malaria drugs will ultimately fail, if those villagers do not have the means to purchase those items once the initial donations run out.  We must be encouraging businesses to engage with the developing world.
We need to stop presenting the image of Africans and indeed the developing world as helpless lost souls who need help from the benevolent white man or woman in order to survive.
If the community is really sincere about development, then they should ask the people of that community what works.  Help them acquire the necessary infrastructure, provide relevant educational opportunities and then get out of the way.
Kunle Oguneye
By Sam Daley-Harris
The deed is done.  On May 5th the appellate division of the Bangladesh Supreme Court agreed that the Bangladesh Bank, the nation's central bank, was justified in firing Nobel Peace Prize Laureate Muhammad Yunus from his post as Managing Director of Grameen Bank, the institution he founded more than three decades ago.  Prof. Yunus' lead lawyer, Dr. Kamal Hossain, one of Bangladesh's most distinguished attorneys and a drafter of the nation's constitution, was scarcely able to hide his disgust at the Appellate Division order, when he said: "I [apparently] have to take admission to university again to newly learn the constitutional laws of the 21st century."
The dismissal is not the lone action of one government institution but is part of a premeditated campaign that starts at the highest level with Prime Minister Sheikh Hasina.  Their reason for sacking Prof. Yunus?  He's "too old."  Never mind that the 70-year-old Yunus maintains a rigorous schedule or that the Finance Minister, another key player in the sacking, at 77 is somehow not "too old" for that post.  Their excuse would be laughable if it were not for the calamitous impact it portends.  What makes the decision to remove Prof. Yunus so disgraceful is not that he would be out of a job – any university in the world would welcome him with open arms as a visiting professor.  No, the atrocity here is the fact that the independence and integrity of one of the world's premier poverty fighting institutions is now at grave risk.  Grameen Bank, an extraordinary institution with more than 8 million microcredit borrowers that took 35 years to build, could be destroyed in a matter of months by incompetent government action.
The government's action cannot honestly be in response to accusations by a Danish documentary maker about an improper transfer of Norwegian aid funds more than a dozen years ago, because both the Norwegian government and Bangladesh's own review committee have found that Grameen did nothing wrong.  It cannot be due to the documentary maker's charge of excessive interest rates, because Microfinance Transparency and the government's own review committee found Grameen has the lowest interest rates in the country.  Instead, most observers see this as an inexcusable political vendetta by the Prime Minister against Prof. Yunus, stemming from his short-lived attempt to start a political party in 2007.
Consider these groundbreaking innovations that Prof. Yunus' poverty-fighting laboratory has brought to the world and what could be lost in the future from his unwarranted ouster:
In 1976 he made loans of less than US$1 each to 42 desperately poor Bangladeshis to start or build tiny businesses – and the microcredit revolution was born.  It has made its way all around the world.  While others have seen microfinance as a way to make big money for investors, Prof. Yunus has never once diverted from his original intent to empower the poor.
In 1997 Grameen Phone Ladies started bringing cell phone technology to remote villagers throughout Bangladesh—providing the dual benefit of creating jobs and increasing communications, which enhanced others' work.
Grameen Shakti, an energy firm, has installed more than a half-million solar home systems and sold more than a quarter-million improved cooking stoves.
In a joint venture with Danone, the yogurt maker headquartered in France, Grameen Danone is bringing low-cost fortified yogurt to malnourished children throughout the country – and creating a business opportunity for the poor women who sell it.
College scholarships and loans have gone to 180,000 students. Most remarkably, in almost all of the cases, these are the children of illiterate parents who have had the help of Grameen Bank in breaking the bonds of intergenerational illiteracy.
A government that so rashly and ruthlessly ousts this innovative and transformational leader cannot likely be trusted to continue his revolutionary work.
But the deed is done.  Here is a sample of the visionary voice that Bangladesh has likely lost in this despicable government act.  Reflecting on the 1997 Microcredit Summit Prof. Yunus wrote: "In teaching economics I learned about money, and now as head of a bank I lend money.  The success of our venture lies in how many crumpled bank bills our once starving members now have in their hands. But the microcredit movement, which is built around, and for, and with money, ironically, is at its heart, at its deepest root not about money at all.  It is about helping each person to achieve his or her fullest potential.  It is not about cash capital, it is about human capital.  Money is merely a tool that unlocks human dreams and helps even the poorest and most unfortunate people on this planet achieve dignity, respect, and meaning in their lives."
Sam Daley-Harris is Founder of the Microcredit Summit Campaign which seeks to reach 175 million poorest families with microloans www.microcreditsummit.org and of RESULTS which seeks to create the political will to end poverty www.results.org.
"Kids in the developing world need the newest technology…"[1]
"Can the cellphone help end global poverty?"[2]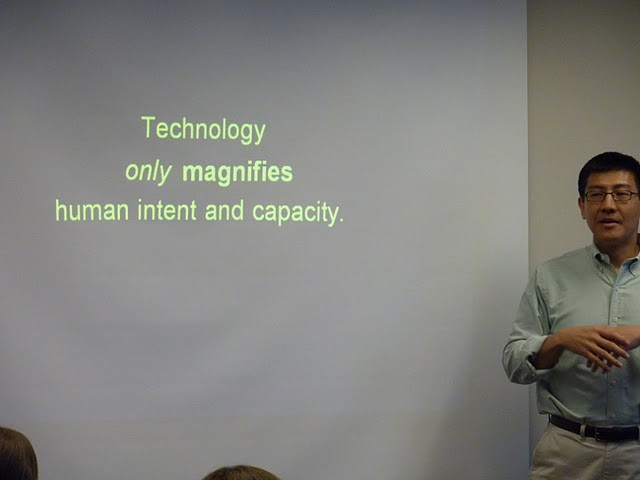 Amidst such buzz around technology's role in global poverty and human rights, Kentaro Toyama provided a poignant presentation on the myths of technology in international development to Global Washington members on Friday, May 6, 2011. Following the presentation was a lively discussion between Toyama and the audience, comprised primarily of Global Washington members with theoretical and field expertise in this area.
A visiting scholar at UC Berkeley and former co-founder of Microsoft Research India, where he designed electronic technology for international development, Toyama intimately understands technology's role in supporting poverty alleviation work. Throughout the presentation, he stressed that "technology magnifies intent and capacity" and cautions against looking to technology, in and of itself, as a solution to global poverty.
Toyama's presentation focused on countering seven myths regarding technology in international development.
Myth #1: Technology undoes the rich getting richer.
Toyama began with a question to the audience that went something like, "you and a poor Ugandan rural farmer are each given an e-mail account and asked to raise as much money for the charity of your choice. Who would be able to raise more money?" The room indicated that they would be able to raise more funds due to various reasons, from the relative affluence of their friends to their computer literacy skills to their education in articulating written concepts.  And thus began Toyama's presentation, highlighting that even with identical technology, other capacities and systems have to be addressed to gain equality.
Myth #2: Hardware and software are a one-time cost
Toyama reminded Global Washington members that the average American mid-size corporation spends approximately $7,000 per year on their IT budget. Thus, hardware and software are NOT a one-time cost. In contrast, there is a need to continue to invest in technology.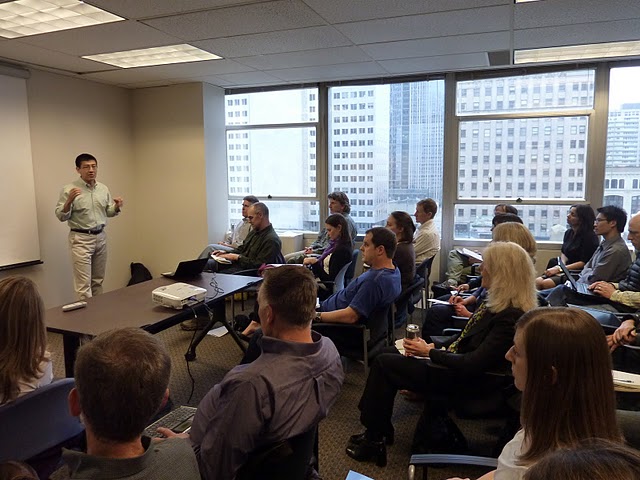 Myth #3: Needs translate to business models
Using the fact that Google does not make a profit from YouTube and Google Maps – services that we might consider quite useful in our lives – Toyama illustrated that people don't always pay for needs.
Myth #4: Automated is cheaper and better
Toyama highlights problems with full automation, particularly in the developing world: cost, literacy, lack of technological familiarity and errors within technology. 
Myth #5: Information is the bottleneck
In the developed world, and even more so in the developing world, time, effort, basic needs and a host of other priorities get in the way of obtaining all of the information that's available. For example, just because a person has access to the Internet, and thus educational resources, does not mean that person can and will obtain a full education.
Myth #6: Technology's impact is only positive
Because "technology magnifies positive and negative intent," technology may have positive as well as negative effects. For example, technology can easily further the negative effects of gender inequality, abuse and child prostitution.
Myth #7: Technology X will save the world
Contrary to popular belief at the time of their invention, radio, TV, landline telephones and PCs have yet to save the world. In fact, in places where we would most desire to see technology make positive change, we don't see this change because other key systems are missing: physical, social, financial and digital infrastructure.
So, how do we use technology successfully in global development work?
Toyama offered recommendations for successful use of technology, which include:
Apply technology to existing social trends or institutions, which are already making an impact.
Focus on nurturing human "intent and capacity."
The human component to any technology is critical.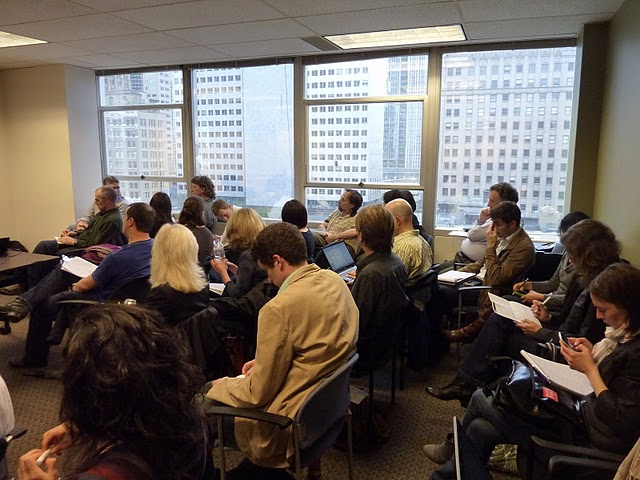 Global Washington members dug deeper asking about and commenting on their work in community readiness for technology, successes and failures in technology, public-private partnership models and the role of education.
Global Washington's mission is to convene, advocate, and strengthen the international development sector in Washington State, with an emphasis on the sectors of Global Health, Global Education, Environmental Sustainability, and Poverty Alleviation.  In this role, Global Washington brings together its members and the community to discuss critical global topics. Consider two upcoming events focused on technology and global development: Mobiles in Development on June 16 and the Dark Side of ICCT on July 14.
by Bridgette Greenhaw
---
[1] Negoponte, N. (2005). About the Project: Frequently Asked Questions. Retrieved May 9, 2011, from One Laptop Per Child: http://one.laptop.org/about/faq
[2] Corbett, S. (2008, April 13). Can the Cellphone Help End Global Poverty? . The New York Times.
Clear Path Launches Large-Scale Ramp Project in Afghanistan
When more than 800,000 Afghans are severely disabled, it's easy to see why there's a drastic need for schools, hospitals, government buildings and places of worship to be made accessible to them.
But people with disabilities in Afghanistan have suffered from a nearly universal lack of access to these and other important buildings and facilities. The Afghanistan Central Office of Statistics has estimated that 98 percent of all buildings cannot be entered by wheelchair.
This past year, Clear Path International launched a pilot project to alter this situation by constructing high-quality ramps at key locations throughout the country applying best practices established in the industry. Clear Path is a nonprofit organization that assists victims of landmines and other explosives, and others disabled or displaced by armed conflict in Southeast Asia and Afghanistan.
Not only are the projects performing a critical service for this vulnerable segment of Afghanistan's population, they also are helping to establish good will between the United States and Afghan leaders at a time when that relationship has been severely stressed. CPI programs in Afghanistan are funded by the U.S. Department of State Weapons Removal and Abatement (WRA).
"We've had two different reports that the Ulema (Council of Mullahs and Imams in Afghanistan) has specifically mentioned the work of CPI at the Eid Gah Mosque, as well as commented positively in general on the role of Americans bringing accessibility changes at this very high-profile religious site," said CPI Program Manager Matthew Rodieck. "One of the leaders of the Ulema, a double-amputee martyr and former Mujahedin commander, was especially complimentary."
Eid Gah Mosque in Kabul is one of the highest profile mosques in Afghanistan and is where VIPs regularly worship and hold funeral prayers of martyrs. CPI through its Afghan partner organization, Accessibility Organization for Afghan Disabled (AOAD), built three ramps complete with handrails. In Kabul, CPI and AOAD also constructed three ramps at the Antoni Infectious Disease Hospital, an important referral site for tertiary care and the only facility of its kind in the country.
In Kapisa Province, north of Kabul, Afghan Amputee Bicyclists for Rehabilitation and Recreation (AABRAR) developed and implemented access ramps at several diverse sites. These included the main mosque of the capital city, which became the only physically accessible mosque in the entire province, the Ministry of Information and Culture, and the Ministry of Education. Several public schools throughout the rural community were also ramp sites in the AABRAR project, each selected based on feedback from local authorities about their priorities.
In Balkh Province, in the north of Afghanistan, Afghan Landmine Survivor Organization (ALSO) constructed access ramps at several educational settings across Mazar-i Sharif, the main city of Balkh. The sites selected included co-educational elementary schools, boys' high schools, girls' high schools, and the Balkh University making it one of the few institutions of higher learning in the entire country with accessible buildings.
Going forward, CPI hopes to build nearly 600 ramps at 350 sites throughout Afghanistan. The $660,000 project funded by WRA will involve the same three partner organizations. A key component of the ramp project is to raise awareness of the rights of people with disabilities, said Rodieck. "Awareness is quite low; there's not much sensitivity."
That awareness campaign also will make its way into the classroom at Kabul Technical University's Engineering School where CPI hopes it will result in some practical solutions. "We want to engage the entire faculty on physical accessibility design," Rodieck said. "We want to advocate on a more institutional level that the curriculum become more realistic."
For more information about this project, contact Matthew Rocieck at matthew@cpi.org.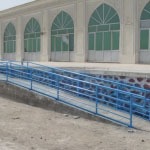 As a member organization for the global development sector in the state of Washington, we urge you to speak out against further cuts to the national budget for diplomacy and foreign assistance.  Every day our members are tirelessly devoting their energy and resources to improving the lives of the world's most vulnerable citizens. We hear their stories about positive changes they have seen—villages accessing clean water, poor women starting their own businesses, children exploring the world through quality education, people receiving simple vaccinations for deadly but preventable diseases. Positive change does not happen by accident. Yet, even simple solutions make a difference. A five dollar mosquito net may be all that is necessary to prevent a child from contracting malaria. It cost $100 million to eradicate smallpox—only a fraction of $1.3 billion that we now save annually thanks to the elimination of the disease.
Our members have experienced firsthand the difference that thoughtful and deliberate investment can make in addressing global problems. That is why most of our members support continued funding for poverty alleviation and global health. Because they are already doing all they can, but more help is still needed. Because these dollars DO make a difference. Because reduced funding means 370,000 people will not be able to get tested and treated for TB. Because continued funding will allow us to virtually eliminate mother-to-child transmission of HIV by 2015. Because investment in global development creates a more stable and prosperous world for everyone.
In the U.S., we have a voice in how we want our tax dollars to be spent. Global Washington's Board President and Washington State representatives Adam Smith and Jim McDermott have submitted an op-ed to the Seattle Times expressing their support for these programs. Other influential thought leaders have also gone on record in support of continued funding for international development, including  Senator John Kerry ; former Republican Congressman Jim Kolbe;  Richard Stearns, President of the Christian relief and development organization, World Vision; and countless others from the development sector and beyond. Will you do the same? Let your elected representatives know that even in a difficult economic climate, you still support programs that help the most vulnerable in the world.
Sample text to use when contacting your representative:
I am writing to request that you protect the International Affairs Budget, and the investments in programs to help keep our country safe and grow our economy here at home. I recognize the very real budget constraints facing our nation and Washington and the difficult funding decisions you face.  As you grapple with these constraints, however, I urge you to ensure a strong and effective International Affairs Budget and to oppose deep cuts to these programs. 
Now is not the time to diminish or abandon America's leadership around the world – or to cut programs that save money and lives by preventing conflict and instability from developing in the first place. As you know, a small investment in International Affairs programs builds more stable, democratic societies overseas and keeps us safe in the long run. There is strong bipartisan support for the International Affairs Budget, and broad support here in Washington, including the business, military, and faith communities.
We need your continued support to save these programs from deep cuts. I urge you to ensure a strong and effective International Affairs Budget in FY2011 and FY2012. As you know, these programs are essential to building a more stable, peaceful and prosperous world.
Links:
An in-depth analysis of how the budget was cut (from U.S. Global Leadership Coalition).
The popularity of microfinance programs has increased dramatically in recent years, with international funders investing hundreds of millions of dollars. Yet, many question the extent to which microfinance programs help alleviate poverty? One of Friday's workshops at the Pacific Northwest Global Donors Conference will take a critical look at microfinance programs as a tool for addressing poverty. What do we know about the effectiveness of these programs from a poverty alleviation perspective, and how can funders find projects that are effective in reaching this goal?
The April 1-2 gathering is the second annual Global Donors Conference, designed to bring together Northwest grantmakers and philanthropists active and/or curious about global philanthropy. The conference program includes two days of informative and engaging sessions on how climate change affects donor strategies, what's new in technology for development, corporate-NGO collaboration, food solutions for people and the planet, approaches to igniting the power of young people, pathways for strategic giving, getting real on evaluation, and much more. 
Greg Carr—Idaho native, high-tech pioneer of voicemail, co-founder of Harvard's Carr Center for Human Rights, and global philanthropist whose $40 million commitment to Gorongosa National Park in Mozambique has been profiled in The New Yorker, Smithsonian, and Outside—will deliver the keynote address on Friday.  And Margaret Larson—host of New Day Northwest on KING-5, former NBC foreign correspondent, and communications consultant for international nonprofit organizations including World Vision, Mercy Corps, PATH and Global Partnerships—will close the conference on Saturday.
If you haven't already, check out the agenda at www.globaldonorsconference.org and register today. The conference will be an excellent opportunity to learn more about international issues and effective grantmaking practices as well as network with others engaged in global giving.
-submitted by the Henry M. Jackson Foundation
By Robert Mitchell, Landesa
After more than a decade meeting with government officials and families in rural areas of the developing world, I have yet to encounter anyone who would discount the importance of land, or who would challenge the fact that landlessness is a severely disempowering condition for the rural poor.
It's easy enough to grasp the concept that land is important, and that it's especially important to rural families in the developing world. After all, most poor rural families that lack land of their own earn their living by working as day laborers on other people's land, and land is a primary source of power for their employers. Landlessness and land insecurity, the lot of hundreds of millions of rural people worldwide, is a defining personal and social characteristic, greatly limiting their current options and future prospects.
So much seems clear. What is much less expected—but encountered all too often—is the attitude that landlessness is an immutable "given," a static social arrangement that cannot be changed. The sky is blue, the town is a ten-hour walk from the village, and a third of the village is and will forever remain landless. Their children and their children's children will know only landlessness and agricultural wage labor.
This is the assumption of most people I've met in the developing world, including government officials, rural development professionals, landowners and even (or especially) landless families themselves. Such attitudes prevail even among progressive thinkers who would like to see landlessness eradicated. But what good is there in hoping for change that shows no sign of coming? Isn't it better to work on change that can happen, even if such change doesn't address the root problem of landlessness?
I've learned the key to countering this assumption is to imagine—and then test and demonstrate—practical, politically and financially feasible programs through which governments can help landless families gain access and secure rights to land, even modest plots of land. Once a program begins to succeed—and families walk for the first time on land that is theirs, and begin planning what they will produce on the land—there is very often a change not only among these families, but among government land officials. It is truly moving to see seasoned officials marvel at the fact that landlessness can actually be tackled and eradicated.
As crucial as this change in thinking is, shifting the cultural and policy mindset is only the beginning. For a program to reach large numbers of families, it must be well designed, scalable and well monitored, and must receive sufficient staff and other resources. The process cannot be scaled so quickly as to sacrifice quality and attention to detail. Special attention must be paid to ensuring that the process empowers women within the family. Attention must also be given to providing channels through which families can receive information, for example, on which local vegetables and fruits are most easily grown and most nutritious, as well as access to inexpensive improvements, such as drip irrigation, that can greatly enhance the land's productivity during dry seasons.
As we forge ahead, our shared opportunity is to continually challenge stubborn assumptions that land ownership is limited to only the privileged few. At Landesa, we believe land rights are an asset that can be expanded for all, and that this expansion will unlock potential for generations to come.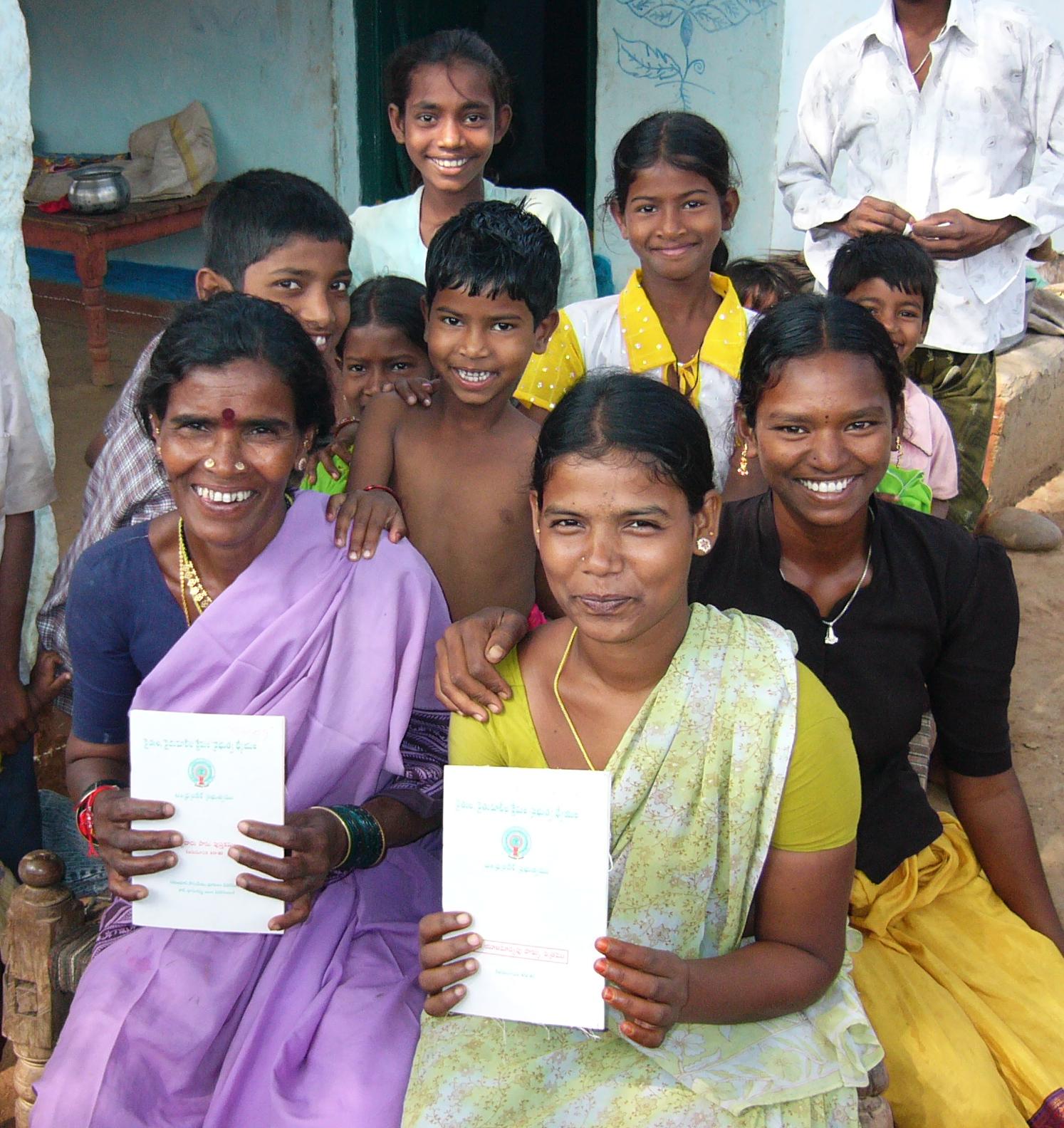 President Barack Obama declared March 1st, 2011 to be the official 50th anniversary of the Peace Corps. Established by President John F. Kennedy in 1961, the Peace Corps sends Americans abroad in order to promote friendship, peace, and understanding through service. According to the Peace Corps website, since the institution's inception, over 200,000 volunteers have served in 139 different countries. Peace Corps volunteers work in a variety of fields including HIV/AIDS, business development , education, and environmental issues.
We salute Peace Corps volunteers for not only serving, but also living alongside of those being served. This makes these volunteers more than workers or teachers—they are also global learners, experiencing diverse cultures and building friendship and understanding.
Global Washington members are organizations and businesses based in the United States that work abroad and on behalf of our members, we would like to express our appreciation for these friendships built and the understanding that is established through Peace Corps service. There are also many returned Peace Corps volunteers working at Global Washington member organizations. They exhibit a lifelong passion for global development and intercultural issues, which they bring enthusiastically to the work they are currently doing.
If your organization has a job opening, you it position in the Peace Corps's monthly job bulletin Hotline by going to www.peacecorps.gov/hotline or post on their listserv by contacting RPCVcareercenter@peacecorps.gov. The Peace Corps is also hosting a career fair in Seattle on April 15th. If your organization is interested in participating, contact Joseph Cozza at jcozza@peacecorps.gov to be put on a waiting list.
If you are a current or returned Peace Corps volunteer, Global Washington would love to hear your story! Where did you serve? What did it shape your life and your career? What are you doing now?
Photo Essay: Peace Corps Memories, from Voice of America
Our thoughts are with the people of Japan in the aftermath of last week's earthquake and tsunami. The earthquake—a 9.0 on the Richter scale—is considered the world's 5th largest in over a century and triggered a massive tsunami that hit the Japanese coast.
We would like to remind you that compassion can be turned into action. We are not powerless bystanders; we belong to a global development community, rich in resources that can be used to aid the victims in this disaster. These resources range from personal finances, to networking connections, to organizational expertise. We encourage you consider how you might fit into the response already being undertaken by Washington-based organizations to assist areas affected by the earthquake.
If you are responding to this crisis, we want to hear about it!
If you are a member organization and are providing disaster relief, we would love to help promote your efforts. Please email megan@globalwa.org with a brief description of your response. After we review it, it will be added to this list.
We applaud these members for their quick action:
Peace Winds America's mission is "to build capacity, increase collaboration, and empower local communities in the Asia Pacific in order to improve preparedness and provide a more integrated, efficient, and effective disaster response."
Response: Peace Winds America and sister organization Peace Winds Japan are providing aid in response to the earthquake. Peace Winds Japan has 20 years of experience in disaster response and is one of the largest disaster response organizations in the country.
Mercy Corps "exists to alleviate suffering, poverty and oppression by helping people build secure, productive and just communities."
Response: Mercy Corps is collaborating with longtime partner organization Peace Winds America to respond to this disaster.
World Vision is "a Christian relief, development and advocacy organization dedicated to working with children, families and communities to overcome poverty and injustice."
Response: World Vision has a long history of disaster response, including work in Haiti last year. An assessment team is on the ground, coordinating relief efforts for last week's earthquake. Visit their press page for the latest news and updates.
Microsoft "is committed to serving the public good through innovative technologies and partnerships that contribute to economic growth and social opportunity and by delivering on our business responsibilities of growth and value to customers, shareholders, and employees."
Response: Microsoft is making an initial commitment of $2 million to disaster relief in Japan and has already started offering support, software, and other technical assistance to help get operations running again.
RenegAID "is dedicated to improving people's ability to reestablish themselves in catastrophic disasters."
Response: RenegAID is working with Spokane Falls Community College's Japanese Club to put together an effective response. RenegAID will fund all administration costs so that 100% of their donations go to the survivors.
Additionally, RenegAID's Ready-to-Go Bike project for catastrophic disaster response is ready to implement.  If any organization or individual is interested in working with them on this project, please contact Eunice Stime at 509-595-8777.
JP Morgan Chase's  "philanthropic goal is to be the catalyst to meaningful, positive, and sustainable change within our highest need neighborhoods and communities across the globe."
Response: JP Morgan Chase has committed $5 million to relief and recovery efforts in Japan and has also implemented an employee matching program to encourage employees to give as well. The firm has over 1,000 employees in Japan and has invited them to use JP Morgan Chase facilities as a shelter if needed.
Other responses from Washington organizations and businesses:
Mobile Giving Foundation "was founded in 2007 by veterans of the wireless industry who wanted to harness the immense power of wireless communications to empower non-profit organizations."
Response: Give to tsunami relief by text message through The Mobile Giving Foundation! Please view their news alert to find out how to give quickly and easily to your charity of choice, using your mobile phone!
Medical Teams International's missions is "To demonstrate the love of Christ to people affected by disaster, conflict and poverty around the world."
Response: Medical Teams International is working with three partners: Japan International Food for the Hungry, Friends with the Voiceless, Christian Reformed World Relief Committee. These partners are conducting assessments and working directly with local churches to provide relief to victims.
Response: Boeing has committed $2 million to relief efforts, which will come from employee contributions and the company's charitable trust. Boeing contributions will go directly to the Red Cross.
Response: Starbucks and Starbucks Coffee Japan have committed $1.2 million to the Red Cross to help the relief efforts.
Response: Amgen is donating $1 million to Direct Relief International and International Medical Corps to be used for survivors'  health services and basic needs.
Response: The Weyerhaeuser Foundation is contributing $500,000 to the Red Cross for the relief effort.
Response: Cascade Designs has donated mattresses, water reservoirs and dry storage bags to Operation USA, which are being shipped to Japan to meet the basic needs of disaster survivors.
Resources:
Kids and activism: A recent blog from The Social Change Collaboratory provides guidance and tools for organizing a fundraising campaign for children who might want to respond to the disaster.
List of Charities: The Chronicle of Philanthropy has a great compilation of U.S. charities and companies that are responding to the quake.
Text your donation: Did you know that you can text your donation to many of the major charities? You can do this through:
Verizon Customers and Employees: Verizon is offering its customers free calling to Japan until April 10th and allowing Verizon customers to text a $10 donation to many of the major charities providing emergency assistance. Verizon will also match employee donations to The Red Cross, World Vision, and Save the Children, up to $1,000 per employee.
The Japan-America Society of the State of Washington: A great place to check back for updates and ways to get involved.
Seattle Japan Relief: "a collaboration of Japanese American and Japan related cultural, educational, and civic organizations standing together to promote relief and recovery following the devastating earthquakes and tsunamis in Japan."
World Vision's Japan Press Kit: Useful information, press releases and resources with information on the quake and updates on World Vision's response.
Donations to Date: The Chronicle on Philanthropy is tracking donations received for the earthquake by organization.
Grantmakers who want to give to the relief effort: The Council On Foundation's International Grantmaking site is providng  resources and information for grantmakers looking to give to the relief effort in Japan.
The American Red Cross: is supporting the Japanese Red Cross, which is on the ground providing healthcare, supplies, and other assistance to disaster victims.
Thank you all for your concern and your efforts!
Today is International Women's Day. We join our colleagues in the development field in celebrating the achievements of women, and recognizing the important work being done by development and human rights organizations to empower women worldwide. Research has shown that investing in women and girls is one of the most important components of community development. As women are educated and empowered, they are better able to be change-makers in their families and communities.
Global Washington's mission is to help our  members work collectively to build a more equitable and prosperous world. We would like to recognize some of the important work being done for women and girls by organizations, companies, foundations, and academic institutions that are based in the state of Washingon.
Please consider supporting the missions of these fantastic organizations! 
PATH:  Path focuses on health equity for women, among the world's most vulnerable—and influential—populations.
The basic protection of vaccines for women and children around the world.
Path's work helps women take charge of their own protection
http://www.path.org/woman-initiated-protection.php 
PATH has formed a new product development partnership to advance the Woman's Condom and expand affordable protection options for women. Under a new four-year, €5.1 million award from the Netherlands Ministry of Foreign Affairs, PATH is coordinating with the Shanghai Dahua Medical Apparatus Company (Dahua), CONRAD, and the Eunice Kennedy Shriver National Institute of Child Health and Development (NICHD) on a project called Protection Options for Women (POW).
http://www.path.org/news/an110214-womans-condom.php
World Vision: Recognizing women as critical partners in development, World vision's trained staff actively and sensitively works to equip and encourage women around the world.
http://www.worldvision.org/content.nsf/about/press-development-girls?Open&pos=lft_txt_Women-and-Girls
GAPPS: Works on the premise that "Women are at the economic heart of the developing world. And to do all this work, they need to be healthy." 
2015 Global Action Agenda ( GAA ) on Preterm Birth & Stillbirth, was created by GAPPS at their international conference a year ago. The primary goal of this GAA is to forge a collaborative effort toward achieving common goals to prevent preterm birth and stillbirth, and to improve related maternal, newborn, and child health outcomes. 
http://www.gapps.org/global_action_agenda/
Grameen Foundation: Supports local microfinance institutions and help poor women gain access to information and capital that enables them to create micro businesses and improve their lives.
Highline Community College: Women's Programs at Highline Community College is proud to be celebrating over 30 years of service. Over the years they have developed many successful partnerships with community agencies to benefit the students of Highline including: co-location of community partners in Women's Programs including cross-referrals, shared services, and life skills training programs.
http://www.highline.edu/stuserv/womensprograms/index.html
Landesa: Land ownership and secure access to land transforms women and girls from victims to change makers. The Landesa Center for Women's Land Rights initiatives do this on a large scale, making women and girls powerful and effective tools in the fight against global poverty.
Their Current Initiatives:
In India: The Landesa Center for Women's Land Rights partners with state governments and local NGOs to help poor women in four states (Andhra Pradesh, Karnataka, Odisha and West Bengal).
In China: With the help of partners, the Landesa Center for Women's Land Rights is advising on a nationwide survey to learn how current land laws are affecting women's land rights. This survey, across five provinces, is the first of its kind in China and will give us a better picture of female farmers' needs and the challenges they face.
In Uganda: They are working in partnership with two local NGOs to help women and girls displaced by more than 20 years of civil war, design a program that provides the women with secure land rights.
Secure land rights will help improve the food security, health, and income of these marginalized women and girls, helping them to become self-reliant and reducing their vulnerability to contracting and spreading HIV/AIDS. In this innovative program, the displaced women are playing an active role in designing a solution to their own predicament.
Landesa has Global Fellowship Program for women: They encourage lawyers and other professionals from around the world to pursue a career in women's land rights and provide training.
Landesa has E-Library on Women's Property Rights: They are building a database of formal laws related to women's land rights from every country in the world. The database will also include research on customary law related to women's land rights. This helps legal practitioners and women's advocates create more effective and suitable programming.
http://www.landesa.org/women-and-land/current-projects/
Oiko Credit: Oikocredit places a special empahsis on empowering women in teh developing world. Microfinance provides an unprecedented opportunity for women to take control of their own destinies. One of their important projects is Saadhana – women empowerment at the grassroots. Microfinance institution Saddhana operates through women's centers in deprived districts of Andhra Pradesh.
http://www.oikocredit.org/socialperformance/en/project-examples/saadhana-women-empowerment-at-the-grassroots
http://www.oikocredit.org/en/who-we-are/empowering-women
Rwanda Girls Initiative: Aims to provide a high quality secondary school education for girls in Rwanda, supporting the 'whole girl' through a boarding school environment. 
Rwanda Girls Initiative has been awarded a grant of $15,000 from the Seattle International Foundation Global Program.  This grant will support our investment in training and developing Rwandan teachers and administrators for the Gashora Girls Academy.
http://www.rwandagirlsinitiative.org/article/article_detail/44
Technology & Social Change Group (TASCHA): Immigrant women, e-skills and employability in Europe 
http://tascha.uw.edu/2011/02/another-immigrant-women-video/
Bridges to Understanding: Uses digital technology and the art of storytelling to empower and unite youth worldwide, enhance cross-cultural understanding and build global citizenship.
One of their successful stories is " Dowry is a Girl's life."
http://www.bridges2understanding.org/project_videos/VimeoGallery_public/BridgesIndia_Dowry.html
Crooked Trails : Works with Friends of Maiti Nepal on behalf of Nepali girls and young women who have been trafficked into sexual slavery in Indian brothels. (ANURADHA KOIRALA of Maiti Nepal won the 2010 CNN HEROES AWARD )
http://crookedtrails.com/partners.php
FUSEIQ: They use technology to connect people and bring communities together. Their aim is "A better web, a better world."
Since 2007 FUSEIQ has been working on the project with Girls Scouts of Western Washington to create a new site to represent the new entity Girls Scouts of Western Washington (GSWW).
The new site serves as a key information resource as well as an effective marketing tool. The Content Management System has improved the organizations efficiency and use of their resources. This has allowed GWWL to focus on their mission to build girls of courage, confidence, and character, who make the world a better place.
Fuse continues to work with GSWW and will soon be creating a custom shopping cart system that will allow users to purchase "goods" for the Girl Scouts, as well as making direct donations.
http://www.fuseiq.com/our-work/girl-scouts-western-washington
Global Team for Local Initiatives: Runs grind-learn-earn project for women of Hamar tribe in remote southwest Ethiopia.One of the staples of a Hamar woman's day is grinding grain – pulverizing maize between two stones. It is physically demanding work, done in temperatures over 100 degrees, and it takes three to four hours to grind enough grain to feed her family for the day.
Last winter, the Ethiopian government gave the neighboring communities of Wassemu and Dore a diesel powered grinding mill. There was only one problem: the women did not know how to use the mill properly and, within the first 24 hours, it broke.
Enter GTLI – and the Wassemu women's coop. For over a year the women's coop had been eager to start a business. Unable to grow enough food, they yearned for a way to buy it. But isolated from the modern world, they lacked both skills and market opportunities.Suddenly, the broken grinding mill presented an opportunity.
 With a grant from Bainbridge Island (WA) Rotary and Rotary District 5020, GTLI repaired the mill – and taught the Wassemu women's coop how to run it as a business.
 Today, the coop charges 7¢ to grind, in a just few minutes, what used to take three to four hours. With the money they earn, they employ four people – two women and two men – and buy spare parts and diesel to keep the mill going. These are the first jobs in the Hamar community; the community's first sustainable business.
The new, "extra" hours give the women time to learn reading, writing, math and recordkeeping – skills that will enable them to start other small businesses
Now the neighboring Hamar communities all want their own "grind – learn – earn" opportunity.
http://gtli.us/stories-from-the-field-1/small-project-big-results
Heal Africa:  HEAL Africa's hospital and community development work address the root causes of illness and poverty for the people of eastern Democratic Republic of Congo.
Some of the Heal Africa Programs for women are : a) Heal Rape Survivors
b) Stand up together
c) Gender justice that supports empowerment
d) Safe motherhood and Micro-insurance- motherhood prenatal care
Mercy Corps: One of the important projects of Mercy Corps for women is Empower Women In India Through Literacy.
They teach hundreds of Indian women to read and write, boosting their self-esteem and empowering them to open bank accounts, start small businesses and participate fully in their households and communities. So far they have met their $50,000 goal for this project — but every additional dollar we raise will help even more women learn to read and write!
http://www.mercycorps.org/projects/indialiteracy
New Course: They are currently working with partners in five countries to bring resources that empower women, and conserve critical ecosystems. Botswana, Tanzania, Republic of Congo, Democratic republic of Congo,Madagascar.
http://www.anewcourse.org/Our_Work/Current_Projects.aspx
Pre Vent :  Their  mission is promoting and supporting maternal, neonatal and child  global health programs through partnerships for education, prevention and innovation.
Pre- Vent has technical partnership with Merlin to promote the training and retention of local women as healthcare workers in rural areas of Africa.
http://www.pre-vent.org/partnersandprograms.html
Pre-vent in partnership with HAPCSO promotes education and preventive measures to reduce the rate of mother-to-child transmission of HIV/AIDS at the community health level and their satellite offices.
http://www.pre-vent.org/partnersandprograms.html
Pre-Vent works towards improving maternal, neonatal and child health (MNCH) through innovative programs of education and prevention to achieve the following Millennium Development Goals:
MDG 3: Promote gender equality and empower women.
MDG 4:  Reduce child mortality
MDG 5: Reduce maternal mortality.
MDG 6: Combat HIV/AIDS, malaria, and other major diseases.
http://www.pre-vent.org/mission.html
 Programs under consideration: a) Training of community midwives in Obstetrical Surgery to perform essential and emergency Cesarean Sections at rural based community health facilities. This can reduce maternal and infant mortality dramatically. This program is under consideration for technical support in Sub-Saharan Africa.
b) Training of Registered Nurses to become Family Nurse Practitioners and serve their local community-based health care facilities. This program is in it's planning stages in Guatemala and emphasizes teaching of women and young girls in topics such as sanitation, clean water, nutrition, pre-conception counseling, healthy pregnancy, and healthy newborn as well as the established curriculum for family nurse practitioners.
http://www.pre-vent.org/mission.html
Results: REF has initiated two major projects that ally with organizations in numerous countries: The ACTION Project and the Microcredit Summit Campaign.
The Microcredit Summit Campaign is working to ensure that 175 million of the world's poorest families, especially the women of those families, are receiving credit for self-employment and other financial and business services, and that 100 million families rise above the US$1 a day threshold by 2015.
http://www.results.org/about/major_projects/
Richard's Rwanda is a group of Seattle students who are working together to support Rwandan girls' education. They provide financial support to low-income girls in the rural area of Nyamata to enable them to complete their primary education and 6 years of secondary school.
Their Accomplishments:
·  Raised nearly $80,000 to support girls in Rwanda to finish their primary and secondary education;
·  Awarded a $25,000 matching grant from Paul Allen Foundation;
·  Annual fund-raising events by Seattle students;
·  Expansion from original chapter at Seattle Girls' School to six additional high school chapters;
·  Developed a partnership with a local Rwandan girls' school FAWE (Forum African Women Educationalist Girls School) to establish their own chapter of Richard's Rwanda IPMUHWE to provide mentoring to low-income girls in the impoverished rural area of Namata; The program has officially been incorporated as part of a community service program for the FAWE School. (See below for more details).
·  June 2010 twelve founding members of RRI (from various member Seattle high schools) traveled to Rwanda to teach English literacy to impoverished high girls in the rural district of Nyamata and strengthen collaboration with their peers at FAWE. They had such a successful experience that a cross-cultural trip is now an annual program. They will offer a trip to Rwanda every summer for the Seattle members of Richard's Rwanda-IMPUHWE to teach English and connect in person with the girls in Nyamata.
http://www.richardsrwanda.org/?page_id=71
http://www.richardsrwanda.org/
Uplift International: Their mission is to advocate and promote health rights for vulnerable women.
Uplift International and Aim for human rights have been working with six civil society organizations (CSOs) from different parts of Indonesia for the last year on a project that helps promote women's health rights. 
http://upliftinternational.org/2010/07/advocating-and-promoting-health-rights-for-vulnerable-women/
Washington Women's Foundation
Engages women in the power of collective giving. Through informed and strategic grant making, their members expand women's knowledge, invest in the life of the community and demonstrate leadership through effective philanthropy.
http://www.wawomensfoundation.org/
Women's Enterprises International
Women's Enterprises International is dedicated to creating opportunities that equip women in developing countries to overcome poverty and transform their lives and communities. They do this by partnering with indigenous women's groups in development projects that provide solutions to three systemic causes of poverty; lack of access to water, lack of access to business capital and limited access to education for girls.
-Compiled by Anamika P. Ved, Global Washington volunteer