Haiti:
United States Will Take a New Approach to Aid in Haiti
Secretary Clinton is expected to outline plans for an additional $1 billion in aid to Haiti at the upcoming UN donor conference.  U.S. assistance to Haiti will have one dramatic difference over past aid: this time, U.S. officials plan to work through the Haitian government, rather than around it.  They have plans to implement major aid projects through the government while building its capacity, instead of working mainly through local NGOs and other groups.  This new approach may increase local ownership and government accountability in Haiti.
Donor Countries Will Meet at the UN in New York to discuss decentralization as a Key to Haiti's Recovery
World leaders at Wednesday's UN conference on Haiti will be looking at a new focus on decentralizing Port-au-Prince in hopes of fulfilling long-terms needs after immediate needs are met.  They plan to look beyond basic relief and discuss not just how to rebuild, but how to build a better functioning Haiti.  The idea of decentralizating power in Port-au-Prince is a strategy that will be considered for a more stable Haiti.
Foreign Aid Reform:
Where is the QDDR?
The State Department was supposed to release the initial findings from its strategic review on development, known as the quadrennial diplomacy and development review (QDDR), sometime in March.  But now the release is set for "early April," though there won't be a public release until after a round of congressional briefings.  This is not the first time the QDDR's release of initial findings has been set back, and there is no guarantee that we will see anything from the State Department in the month of April.  Unfortunately, this slows down the whole foreign aid reform process, as other reform efforts underway, such as the White House review (the PSD-7) and legislation in Congress (the Kerry/Lugar bill) are on hold until the QDDR findings are out.
New Online Tool Aims to Comprehensively Track Global Aid
A new online information portal on aid aims to improve transparency and prevent misuse of billions of dollars in international aid.  The tool, AidData, pulls together facts and figures from existing databases, donors' documents, and other online resources.  About 837,000 projects are currently listed on the database, which reports official development aid as well as loans.  The tool gives more details about each project and provides information on new sectors such as funds provided by 36 under-reported bilateral and multilateral donors.  The goal for the project is to give donor and recipient governments, civil society organizations, beneficiaries, aid experts and the general public a fuller picture on who is funding what globally.  Founders of AidData include the Bill & Melinda Gates Foundation.
New Study on the Costs and Benefits of Duty-Free, Quota-Free Market Access for Poor Countries
The Center for Global Development released a new study on the costs and benefits of providing full market access for least-developed countries.  The study finds that Malawi and Cambodia would benefit the most under most scenarios, and most African LDCs would make small gains.  The only African country to suffer from preference erosion would be Madagascar- surprisingly, Mauritius, South Africa, and Central America show small gains even though they would not directly benefit from this market access.
USAID Announces New Global TB Strategy
USAID Administrator Rajiv Shah declares a new strategy to fight tuberculosis on a worldwide scale. In accordance with the President's Global Health Initiative, USAID is accelerating their programs to control TB. Their goal is to halve the number of TB cases and deaths by 2015.  In support of these global targets, USAID released the U.S. Government's Global TB Strategy that describes their blueprint for expanded treatment and control over the next five years.
The International Monetary Fund Has Traded its Dogmatism for Pragmatism
After six decades of zealously promoting free market economic policies, the International Monetary Fund has changed its view on international trade and development.  For years, governments that dared to challenge the IMF model found themselves out of favor in Washington and other Western capitals. But the financial crisis that swept the planet in 2008 prompted a new debate over free market policies and IMF ideology.  Now, in a notable turnaround, the IMF has acknowledged that in some instances, developing countries might benefit from controlling how much foreign capital enters their economies — and how it's used. The new IMF view is summarized in an official paper published last month, "Capital Inflows: The Role of Controls."
Africa:
A New Strategy to Stimulate Africa's Development
Many investors are afraid of doing business in Africa because of high political risks. This is where the African Trade Insurance Agency (ATI) comes into play with a unique strategy to stimulate development through trade and investment by reducing political and credit risk..  The ATI is Africa's only multilateral political risk and credit risk insurance agency.  To join, African countries must sign a participation agreement and subscribe for at least 75 shares, each valued at $100,000. Member states are on the hook for any action or inaction that results in ATI paying claims.  Since 2004, ATIhas managed to secure $1.9 billion in investments across its member states, which includes the Democratic Republic of Congo, Kenya, Malawi, Rwanda, Uganda, and others. For more details on ATI please click here.
Tunisian Authorities Try to Gag Human Rights Watch's Report
Human Rights Watch accused Tunisian authorities of using police to prevent journalists from attending the organization's launch event for a report that criticizes the government's human rights record.  A HRW employee said police had surrounded the lawyer's office where the group was trying to brief reporters about its new report, which accuses Tunisia of adopting repressive measures toward former prisoners.  Tunisia, which attracts large sums in investment from EU countries, wants the European Union to grant it "advanced status," which could give it preferential trade terms. However, diplomats say concerns about Tunisian's human rights record risk complicating the application.
Foreign Aid Reform:
Bill Clinton and Bill Gates come together in foreign aid request
Former president Bill Clinton and Bill Gates called on US lawmakers to boost foreign aid to fight diseases like HIV/AIDS and malaria in the world's poorest nations. They went to Capitol Hill to boost support for the so-called Global Health Initiative (GHI) and promote a crucial health aid budget bill proposed in 2009 by President Barack Obama's administration. Taking into account the current economic situation, Clinton said the proposed US contribution was carefully developed for maximum impact and followed logically from existing US contributions to the PEPFAR program — the President's Emergency Program for AIDS relief.
IGD proposal recommends integrating trade and aid to promote African development
IGD joined with a number of business associations, development organizations, think tanks and companies to endorse a recent white paper on trade and development in Africa. This paper is being broadly distributed to policymakers and was submitted as written testimony for a recent Senate Finance Committee hearing to review U.S. trade preference programs.
The white paper outlines four proposals: make critical improvements to trade policies to encourage trade with and within sub-Saharan Africa, establish a mechanism for coordinating trade and development policies, use targeted capacity building and development assistance to increase Africa's capacity to trade, and use a "Whole of Government" approach that integrates trade, foreign aid and investment policies.
World Water Day:
Yesterday was World Water Day.  Quick facts:  "World Water Day is celebrated each year on March 22. The annual commemoration of international activities dedicated to addressing global water challenges builds on a series of recommendations made by delegates to the 1992 UN Conference on Environment and Development, held in Brazil. Following the conference, the UN General Assembly declared March 22 to be the World Day for Water. In 1993, the United Nations began inviting countries to organize annual activities to raise the profile of work focused on the implementation of UN recommendations and the achievement of internationally agreed goals regarding water." 10 percent of the global burden of disease can be credited to water.
Senate Committee to Vote on Clean Drinking Water Bill
The Senate Foreign Relations Committee was scheduled to vote on the Paul Simon Water for the World Act today, March 23rd. However, according to the committee's website today's business meeting has been postponed.  Senators Patty Murray and Maria Cantwell are both cosponsors of this bill, which would bring safe drinking water to 100 million people. You can find links to more information about this bill on the Global Washington legislative index, Global Health section.   Other Senate Foreign Relations Committee business of interest on today's schedule included the Peace Corps Improvement and Expansion Act, and the nominations of Elizabeth Littlefield for Overseas Private Investment Corporation President and Carolyn Radelet for Peace Corps Deputy Director.
New charity to aid Haiti recovery efforts by providing drinking water
"Unshaken" is a NY-based fundraising campaign to help Haiti recover from the earthquake by providing people with access to clean, safe drinking water. Their goal is to raise at least $1.3 million, funding 11 large-scale water projects which will serve more than 40,000 people in need. 100% of all donations will directly fund water projects in Haiti.
UN Secretary-General Ban Ki-moon: "More people die from unsafe water than from all forms of violence, including war"
Since 2005, the United Nations and other multilateral groups have prioritized water as an important focus for development assistance.  In keeping with this priority, the Millennium Development Goals (MDGs) and other internationally-agreed upon goals include water-related issues.   A United Nations Water Program 2010 report, "Clearing the Waters: A focus on Water Quality Solutions" calls attention to the importance of clean water as an international development goal. The Secretary-General reiterated the importance of water conservation and sanitization when he said, "day after day, we pour millions of tons of untreated sewage and industrial and agricultural waste into the world's water systems. Clean water has become scarce and will become even scarcer with the onset of climate change…"
The Story of Bottled Water
The US advocacy group Corporate Accountability International used World Water day to tell people to stop buying bottled water. They stress: bottled water isn't better than tap water, and the plastic bottles often aren't recycled.
Ship made From Reclaimed Plastic Bottles Sets Sail
On March 20th the Plastiki, a unique 60ft catamaran engineered from approximately 12,500 reclaimed plastic bottles and srPET, set sail on a journey of more than 11,000 nautical miles. The Plastiki crew want to draw attention to the health of our oceans, in particular the colossal amounts of plastic debris, by showcasing waste as a resource and demonstrating real world solutions through the design and construction of the Plastiki.
Other Development News:
"Quiet Corruption" – African Development Indicators 2010
This year's Africa Development Indicators essay sheds light on a different type of corruption—what the authors call "quiet corruption"—when public servants fail to deliver services or inputs that have been paid for by the government. The most prominent examples are absentee teachers in public schools and absentee doctors in primary clinics. Others include drugs being stolen from public clinics and sold in the private market as well as subsidized fertilizer being diluted before it reaches farmers.
A leaked UN report says that up to half of Somalia food aid is stolen
The UN report says that up to half of food aid – valued at approximately $485 million in 2009 – is being diverted through a corrupt web of partners, contractors, World Food Program (WFP) staff and local armed groups. The coverage expresses outrage at government and charity monies being wasted, or even worse, the use of food aid to fuel conflict and terrorism. The recent information from the report has has sparked heated debate on how aid reaches people in Somalia.
Argentina coin shortage leaving less change for panhandlers
Argentina has had a coin shortage for more than three years. The crisis has turned normally mundane tasks – like buying a newspaper or a snack – into a big hassle. The situation is also leaving the homeless short-changed. Alita Casal, a postgraduate student, says, "People sometimes hesitate handing coins to street musicians and beggars because they are afraid to run out."
North Korea on the verge of a new famine
Many North Koreans are braving the fences and armed guards in search of food and medical care. The flow of refugees from North Korea has slowed in recent years as Pyongyang has issued shoot-to-kill orders to guards, and China is losing patience with the influx of refugees. Nevertheless, China, nervous about instability across its border, continues to heavily aid North Korea with food and oil. The few who have made it across live in constant fear of discovery. They risked the crossing to survive the famine they believe is now imminent. The crisis they face now is the barren period around April which is believed as the most dangerous period when the risk of starvation becomes high.
OneWorld Now!:
One World 2011 events will take place in the summer and fall of 2011 in Seattle, Washington
Global Washington member, OneWorld Now, is a proud founding partner of OneWorld 2011. One World 2011 is an international cultural, arts, education, medical exchange and sporting event that will build partnerships, and a bridge for cultural understanding between the United States and the Muslim world. In addition, the One World 2011 Medical Conference will be held in Seattle, focusing on health care and research in a global context.
Seattle University:
Seattle University appoints new leader for global engagement initiative
Seattle University has appointed a new associate provost, Victoria Jones, PhD, for global engagement to lead a strategic academic initiative to extend the international reach of the university and advance the global education of its students.
Washington State University:
Southwest Washington Math, Engineering and Science Achievement program (MESA) will host its sixth annual MESA Day on March 20
WSU Vancouver houses, and is a partner of, Southwest Washington MESA. MESA provides enriching educational opportunities that help build a pathway to college and careers in the science, technology, engineering and math (STEM) fields for students who are currently underrepresented in those fields—African American, Latino, Native American, and female.
BRIDGES To Understanding:
BRIDGES offers a one-day workshop for educators on April 17th
BRIDGES is inviting to learn the basics of teaching their students how to produce digital stories about their lives, communities and common global issues, and then share them with their peers around the world.
BRIDGES is seeking international interns
Bridges' international interns help middle and high school students at partner schools in Peru, India, South Africa or Guatemala and gain greater cross-cultural understanding by learning directly from their peers across the globe through digital storytelling.
EarthCorps:
EarthCorps welcomes new international participants
As part of its mission to build global community through local environmental service, EarthCorps brings emerging leaders from around the world to take part in environmental service programs. International participants live with local homestay families as they restore wetlands, plant trees, and construct hiking trails. Some of this year's come from: Brazil, Colombia, Guatemala, Kazakhstan, Kenya, Morocco, Russia, and Zambia
US Education:
United States has slipped from second to 14th in graduation rates among the world's richest countries
The U.S. children of today will be competing in a global economy. That means their education needs to be world-class, which some troubing signs indicate they are not getting. An expert on global education systems told the U.S. Senate earlier this month that the United States has slipped from second to 14th in graduation rates among the world's richest countries in the past decade – not so much because the U.S. is slipping but because other countries are doing so much better.
New US education report reveals boys are falling behind in reading and writing abilities
Despite the deadlocks regarding global warming, the domestic economy, and health care, Obama is making headway in education reform. His bottom line goal: the United States to have the world's highest proportion of college graduates by the year 2020. The likelihood of the US jumping from the middle of the rankings of developed nations to the top in just 10 years is not plausible. However, it is drawing attention to further understand flaws in our current education system and those who need help the most. In a report by the nonpartisan Center on Education Policy, an in-depth look at who is and isn't passing state tests shows gender disparities between males and females. The survey shows that girls tie with boys in math skills. The reading differences, meanwhile, are profound, with boys a full 10 percentage points behind girls. Boys are even farther behind in writing abilities.
Haiti:
Should Haiti be made a UN protectorate?   Some say that is the best option for this country whose governance is shaky in the best of times, while others are concerned about taking away its autonomy.  Read the debate at a Brookings event here.
Foreign Aid Reform:
Integrating the three D's: Former USAID Administrator J Brian Atwood spells out how to elevate development assistance in US foreign policy, and what the challenges will be for diplomats, defense personnel, and development professionals.
With the release of initial findings from the State Department's Quadrennial Diplomacy and Development Review (QDDR) expected very soon, MFAN has launched a blog series to spur debate on the review and its importance to foreign assistance reform and the future of U.S. development efforts.  The first post – "Time for Hard Questions on the QDDR" by George Ingram – poses candid questions to keep in mind as we read and respond to the release of the initial QDDR findings.  George's piece will be followed by material from others across the Network on the QDDR, the Presidential Study Directive on Global Development Policy, USAID, country ownership, gender integration, and other reform-related topics.
Other Development News:
President Obama makes symbolic visit to Indonesia
Often described as the most important country in the world that people know the least about, Indonesia welcomed a visit by President Obama. Many feel it is the beginning to placing the country on the map. Furthermore, the "Comprehensive Partnership" that the two countries will formally launch represents the kind of long-term commitment that can go far in helping Indonesia pull its weight in global affairs.
Indonesia urges US to reconsider ban on commando training
Indonesia's special forces have concentrated on counterinsurgency issues in recent years, but were accused of major abuses in the former Indonesian province of East Timor in the '90s. As a result, several countries, including the U.S. and Australia, suspended joint military training in Indonesia. The Indonesian Foreign Minister Marty Natalegawa expressed hope that full military cooperation between the two countries could resume. The issue is likely to feature in talks between President Barack Obama and his Indonesian counterpart, Susilo Bambang Yudhoyono, next week in Jakarta. 
The Overseas Development Institute launched a report on the key recommendations for 'fragile states'
The meeting series on Development, Security and Transitions in Fragile States, organised by the Overseas Development Institute (ODI) in partnership with the Dutch Ministry of Foreign Affairs, brought together an impressive array of experienced and respected politicians, analysts, policymakers and researchers from a vast range of disciplines and background. The speakers discussed the nature of fragility, relationships between development and security, and the challenges of supporting transitional and state building processes.
New aid program challenges traditional development community's beliefs about poor people's ability to make wise use of cash
Oxfam Great Britain's "unconditional cash transfers" are cash payments with no conditions other than that it couldn't be used for alcohol, drugs or gambling. Oxfam's reviews of the program found that families had used the money to improve their household food security and overall income, School dropout rates decreased, and gender equity in the village improved, with women sharing control of the money.
Former Air Force sergeant asserts foreign development aid is critical to our national security strategy
Will Bennett, former Air Force technical sergeant, spent 12 years engaged in supporting peacekeeping and wartime missions in Bosnia, Kosovo and Iraq. He says despite many tough budget choices ahead it is imperative that Congress maintain U.S. investments in foreign development not only to help prevent vulnerable regions around the world from descending into strife but also to make the American public safer.
International Women's Day has been observed since in the early 1900's, a time of great expansion and turbulence in the industrialized world that saw booming population growth and the rise of radical ideologies. In 1908, women's oppression and inequality was spurring women to become more vocal and active in campaigning for change. 15,000 women marched through New York City demanding shorter hours, better pay and voting rights. In 1909, the Socialist Party of America declared the first National Woman's Day (NWD) and it was to be observed across the United States on February 28. Women continued to celebrate NWD on the last Sunday of February until 1913 when IWD was transferred to March 8.
IWD is now an official holiday in China, Armenia, Russia, Azerbaijan, Belarus, Bulgaria, Kazakhstan, Kyrgyzstan, Macedonia, Moldova, Mongolia, Tajikistan, Ukraine, Uzbekistan and Vietnam. The tradition sees men honoring their mothers, wives, girlfriends, colleagues, etc with flowers and small gifts. In some countries IWD has the equivalent status of Mother's Day where children give small presents to their mothers and grandmothers.
President Obama gives recognition to International Women's Day
Crediting their role in the American story, President Barack Obama on Monday praised the nation's "daring, indomitable" women — including the one-time political rival who is now his secretary of state. Obama praised Clinton for her long-standing work on women's rights. Furthermore, President Obama said, "we're doing all of this not only because promoting women's empowerment is one of the best ways to promote economic development and economic success. We are doing it because it's the right thing to do. I say that not only as a president, but also as the father of two daughters, as a son and a grandson, and as a husband."
This week, Global Washington would like to honor International Women's Day by showcasing our members that are advocating women's and girl's rights around the world:
One in Three Women Campaign has a bold vision: A World Where Women and Girls Are Safe
from Violence in Their Homes and Communities. One in Three Women is a simple yet powerful message. It is the statistic used in the 2003 United Nations Women's Development Fund's (UNIFEM) report on violence against women worldwide. One in Three Women in the world will be raped, beaten, sexually coerced, trafficked or otherwise abused in her lifetime.
One in Three Women brings attention to a long-running pandemic that is a culturally ingrained oppression. The organization is about the prevalence of violence against women globally; that prevalence is the campaign cornerstone. The United Nations Women's Development Fund (UNIFEM) firmly calls for more governmental intervention against the global problem of violence against women. As the longest, most pervasive and one of most dangerous forms of oppression, gender violence continues at an alarming rate. One in Three Women globally will be affected by violence because of her gender.
UNFPA, the United Nations Population Fund, is an international development agency that promotes the right of every woman, man and child to enjoy a life of health and equal opportunity. UNFPA supports countries in using population data for policies and programs to reduce poverty and to ensure that every pregnancy is wanted, every birth is safe, every young person is free of HIV/AIDS, and every girl and woman is treated with dignity and respect. They build moral, political and financial support within the United States for UNFPA. UNFPA, the United Nations Population Fund, provides women's health and promotes the rights of women in 150 countries. It is the largest international source of such assistance. Americans for UNFPA's outreach has generated tens of thousands of supporters for global women's health and channeled their passion into advocacy on behalf of UNFPA's program.
Bahia Street breaks cycles of poverty and violence through quality education for impoverished girls and young women living in Salvador, Brazil. Globally, Bahia Street brings people from all backgrounds together for discussions and actions that promote equality. Founded in 1997, Bahia Street is registered as a non-profit organization in Brazil, the United States, and the United Kingdom. The infrastructure of Bahia Street is a partnership that combines the knowledge and dedication of a grassroots organization with the accountability and financial strength of an international one.
The Bo M. Karlsson Foundation believes that by helping one individual at a time, they can make a positive change in the world and have a meaningful connection with that individual. The women they support awaken us to our global connectivity and the universal desire for peace and goodwill. The rippling effect is monumental. As the Bo M. Karlsson Foundation support women in their educational pursuits, their desire is that this also helps them build character and strength, making them self-reliant, confident, and productive citizens in their own country.
Mona Foundation is a 501 (c) (3) nonprofit organization dedicated to supporting grassroots educational initiatives and raising the status of women and girls worldwide. Mona Foundation serves its mission through development of human resources, promoting service learning and volunteerism, bridging the digital divide and supporting their adopted projects through financial grants and material resources that these projects need for their everyday operation or for their development plans.
Smiles Forever is an American and Bolivian non-profit foundation that works to give opportunity to young indigenous women in Bolivia and to improve the overall oral health of the communities in which they live. The students of Smiles Forever are taught the importance of serving their communities through community service work, which represents a large part of Smiles Forever's educational program. Their students are also leading the way in introducing the profession of dental hygiene to Bolivia, where as of yet it does not exist.
HEAL Africa's hospital and community development work address the root causes of illness and poverty for the people of eastern Democratic Republic of Congo. The hospital and the 28 women's houses in Maniema and North Kivu have provided a safe place for many victims of the war, and have been a motor for combating poverty and promoting community cohesion over the past 14 years.
Women's Enterprises International
Women's Enterprises International is dedicated to creating opportunities that equip women in developing countries to overcome poverty and transform their lives and communities. They do this by partnering with indigenous women's groups in development projects that provide solutions to three systemic causes of poverty; lack of access to water, lack of access to business capital and limited access to education for girls.
USAID Policy News:
USAID Sends Assistance in Response to Chile Earthquake
In response to the earthquake in Chile the U.S. Agency for International Development (USAID) has provided $1 million to the International Federation of the Red Cross (IFRC), to help with emergency assistance needs. In addition, USAID is providing shelter material and mobile water treatment units to assist the people of Chile.
USAID is asking Congress for supplemental emergency funding for disaster relief, after much of its International Disaster Assistance fund has been spent on Haiti.
USAID Administrator Rajiv Shah testified before Congress last week to defend the President's budget request for international development.  The Center for Global Development analyzes his testimony and assesses his first couple of months on the job.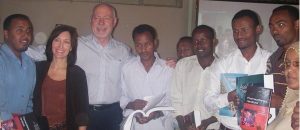 Ethiopian pharmacy trainees show off the textbooks that UW pharmacy professors delivered on behalf of UW pharmacy students, who raised the funds to donate the books. Refer to article below.
University of Washington:
Teams bring sustainable solutions to address poverty to UW in annual international competition
University of Washington students compete in the sixth annual Global Social Entrepreneurship Competition (GSEC) to pitch business plans for commercially sustainable solutions that address issues of poverty in the developing world. Student teams from around the world will be in Seattle to compete and their plans will be judged on three criteria: effect on the quality of life and poverty alleviation in the developing economies; financial sustainability; and, feasibility of implementation.
Pharmacist's role in patient care advanced in Ethiopia
UW pharmacy professor Andy Stergachis, and UW pharmacy students conducted five days of training for almost 40 pharmacy and health care representatives — including faculty members, students and deans from the four Ethiopian schools of pharmacy, government officials from Ethiopia's equivalent of the Food and Drug Administration, and the president of the Ethiopian Pharmacy Association. They also donated more than $1,100 worth of textbooks to the Ethiopian pharmacy students, thanks to a fundraiser that UW pharmacy students had organized back at home. Stergachis is collaborating with colleagues from the UW and other institutions to implement various programs — from drug safety initiatives to medication-access programs — in multiple developing nations, including Ethiopia, Namibia, Rwanda and Vietnam.
Seattle University:
Seattle University's "Hoops for Haiti" benefit raises $3,600 for relief efforts
Coach Cameron Dollar called on the Seattle University community to help Haiti and they responded in a big way at Saturday's men's basketball game. Fans at the "Hoops for Haiti" benefit game donated more than $3,600 to support the work of Catholic Relief Services (CRS) in Haiti.
Washington State University:
Director of the Center on U.S.-China Relations for the Asia Society to lecture at WSU Pullman
Famous lecturer concerning US-China, Schell, a Fellow at the East Asian Institute at Columbia University and the director of the Center on U.S.-China Relations for the Asia Society, will present a public lecture titled "Is China's New Development Model More Competitive than Our Own?"
Other Global Education News:
Symposium: Global awareness an increasingly important skill
Educators need to rethink how they look at the global community, said Francesc Pedró during the ninth annual Consortium for School Networking (CoSN) International Symposium: Do they view other countries as competition, or as an opportunity for collaboration?
A Chance to Reinvigorate the Global Community Around Education
2010 has all the makings of being "The Year of Global Education."  Important events throughout the year include the G8 chairmanship by Canada, a country that historically has been a champion of global education; the FIFA partnership with the 1GOAL campaign, which endeavors to ensure that education for children in Africa and throughout the developing world will be the lasting legacy of this summer's World Cup in South Africa; news that South African President Zuma will invite fellow heads of state to commit to coordinated action on education on the eve of the World Cup; the UN secretary-general's Millennium Development Goals (MDGs). Review Summit () prior to the UN General Assembly in September, which will assess the reality of achieving education for all; and South Korea deciding that core development issues including education must be part of the newly-empowered G20's top-line agenda for November.
Study shows global education is key to reducing apathy
DEA, a coalition which promotes global learning, brings together development and environment NGOs, as well as education NGOs, conducted a study that suggests people who learn about global issues feel more empowered to tackle them, rather than being overwhelmed by the extent of the problems. DEA's Chief Executive, Hetan Shah said, "learning about the wider world leads to people who are more open-minded towards each other in the UK, but also encourages care for the rest of the world."  Their full report will be available online here.
Initiative for Global Development publishes new report on foreign aid reform
US-based business alliance Initiative for Global Development published a report that draws connections between the economic growth of developing country markets and the economic health of the U.S. The organization also observed how foreign-assisted programs on health, education and poverty eradication in developing countries helped uplift the quality of lives in the world's poorer states, eventually creating markets for US's export industry.
Foreign Aid:
Don't miss the hearing on USAID and the FY2011 Budget Request this Wednesday, March 3rd, which will be webcast from the committee website.
The richest donor countries are not meeting the commitment made collectively at Gleneagles in 2005: to deliver $130 billion in aid by 2010.  But aid has increased "remarkably," according to Brookings, and the international commitment made 5 years ago to deliver more aid has helped.
See the OECD forecast of aid in 2010 – some countries will surpass their individual Gleneagles commitments in 2010, including Sweden, Denmark, Spain, and the UK.  Among others, France and Germany will fall short.  The United States made a less ambitious commitment to double aid to Africa, which it will reach in 2010.
Author Nicholas Kristof argues that "if secular liberals can give up some of their snootiness, and if evangelicals can retire some of their sanctimony, then we all might succeed together in making greater progress against common enemies of humanity, like illiteracy, human trafficking and maternal mortality."
Congressman Sam Farr (Colombia 64-66) has released a bipartisan Dear Colleague letter urging a $465 million increase in appropriations for Peace Corps in fiscal year 2011. Ask your representative to sign on to a Dear Colleague letter in support of the Peace Corps.
Click here for a list of Representatives who have already signed up.
Labor Rights Violations:
The Washington Fair Trade Coalition reports: As earthquakes continue to devastate the people of Haiti, many people are learning for the first time how this country has been politically and economically exploited for centuries. The people of Haiti have come to recognize that working in sweatshop factories for Disney and the Gap is not the way to develop their country and education their children.
Apple Inc. outlined in a company report on audits of 102 supplier facilities conducted in 2009 said it found more than a dozen serious violations of labor laws or Apple's own rules at its suppliers that needed immediate correction.
Click here for Apple's 2010 Supplier Responsibility progress report.
Do you know of any products being made overseas with child labor or forced labor?  Report it to the US Department of Labor by April 9th for inclusion in their report to Congress and the President. http://www.dol.gov/opa/media/press/ilab/ILAB20100134.htm
For statistics on labor and violations visit: http://www.ilo.org/global/lang–en/index.htm
Other Development News:
The Wall Street Journal labels their interviewees of prominent philanthropists and charity executives "philanthrocapitalists," leaders in the worlds of business and finance, who are looking to apply the same zeal to donating money as to making it.
South African researchers claim treating tuberculosis and the AIDS virus simultaneously saves more than twice as many lives compared with attacking TB first. Dual treatment pays off with a 56 percent reduction in deaths from all causes, the large South African study published in the New England Journal of Medicine showed.
A Swedish entrepreneur is trying to market and sell a biodegradable plastic bag that acts as a single-use toilet for urban slums in the developing world. The entrepreneur successfully tested the bags in Kenya and India and says he plans to mass produce the bag this summer, selling them for two to three pennies each, comparable to the price of a plastic bag. According to UN figures, about 40 percent of the earth's population does not have access to a toilet, which contributes to 1.5 million children worldwide who die yearly, largely because of poor sanitation and hygiene.
"The responsibility for the current difficulties in China- U.S. relations goes completely to the U.S. side"
http://www.businessweek.com/news/2010-03-02/china-says-u-s-entirely-to-blame-for-strained-ties-update1-.html
Does financial innovation boost economic growth?  Ross Levine argues yes, and Joseph Stiglitz  argues no.  Read, vote, and contribute to the lively debate at the economist.com.
The Doha talks remain deadlocked and many countries blame the United States. The United States countered criticism by calling for better offers from advanced developing countries in service sectors such as finance, information and communication technology, distribution, and energy.
Earthquake in Haiti:  Effects on Education
It has been over a month since the earthquake in Haiti.  Below, we have collected various resources to gain insight into the state of education in Haiti.
Education was also leveled by quake in Haiti
The NY Times reports on a student who was in class at the State University of Haiti when the earthquake hit, as well as the many other educational facilities, universities, and schools that were affected by the earthquake. The article depicts the negative impact that the earthquake has had on the current and future leaders and students of Haiti.
Update on Haiti's Education System after the Earthquake
This blog provides a quick update on the current education situation in Haiti from Bob Prouty, head of the Education for All: Fast Track Initiative Secretariat.  The situation is quite dire; many Ministry of Education officers were killed during the quake.
Haiti Education Foundation (HEF) Update
Founded in 1981, HEF began with one school and now reaches over 12, 040 students in over 34 elementary schools, 7 high schools, and a vocational school. The Haiti Education Foundation is a Christian education organization providing learning opportunities to Haitian children in Haiti. Many of HEF's schools were damaged during the earthquake, and the organization is currently organizing to rebuild their schools and fundraising to repair other schools where enough funds many not be available.
Haitian Education System 'totally collapsed'
This article by AsiaONE includes statistics as well as personal stories of those affected by the damage and destruction of schools by the earthquake.  The Minister of Education also shares his thoughts on the crisis.
Earthquake Update
H.E.L.P., which is Haiti's largest university scholarship program, is a non-profit organization promoting the best students in Haiti with scholarships and opportunities to excel in their individual fields. It too suffered greatly because of the earthquake. H.E.L.P. has set up a temporary headquarters and has found that many of the students whom they were providing scholarships for have been found in collapsed buildings.
Hope for Haiti
Founded in 1990, Hope for Haiti acknowledges that Haiti is one of the poorest countries, with an educational system sometimes categorized as a "failed education system."  Hope for Haiti is working to change this.  In the last four weeks, they have "delivered and distributed over $20 million in supplies to the affected areas," but have yet to comment regarding moving forward with education in light of the recent disaster.
-Submitted by  Kelly Thoma
US Global Development Policy:
Rajiv Shah, the new USAID Administrator, will testify at the upcoming House Foreign Affairs Committee hearing March 3, 2010– U.S. Policies and Programs for Global Development: USAID and the FY 2011 Budget Request.  Check this link after March 3rd for the webcast.
Can donors find a better way to deliver aid? The Center for Global Development is promoting a potential new way to disburse foreign assistance called Cash on Delivery Aid. COD Aid seeks to devise simple, results-based contracts that reward developing countries for making progress towards previously agreed goals—such as increased primary school completion rates, vaccination coverage, or access to clean water.  This would increase local ownership as developing country governments would come up with their own solutions and hire consultants of their choosing, rather than the current model where donors impose solutions and consultants from outside.
In response to questions triggered by the disaster in Haiti, a PBS program interviewed development experts on foreign aid effectiveness and strategies.  The program, "Making Foreign Aid Work," included interviews with William Easterly (author of White Man's Burden, NYU professor), David Beckmann (Bread for the World President), and Andrew Natsios (former USAID Administrator, Georgetown professor).  For extended interviews click here:
Andrew Natsios extended interview
William Easterly extended interview
David Beckmann extended interview
The President's 2011 budget request includes a fund for largely neglected health problems in developing countries. Ten countries have been named as priority recipients for support from this $200 million fund. These countries include: Bangladesh, Nepal, Kenya, Tanzania, Mali, Senegal, Benin, Malawi, Zambia, Ethiopia, Ghana, Guatemala and Honduras.
Other Development News:
After last week's coup in Niger it faces a potentially severe food crisis. The US suspended all non-humanitarian aid to Niger including the $23 million program focusing on girls' education and government corruption reduction.
One town is using the country's obsession with football (ie soccer) to promote girls' education.  In Ghana, only 79% of girls finish primary school and by the time they complete junior high school just 54% of girls are still in lessons, according to the lobby group the Ghana National Education Campaign Coalition.
UNICEF Seeks to Keep Kids Out of Haiti Orphanages. Marie de la Soudiere, coordinator of the separated-children program in Haiti for UNICEF– the U.N. Children's Fund– wants to make sure that folks like the 10 US missionaries don't get many more chances to try reckless engagement in "rescue efforts." The high-profile case of the 10 US missionaries who were arrested in Haiti for allegedly abducting children has raised an important issue regarding children in devastated areas such as Haiti. Subsequently, she recently initiated a campaign to register Haitian youths, who were among the world's most vulnerable to trafficking even before the quake. The Haiti list is also designed to prevent children from being placed into Haiti's muddled orphanages, many of which have long been sources of child trafficking.
"If you give a man a fish, he can eat for a day, but if you teach a man how to fish, he can eat for a lifetime" — Joshua Sperling, a volunteer with EWB-International
The US-founded Engineers Without Borders (EWB) has been a worldwide success in their mission of encouraging young engineers to become leaders in global development. The improvement of the living conditions of people in developing countries has been successful in developing new successful branches such as EWB-India, which has become a major volunteer organization attracting more and more students and organizations despite budget constraints. EWB-India hopes it can motivate its 1.5 million engineering students into helping solve global challenges.
Global Washington members who are involved in  Engineers Without Borders chapters:
Gonzaga University, Seattle Pacific University, Seattle University, University of Washington, Washington State University, Western Washington University.
CHINA & THE WORLD EXPO:

The World Expo in Shanghai is "the Olympic Games of economics, culture and technology"
China's Expo pavilion opens to the world
China welcomed international visitors as it marked the completion of the China pavilion for the 2010 World Expo in Shanghai.
Middle class protestors march over World Expo threat to Shanghai homes
Almost 1,000 people in Shanghai have marched furiously on Beijing to protest against being thrown out of their homes ahead of the World Expo.  
China warns Obama not to meet Dalai Lama
China has warned that ties with the US would be undermined if US President Barack Obama met the Dalai Lama.
MIDDLE-EAST:
USAID Unveils New Yemen Strategy
The U.S. Agency for International Development will now target youth employment, education, health care, decentralized governance, agriculture and support for marginalized groups under its new strategy for Yemen. The agency has launched its two new flagship programs for Yemen, which separately deal with community livelihoods and national governance.
Yemen Aid Efforts Suffer Funding Shortage
Lack of funding is hampering United Nations aid efforts for some 250,000 internally displaced Yemenis. The U.N. Refugee Agency has received only 3 percent of its USD35.6 million appeal, while the World Food Program already took a loan of USD4 million from its own resources to support its Yemen programs.
US Helps Create Jobs in Pakistan
The U.S. Agency for International Development is helping create employment opportunities in Pakistan, as it forged a memorandum of understanding with Motorola Pakistan, Sarhad University and Techaccess. The initiative, Daily Times reports, is expected to generate more than 100 job opportunities in the next four years.
HAITI:
World Bank Lauds Switzerland Effort to Return Haiti Stolen Assets
The World Bank has commended the efforts of Switzerland to return to Haiti millions of dollars worth of stolen assets held by the family of former dictator Jean-Claude Duvalier in Swiss banks. It said the money could be used for post-earthquake reconstruction projects and development programs.
Bill Clinton Vows to Speed Up Haiti Aid Delivery
Former U.S. President Bill Clinton has vowed to expedite aid delivery to quake victims in Haiti as the international community scrambled to provide food and shelter to an estimated 1 million people in need of relief in the devastated nation. On a visit to Port-au-Prince Feb. 6, the newly appointed international aid coordinator for Haiti also apologized for delays in bringing help to those in need.
AFRICA:
EAC, Microsoft Partner for East Africa Digital Development
The East African Community and Microsoft Corp. have inked a deal for the development of digital technology in East Africa, IT News Africa reports. Under the agreement, Microsoft will assist EAC in exploring how information and communication technology can help address the region's most pressing development challenges.
Starbucks Helps Fight AIDS in Africa
International coffee chain Starbucks launched its All-You-Need-is-Love campaign that seeks to mobilize funding for combating AIDS in Africa, according to Aid Watch. The coffee giant gives a portion of its sales to the Global Fund to Fight AIDS, Tuberculosis and Malaria.
Violence Deters Humanitarian Operations in Congo, UN Says
The United Nations has warned that armed attacks at refugee camps in Congo are interrupting humanitarian operations there, UPI reports. The attack, which killed three people, sought to recruit men to the Rwandan Hutu rebel group. There are about 1.3 million internally displaced people in Congo's conflict-ravaged Kivu provinces.
OTHER GLOBAL DEVELOPMENT NEWS:
New MCC chief Daniel Johannes discusses plans for 2010 in an interview with devex.
At least 55 countries have submitted climate mitigation plans, in compliance with the Copenhagen Accord.
23 of these are developing countries, including China, which said it would "endeavor to lower its CO2 emmissions per unit of GDP by 40 to 45 percent."
Senator Lugar in a speech to the Society for International Development,
discussed the need for a "unity of purpose," where the whole government works together on development outcomes.  This is an important step towards better coordination of U.S. foreign aid policy.
Drop in U.S. aid hits democracy efforts in Ukraine.
Declining U.S. financial support poses threats to Ukraine's fledgling democracy, The Washington Post reports. The drop in aid has prompted independent Ukrainian exit poll groups to decrease the number of districts they cover, leading to survey results that are at variance with other surveys. The decline, according to the newspaper, can be attributed to "Ukraine fatigue" or the increasing intolerance of the West with political infighting in the former Soviet republic.