Contents
---
Featured Policy News
The Farm Bill and Its Implications on International Food Aid Reform: Insights From Oxfam America's Jonathan Scanlon
By Holly Koch
On Feb. 7, President Obama signed the Agricultural Act of 2014, also known as the Farm Bill. While news coverage has been dominated by the law's impacts on domestic agriculture, there is a portion of the bill that has not received much attention: international food aid reform.
Oxfam America's Jonathan Scanlon of Seattle characterized the reforms as "modest but a good start" to fixing what Oxfam considers to be a very inefficient system. Scanlon described two main points of the reform: Local & Regional Food Aid Procurement (LRP) and Food Aid Monetization.

A feature in past Farm Bills, and largely still intact in the latest one, is when a natural disaster occurs abroad, the government must purchase food from American farmers and ship it on American vessels to wherever the disaster has occurred. While it may not appear circuitous, this system creates a barrier to millions whom are denied aid due to its inefficiencies. "Half of every dollar is lost to overhead in this system," said Scanlon.
According to Oxfam and American Jewish World Service's U.S. Food Aid Reform report, this is the equivalent of wasting "$491 million in U.S. tax dollars per year." In addition to the loss from the already meager food aid budget, the requirement to use U.S. transport often causes aid to be four to six months late arriving at a crisis. To address these shortcomings, reforms in the 2008 Farm Bill included funding for the USDA Local and Regional Food Aid Procurement Pilot Project, to which the 2014 Farm Bill provides $80 million for expansion. This changes the system drastically, as food aid can be bought locally in developing countries, thus reducing the cost of shipping and reducing the need to pay higher prices for food purchased from preferred U.S. growers. What this means for people on the ground: local economies will benefit from the purchase of local crops, aid will reach its destination up to 14 weeks sooner, and 1.8 million more people will receive life-saving aid for the same price. 1
Another aspect the reform addresses is Food Aid monetization, which this year's Farm Bill attempts to reduce. Monetization is the process in which the government buys crops from U.S. farmers, gives it to NGOs to sell in local developing markets, and allows the NGOs to use any profits to fund development projects of their choosing.
"Monetization undermines agricultural production in developing countries," according to Scanlon. When U.S. crops are sold in developing markets, local crops must compete, which "could drive food price inflation, pushing the costs of food beyond the reach of consumers." 2 In the process of spending money to buy commodities in order to sell them for ultimately less money, there is a loss in value, causing a reduction in potential aid. To put this into perspective, in 2010, approximately $300 million of food aid commodities was monetized, with an estimated $91 million of potential aid wasted.3This year's Farm Bill raises the cap on the percentage of cash aid from 13 percent to 20 percent, meaning "we can provide cash instead of commodities to fund projects," said Scanlon, who added that this is a valuable step in the direction of streamlining the U.S. aid program.
School Shootings and Mass Murder Continue Despite Global Promise of Cease-Fire
By Kelly Gibbs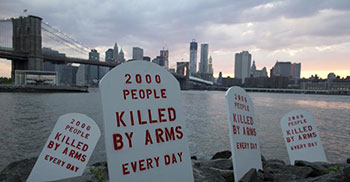 Gun violence in the U.S. continues to escalate, with roughly 12,000 gun deaths last year5 and school shootings dominating the news. Gun violence nationwide has also risen to new levels. This coupled with wars in South Sudan and Syria, and imported weapons contributing to violence, has exemplified the dire need for international legislation on weapons.
One major treaty that the UN has been steadfastly working on for the last ten years is the Arms Trade Treaty (ATT). While over 100 countries signed the treaty last year, it will not go into effect until at least 50 countries have ratified it. The UN and members of the European Parliament have said they're hopeful that more countries will join in ratification and show leadership and promotion of peace in the face of the global arms trade1. The UN's Office for Disarmament Affairs says the ATT is aimed at "foster[ing] peace and security by putting a stop to destabilizing arms flows to conflict regions. It will prevent human rights abusers and violators of the law of war from being supplied with arms. And it will help keep warlords, pirates, and gangs from acquiring these deadly tools."3

Shockingly, only nine countries have agreed to ratify the ATT. While the U.S. has signed the treaty, they have not committed to ratifying; and there is paradox in the U.S. administration in trying to support an international treaty for safe arms trade when it can't even agree on weapon use inside its own borders. With the failure to pass U.S. gun laws last April4 , the government has shown they aren't able to compromise at home. What does this mean for the chances of compromising on a global scale?
Despite U.S. weapon sales reaching $69 billion in 20126, and half of that due to corrupt global arms sales, the Obama administration has wavered in its support of the ATT. A number of Congress members are pushing back, as well, claiming the ATT is too non-specific and doesn't support the protection of individual freedoms. As it stands currently2, Congress maintains no support for the U.S. ratifying the ATT.
Depending on whether or not Congress plans on doing more than just putting an empty signature on the ATT and making gun violence a priority, there may be promise for the future of U.S. arms discussions, as well as a global discussion on the reality of violence. For more information on the Arms Trade Treaty, click here.
Education News
Children in Developing Countries Getting a Taste for Technology
By Kelly Gibbs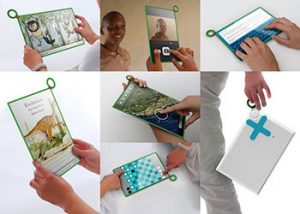 Technology continues to have a profound effect on global education, with a number of exciting recent developments. With the World Bank Group launching "SABER" (Systems Approach for Better Education Results), and Yves Behar creating the XO tablet for children, 2014 is gearing up to be a year that we can make leaps and bounds for children in developing countries when it comes to education.
SABER helps countries collect and analyze information about their education policies, benchmark themselves against other countries, and prioritize areas for reform. It promises to fill three major informational gaps within global education as a sector: Providing new data on policies and institutions; benchmarking education policies and institutions; and highlighting key policy choices1. In doing this, SABER hopes to track the effectiveness of new educational policies and technologies, and then highlight the best strategies for solving education problems worldwide. So far, several countries including Australia, Japan, Russia, and the UK, as well as the Korean Ministry of Education, have endorsed the initiative.
Children living in developing countries will also get a taste of the technology that has run rampant in the U.S., namely tablet devices. Technology designer Yves Behar's XO tablet is a 10-inch iPad-like device with a main screen that is organized by topics or "dreams" instead of apps. Powered by Android and featuring the XO-Learning System, it boasts over 12 hours of battery life and is the only Google-certified and multilingual tablet designed especially for kids. The XO Tablet was designed to be easy to use across cultures and countries, which is part of the project's mission – to provide all children with easy access to education through technology2. The device will sell for as low as $199 and is currently being prepared to showcase throughout developing countries.
With all the exciting technological developments in global education, the UN and organizers of the annual Global Education Conference (GlobalEdCon) are hosting all sorts of events to discuss the topic. In January, the UN's "Global Education First Initiative" was featured at the World Economic Forum Annual Meeting of 2014 to discuss how "profound political, economic, social and, above all, technological forces are transforming our lives, communities and institutions"3, with the aim of creating responses to challenges that arise from growing technological networking, especially in the realm of global education. Similarly, GlobalEdCon hosts an ongoing virtual conversation called "Global Media Literacy" and is hosting the Global Summit on Childhood in Vancouver, BC this April.
With 2014 promising to be a great year for education technology in developing countries, the possibility of advanced learning for children worldwide is exciting. Young people everywhere will find new ways to connect. Hold on tight!
Highlighted Legislation
H.R.2283/S.1249: The Human Trafficking Prioritization Act
By Holly Koch
Introduced in June 2013, and sponsored by Representative Christopher Smith (R-NJ) and Senator Richard Blumenthal (D-CT), the Human Trafficking Prioritization Act seeks to change the Office to Monitor and Combat Trafficking in Persons into a Bureau. In doing so, the Bureau would be led by an Assistant Secretary, rather than an Ambassador-at-Large, providing direct access to the Secretary of State, meaning greater resources and fewer ancillary steps to meaningful authority.
The TIP Office is responsible for engaging foreign governments in the fight against human trafficking, as well as providing grants to NGOs that support the cause. According to the Global Slavery Index 2013, there are 29.8 million victims of modern-day slavery, with as many as 63,000 victims in the United States alone. While the TIP Office is doing respectable work, there is clearly a need for more resources in order to make a greater impact on the reduction of human trafficking.
The evolution of technology has been both a life saving tool, as well as a weapon of the depraved. As technology has progressed, so too has the ingenuity of the perpetrators of human trafficking. While the immense amount of pornography on the Internet is common knowledge, the online sex industry does not stop at adult films. According to the Polaris Project, "The Internet has been identified as the number one platform that pimps, traffickers and johns currently use for buying and selling women and children for sex in the United States." To make matters worse, Andrey Sawchenko of the International Justice Mission explained, "The private nature of the technology allows the crime to take place in a venue that law enforcement can't easily access."
As human trafficking becomes more and more complex, we need to continuously adapt in our efforts to fight the issue. Because much of the decision-making in Congress is in response to demands of constituents, the fate of trafficking victims is dangerously tied to a largely uninformed voter base. Secretary of State John Kerry said, "It's no understatement to say that we are working to tackle an issue that millions of people assumed had been dealt with a long time ago." The 63,000 men, women, and children in the U.S., as well as the 29 million other victims of trafficking around the world, deserve the most efficient and well-equipped force the United States can offer. The Sex Trafficking Prioritization Act is a step in the right direction to addressing and eradicating modern-day slavery.
To ask Congress to pass the Sex Trafficking Prioritization Act, click here.
New legislation & Major Action
H.R. 2642 Federal Agriculture Reform and Risk Management Act of 2013 (Farm Bill)
This controversial legislation imposes new policy on a range of important topics such as U.S. agriculture subsidies, food stamp funding, and animal rights.
Follow the link above to read the full bill on our newly updated 2014 Legislative Index.
---
S.Res. 340: A resolution expressing the sense of the Senate that all necessary measures should be taken to protect children in the United States from human trafficking, especially during the upcoming Super Bowl, an event around which many children are trafficked for sex  
A much needed resolution Congress agreed to on the heels of Seattle's Super Bowl victory on Feb. 2.
Follow the link above to read the full bill on our newly updated 2014 Legislative Index.
---
H.Res. 473: Expressing support for designation of February 4 as National Cancer Prevention Day 
A resolution acknowledging the impact cancer is having in the U.S. and around the world, with close to 1.7 million new cases expected to be diagnosed by the end of 2014.
Follow the link above to read the full bill on our newly updated 2014 Legislative Index.
---
S. 1410: Smarter Sentencing Act of 2013
A bill aimed at focusing limited Federal resources on the most serious offenders.  One example is reducing sentences for simple drug offenses.
Follow the link above to read the full bill on our newly updated 2014 Legislative Index.
Contributors: Kelly Gibbs, Holly Koch