Contents
---
GlobalWA news
GlobalWA urges congress to support strong funding for international development
President Obama unveiled his budget FY2014 last week, totaling $52 billion in foreign assistance and support funding, a $2.4 billion decrease from fiscal 2012. The budget requests $1.65 billion to the Global Fund to Fight HIV/AIDS, tuberculosis and malaria, as well as bilateral funding for Feed the Future programs. Read a deeper analysis if the budget here.
GlobalWA will be asking all member organizations to sign onto a letter calling on Congress to support a strong international affairs budget in fiscal year 2014. We urge congress to support strong funding for vital programs. We believe that global development and international affairs spending helps all of the world's citizens lead healthy, sustainable, and productive lives that will have both economic and social benefits in all nations, including the US. In addition, the humanitarian aid and development sector is growing; many universities have started new master's degree programs in development practice and currently this sector is responsible for employing hundreds of thousands of Americans who act as ambassadors to the millions suffering from political conflict and extreme poverty around the globe.
Advocating for everyone: The Education For All Act
By Eaden Andu
To mark the importance of Global Action Week 2013 and the Education for All Act (EFA 2013) bill waiting to be reauthorized into law, we at Global Washington want to emphasize the importance of investing in education and supporting our youth to get a cost effective education.
Global Action Week is an annual event highlighting the importance and urgency of investing in children and their education. It is organized by the Global Campaign for Education (GCE). Different countries host a number of events within schools and communities to discuss their progress and convene to urge their politicians and community leaders to participate. Global Action week helps raise awareness around the world that over 200 million children do not have access to education and advocates for education for all and pushes for political will and accountability.
This campaign also highlights the importance and understanding the critical need to reauthorize the Education for All Act and making it a political priority because it is a long term investment to revitalize our economy. The bill insures that the US policy supports international efforts to support education for all children as a basic right. The policy includes promoting education as a foundation for community development and helping NGOs realize this goal through financial and technical support.
Featured policy news
One World Now! Fostering global leaders across Washington State
By Sara Veltkamp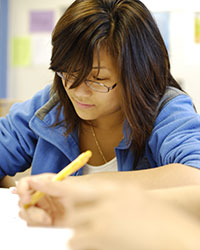 In 2012, Global Washington launched its Global Education Initiative, which was designed to encourage programs that foster global citizenship. One World Now!, a member organization making a significant contribution to global education in Washington State, embodies many of the best practices put forth by the Initiative.
High School study abroad programs, like OWN, have been proven to create awareness of global issues and lead to more globally sensitive thought and action. In addition, students who study abroad in high school are more likely to attend college and continue studying foreign languages. These programs also allow students opportunities to engage with a world most Americans never see. Kristin Hayden, OWN's Founder and Executive Director, personally witnessed the beginnings of the fall of apartheid in South Africa at a young age while spending a year abroad as a Rotary exchange student. This and other experiences enhanced her global, cross-cultural perspective from a young age, and motivated this social entrepreneur to start OWN and foster global citizenship among US high school students.
OWN accomplishes this goal by leading an integrative after school program in public schools which expand opportunities for high school students by providing 1-2 years of leadership training and Arabic or Chinese language instruction, culminating in a travel abroad experience. Furthermore, the majority of the participants are underserved students, often from low income families or families of color. Despite the many success stories this program has in its support and the countless benefits that global travel offers to open minds and encourage further engagement with the world, Hayden claims that 10 years after OWN's creation people still think of study abroad as a luxury experience.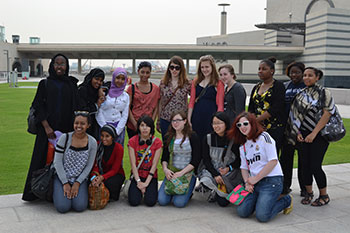 One of many success stories of OWN's program is that of nineteen year-old Nejat Kedir, a former OWN student currently attending UW Bothell. A soft-spoken young woman of Ethiopian descent, she attended school at Skyline High School in Sammamish and was one of only a few Muslim students. Kedir immediately began putting her leadership training to action by speaking up against Islamophobic sentiments in her community and forming an interfaith discussion where she and her peers could address the misconceptions that lead to discriminating attitudes. After graduating high school, Kedir became an OWN leadership co-facilitator; when the position opened up, she successfully advocated for herself, despite her young age.
According to Hayden, this is exactly the initiative and competence that global education encourages and the results that public school educators are searching for from public education, particularly among underserved minority and low-income students. And yet, this type of integrated approach to global education is still far from being accepted as an integral part of regular instruction during the school day.
Global Washington's Global Education Initiative, drawing on local interviews and research in the field, demonstrates just how vital global education is in producing a competitive workforce in today's economy. Hayden hopes that someday the need for OWN's program in this state dwindles as public schools incorporate the model during the school day—but for now, she continues to work with underserved students in leadership and critical language to prepare students for engagement in an increasingly global world. She hopes educators and legislators are paying attention to the results.
Global education roundup
By Rana Amini
Every month our newsletter will bring to you some examples of best practices, curriculums and resources that help advance and support the field of global education.
1. K-12 Global Education Outreach Program
http://www.depts.ttu.edu/dpe/k12/home.asp
The K-12 Global Education Outreach program at the International Cultural Center (ICC) of Texas Tech University provides a curriculum of learning experiences incorporating international interdisciplinary educational experiences using the arts, social studies, math, and English/language arts to enhance the required curriculum available to Kindergarten-12th grade students in public and private schools and home-schooled classes throughout the South Plains
2. The Centre for Global Education
The Centre for Global Education is an international research and resource center that provides support for international learning at colleges and universities, providing support for faculty, staff, students and parents with information and resources about a variety of issues including integrated international learning, health, safety, diversity, and the impact of study abroad on student retention and success.
3. iEARN – USA (International Education and Resource Network)
iEARN is a non-profit organization made up of over 30,000 schools and youth organizations in more than 130 countries. iEARN empowers teachers and young people to work together online using the Internet and other new communications technologies. Over 2,000,000 students each day are engaged in collaborative project work worldwide.
4. Council for Global Education
CGE is a vision-based organization that encourages and facilitates networking opportunities and ongoing dialogues on the redefining of education with new goals for a new century. It encourages and promotes seminars and discussions that motivate policy-makers, parents and teachers to respond in new ways to the education of the child. CGE creates platforms for these dialogues that lead to meaningful actions through its annual conferences and training programs for parents, educators and policy-makers.
5. The Louis August Jonas Foundation
The mission of the Louis August Jonas Foundation is to develop in promising young people from diverse backgrounds lifelong commitment to sensitive and responsible leadership for the betterment of their communities and the world.
Update from Facing the Future
Hot off the presses in April 2013 is nonprofit Facing the Future's innovative interdisciplinary 24-chapter high school/adult resource, Exploring Global Issues: Social, Economic and Environmental Interconnections. You can preview and download free student and teacher chapters on FOOD.
In each chapter, students engage in applying systems thinking, critical thinking, communication and other 21st Century Skills on topics such as water, food, energy, governance, human rights, community development and taking action via deep non-fiction readings, case studies, youth stories, career profiles, and values exploration. The digital teacher's guide provides essential questions, sequence suggestions, standards alignments, lesson plans with rubrics and multiple assessments and extension activities.  Save 50% Now! Full-color 480-page student text plus CD teacher's guide only $49.95.
Since 1995 nonprofit Facing The Future has respected and served educators in K12, college and teacher preparation across 50 states and in 130 countries.
New legislation & major action
H.R.1692 – To require the development of a comprehensive strategy to end serious human rights violations in Sudan, to create incentives for governments and persons to end support of and assistance to the Government of Sudan, to reinvigorate genuinely comprehensive peace efforts in Sudan, and for other purposes.
Introduced 4/24/2013 by Rep. James P. McGovern. 29 cosponsors. Referred to the Committee on Foreign Affairs, and in addition to the Committees on Financial Services, Oversight and Government Reform, and the Judiciary, for a period to be subsequently determined by the Speaker, in each case for consideration of such provisions as fall within the jurisdiction of the committee concerned.
http://hdl.loc.gov/loc.uscongress/legislation.113hr1692
---
H.R.1749 – To measure the progress of recovery and development efforts in Haiti following the earthquake of January 12, 2010, and for other purposes. 
Introduced 4/25/2013 by Rep Barbara Lee. 24 cosponsors. Referred to the House Committee on Foreign Affairs.
http://hdl.loc.gov/loc.uscongress/legislation.113hr1749
---
H.R.1768 – To amend the Diplomatic Security Act to require certain notifications to Congress of Accountability Review Boards of the Department of State, avoid conflicts of interest of the members of such Boards, require actions with respect to reports from such Boards, and for other purposes. 
Introduced 4/26/2013 by Rep. Edward R. Royce.  16 cosponsors. Referred to the House Committee on Foreign Affairs.
http://hdl.loc.gov/loc.uscongress/legislation.113hr1768
Contributors: Rana Amini, Eaden Andu, Anna Jensen-Clem, Winona Rennick, Sara Veltkamp