Welcome to the January 2012 issue of the Global Washington newsletter. If you would like to contact us directly, please email us.

IN THIS ISSUE
Note from our Executive Director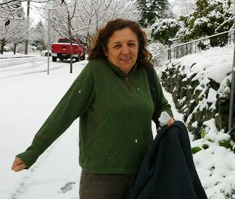 Happy Lunar New Year!
I hope you are staying warm during the cold weather and have had a restful winter so far!  At Global Washington, we have had some time to reflect on our past year's accomplishments and are excitedly planning our programming for 2012.
Last year was a big year for us! We hosted our 3rd Annual Conference, held a Summit on Global Education, and promoted Washington's development sector through a widespread media campaign that reached over 1 million people. We plan to repeat our success with these activities in the upcoming year, and also add a variety of new programming and resources that we hope you will enjoy.
We are continually looking for ways to make Global Washington membership more valuable to you. Our newest member resource is a giving platform on our website, developed in partnership with Jolkona. Global Washington member organizations can post projects in an interactive format and connect with donors. If you are an individual looking for a worthwhile project to contribute to, or an organization hoping to reach a new audience with your message, we hope you will take some time to familiarize yourself with this resource. It can be found at http://globalwa.jolkona.org/projects/
You have probably already heard about our Careers in Global Development Center, launched last year. If you are looking for meaningful employment in 2012, I would encourage you again take a look at this resource. It is a platform for not only job postings, but also volunteer, internship, and board member opportunities.
Watch for new web resources this year, as well as events to help strengthen members and connect them to each other! We value your work and partnership and look forward to a wonderful year!
In unity,

Bookda Gheisar, Executive Director
Featured Organization: Mercy Corps And Google Partnership Tackles Youth Unemployment In Palestine Through The Arab Developer Network Initiative
Interview With Andy Dwonch From Mercy Corps, December 2011
NOTE: Both Andy Dwonch from Mercy Corps and Gisel Kordestani from Google, the co-architects of ADNI, will be speaking at an event sponsored by Mercy Corps on February 2nd. Details may be found here: http://www.brownpapertickets.com/event/218608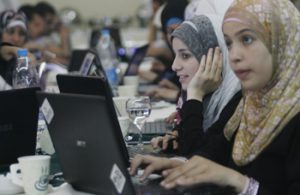 In Gaza, 53% of youth, aged between 15 and 29, are struggling to find a job.  With 41% of the Palestinian population under 15, unemployment is a growing cause for concern. Through the implementation of a new program, the Arab Developer Initiative (ADNI), Mercy Corps and Google hope to create hundreds of jobs in the local IT industry in the next two years.
This recent partnership aims to stimulate the tech entrepreneurial community in the West Bank and Gaza as a way to generate employment and income for young people. "Movement restrictions and import/export limitations stifle the new generation from gaining employment in traditional industries," said Andy Dwonch, Director of Social Innovation at Mercy Corps. "Meanwhile, the population is highly educated, tech-savvy, and interested in what is going on in the rest of the world. We believe they can be an effective engine for creating valuable, locally relevant, online content including web and mobile applications for regional and even global consumers."
Origin of the Partnership
Mercy Corps has been working in Palestine since the mid-1980s, providing humanitarian relief to families in need, short-term cash-for-work income, and psychosocial support to thousands of children. In addition, Mercy Corps has been running an extensive youth leadership program, and in the last four years started to bolster the information and communication technology (ICT) industry in order to create more economic opportunities for youth.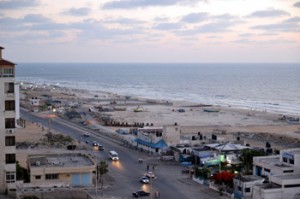 The youth leadership program in Gaza, iYouth, connects young people with their peers across the Middle East, Africa, Asia, the U.S. and Europe through a larger Mercy Corps network, The Global Citizen Corps. These networks of tech-savvy young people have made it easier to organize training events around the ICT sector.  In addition, Mercy Corps' efforts to help facilitate Palestinian IT outsourcing provided the initial foundation for conversations with Google on how best to create new jobs and generate income for young people through this sector.
One of the driving forces behind ADNI is a very real market gap in the developing world. "In my initial conversations with Google, I often heard them cite the statistic that 5% of Internet users are native Arabic speakers, whereas less than 1% of the content online is in Arabic," said Dwonch. In addition, across the rest of the developing world, there is a general lack of local language and location based content1 "This market gap needs to be filled by somebody, and who better than the vast numbers of unemployed and well-educated youth living in this region," said Dwonch.
The number of people seeking local content online through their phones is increasing in Western countries, but access to this type of information – from emergency care services to local business offerings – is still missing in much of the developing world. "There is an opportunity for many people to start generating and curating this kind of content," said Dwonch. "This is where we can help put people to work."
The intersection between Google's long-term interest in seeing more local content created in the developing world, combined with Mercy Corps' desire to provide better avenues for access to information and to create employment opportunities for youth, helped solidify a vision for this partnership.
About the Arab Developer Network Initiative (ADNI)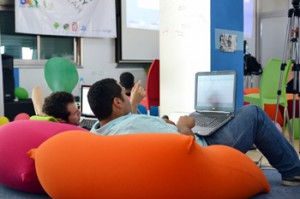 Mercy Corps obtained a two-year grant agreement from Google.org, matched by funds from the Source of Hope Foundation, to launch ADNI. The initiative provides young software developers and would-be entrepreneurs with an orientation toward market opportunities in the technology sector, by bringing together computer engineers, business people from Google and other multi-national companies to host trainings, share technology and business know-how, and help accelerate new ideas. In addition, seed funding will be made available to the most promising new start-ups in the region, as well as mentors and additional training, as needed.
To make this unique alliance work, Mercy Corps and Google have defined distinct roles and responsibilities. In a nutshell, Google provides technical expertise and mentoring support, while Mercy Corps takes on the role of project manager — facilitating the ongoing program, negotiating relationships between stakeholders, and securing commitments from additional companies, donors and social investors who want to be involved.
In addition, Mercy Corps, Google and other private investors are in the process of establishing a seed fund, capitalized initially at $500,000, to support some of the most promising startup companies to come out of this effort. Initial seed stage equity investments likely will be in the range of $10,000 to $20,000. Mercy Corps hopes to attract additional investors to double the size of the fund in order to reach more startups, as well as to make second round investments.
Through the current phase of ADNI, Mercy Corps expects to train 5,000 people and help launch 10 to 15 companies a year during the first two years. Over five years, Mercy Corps estimates that thousands of jobs could be created through this initiative. Moreover, the IT sector looks particularly promising for female candidates. Since the beginning of the program, women have made up roughly 30% to 40% of participants. During the last Startup Weekend event held in December, one-third of the participants were women, twice the global average for these events.
Challenges ahead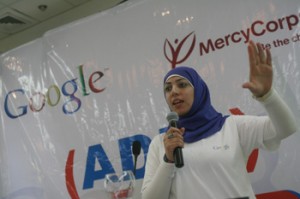 Although a promising program, all of the pieces need to come together in the right way in order for ADNI to be successful. "In developing countries, people who have access to the Internet are looking at international sites, but they're not necessarily thinking about using their phones to look for information about their local market," says Dwonch. "Once better local content is available, that will start to change, but it may take time to reach a critical mass."
Thanks to new technologies, market opportunities, and access to financial and mentoring support, youth from Palestine will have a chance to bring their ambitious IT projects to life.  "I have a lot of faith in the level of innovation in Palestine," says Dwonch." There's a huge potential market out there and these young people deserve a chance to make a dent in it."
By Sandrine Espie
---
1 "Local content" is defined here as any type of data, including written text, imagery, video, charts etc. that has been created for a specific geographic audience e.g. maps, on line bank, reviews on services etc.
Changemaker: Rashmir Balasubramaniam
Bringing Joy and Unleashing Potential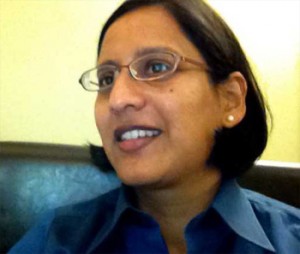 Rashmir Balasubramaniam's office is simply a table of repurposed construction materials and a white board with so many mind maps, lines, and arrows that it resembles the first layer of a Jackson Pollock painting. Two people in this world can make sense of this white-board art: Rashmir and her assistant Ryan Ceurvorst.  Working in the labyrinthine office space that is the Hub Seattle, a dedicated coworking and events center for social entrepreneurs, Rashmir is surrounded by creative energy. She is fluent in the language of connection and can take any number of seemingly disparate concepts and weave them into ideas that make light bulbs pop up above the people around her.
Rashmir is the CEO and Founder of Nsansa (en-SUHN-sah), a new type of consulting firm that works with individuals, organizations and groups to unleash creative, entrepreneurial and servant leadership potential. In essence, they help mission-driven people and organizations bridge the gap between where they are and where they want to be, and do so joyfully. Nsansa, in fact, means 'joy' in Bemba, one of the major African languages of Zambia.
Nsansa is also the name of the elementary school Rashmir attended in Ndola, Zambia, before moving to a Scottish boarding school.  It was at this elementary school of Zambian, Indian, Sri Lankan, and British students that Rashmir first built her skills as peacemaker and reconciler. She was the one who could see across her classmates' cultural divides and get them back to the important job of playing. Here too, and from her parents, she learned the importance of empathy, seeing other perspectives, and the joy of service.
With ties to Zambia, Sri Lanka, Scotland and England, Rashmir is a true third-culture person—defined by sociologist David C. Pollock as one who "has spent a significant part of [their] developmental years outside the parents' culture…[who] builds relationships to all of the cultures, while not having full ownership in any." Merging with that are her equally layered education and career experiences. She studied mathematics, computer science, global development and business. Her resume lists a number of well-known employers, including Ernst and Young, Planned Parenthood, and World Bank. She more recently worked at the Bill & Melinda Gates Foundation on finance, strategy, organizational development, program development/management, and collaboration. Her experience spans a multitude of issues, including investment banking, education, agriculture, malaria, reproductive health, water, sanitation and hygiene. She is an eclectic map of complimentary and contradictory experiences that merge into one dynamic entrepreneur. Her strengths lie in quickly understanding and translating various perspectives to find commonalities and opportunities for innovation and value creation.
She also has the keen ability to see trends in both the public and private sectors, identify what they can learn from one another, and strategize how they can work together.  Unsurprisingly, much of her current work is focused on market-based solutions, cross-sector collaboration for social change, and social entrepreneurship.
She sees (and has experienced) how organizational structures limit potential and creative thinking.  Frustrated by these restrictions, she decided to do something about it—not just for organizations, but for individuals, herself included. "I felt stuck. I had lost touch with what inspired me, what sparked my curiosity, and what gave me joy" Rashmir recalls, describing what prompted her to seek a coach to help her find her authentic path. "The power of [working with a coach] has been phenomenal," Rashmir explains. "I've learned to be true to who I am instead of what others wanted me to be."
Rashmir started connecting the dots between her vast experiences and her interest in coaching. She started teaching classes entitled "Harnessing Business and Markets to Address Poverty" and "Social Justice & Business" at both UW Foster School of Business and Bainbridge Graduate Institute. Wanting "to be an entrepreneur again and creative again," she left the coveted halls of the Gates Foundation, set up shop at the Hub Seattle, and founded Nsansa.
"We can get so serious in the global development world that sometimes it can be counterproductive," she explains. Asking organizations to shake off traditional structures and play more could ruffle feathers. However, as Rashmir points out, we need to welcome and sit with the complexities of our work, the systems at play, and the individual motivations and belief systems we encounter, rather than protect ourselves with assumptions and silos that only serve to entrench us.  She her healthier approach promotes risk-taking, and even failing, as a strategy to build knowledge and strength.  Organizations that work with her are treated to a form of coaching that encourages experimenting, playing, and trying new perspectives to unleash the capacity and the talents of their staff. "It is a privilege and a delight to play a part in unleashing potential."
Concurrently, Rashmir is investing in her own creativity. Pottery classes, poetry, dance, and walks on the beach – all provide her a place to tap into the playfulness she remembers as a child. But, these are not the activities that bring Rashmir into a state of 'flow', that mental state of energized, joyful focus, coined by Mihály Csíkszentmihályi.  Instead, and not surprising, Rashmir gets into the flow while creating and while connecting people to ideas and while collaborating and coaching.
She finds Seattle the ideal location or a venture like Nsansa.  "There's something interesting going on in this region," Rashmir observes.  "Everyone is understated here, yet there's so much going on, so many people with cutting-edge ideas. New organizations and movements are bubbling up here and across the world."  Rashmir cites recent developments in the social and environmental arenas; the growing global health community; exciting technology ventures; thought leaders defining a new economy; and initiatives on happiness, compassion and the unleashing of human potential.  "We are living in such an interesting and transformative age. People have a yearning for meaning, a yearning for lightness."
Hanging on the exposed brick wall next to the Pollocked white board is a copy of a Howard Thurman quote that speaks to this search for meaning and that guides Rashmir and her work with Nsansa: " Don't' ask what the world needs. Ask what makes you come alive and go do it. Because what the world needs is people who have come alive."  Dynamic, joyful, and contagiously optimistic, Rashmir Balasubramaniam has most certainly come alive, and she is waking up many more slumbering souls.
By Carolyn Hubbard
Welcome New Members
Please welcome our newest Global Washington members. Take a moment to familiarize yourself with their work and think of opportunities for support and collaboration!
SonoSite
SonoSite is dedicated to bringing high quality ultrasound to patients who would otherwise not have access to this technology due to social conditions, remote location, or poverty. Through our SoundCaring program, we make our innovative ultrasound systems available to nonprofit healthcare providers in challenging environments around the world. www.sonosite.org
Akeso Associates
Akeso's focus is to assist countries in low resource settings to build sustainable systems for improved health and overall development. http://www.akesoassociates.com/
Announcements
Path, Landesa, and Mercy Corps listed among world's top NGOs
Several Global Washington members have been named among the world's Top 100 NGOs according to a recent list by The Global Journal. PATH was #6 on the list, Mercy Corps, #11 and Landesa, #34. This listing shows that the world is taking notice of some of the excellent global development work coming out of Washington State. Congratulations to these organizations!
---

Lumana Acquires New Portfolio And Expands Program
This month, Lumana expanded its operations by acquiring the microfinance portfolio of The Village Net (TVN), a Seattle-based organization with a women's empowerment program in Ofankor, Ghana. TVN approached Lumana about a potential partnership last year. After carefully considering of TVN's staff, mission, and potential, Lumana's Board of Directors approved the acquisition. This partnership marks an important expansion for Lumana into a new geographic region of Ghana. It also increases Lumana's total portfolio to $122,500 and its number of clients to 526. For more information, visit http://www.lumana.org/whats-new
---

Barbara Spraker Of Antioch University Receives Grant To Develop Global Women's Leadership
The C. Charles Jackson Foundation recently awarded a $10,000 grant to Barbara Spraker, associate faculty in the Center for Creative Change at Antioch University. The grant will fund a project collecting information from women's conversations in six countries. Antioch students will help design and facilitate a women's leadership conference in 2013. The results of the conversations and conference will be published in a workbook called Developing Women's Leadership: A Capacity Building Guide. 
Spraker is a known expert on women's leadership in a global context. More information can be found at her website: www.womenleadingtheway.com.
---

Mercy Corps Presents "Arab Tech Emerging" In February
On February 2nd, business development experts form Google, Startup Weekend, and Mercy Corps will lead a talk on "Arab Tech Emerging – Enabling the Next Generation of Innovators." Mercy Corps recently launched the Arab Developer Network Initiative in Gaza and the West Bank, in partnership with Google and The Source of Hope Foundation. Arab Tech Emerging will explore this new program and discuss the challenges facing the Middle East and current opportunities utilized by this technology program.
When: Thursday, February 2nd.
Reception 6pm  |  Program: 6:30-8pm
Location: 415 Westlake Ave N in Seattle.
Price: $10
Drinks and hors d'oeuvres will be provided.
For more information or to register, visit: http://www.brownpapertickets.com/event/218608?ak_proof=1&source=E720
---

Landesa Hosts Seed The Change Luncheon On March 9
On Friday, March 9th, Landesa will host its 6th annual Seed the Change Luncheon at the Seattle Sheraton Hotel. The keynote speaker will be Sidney Rittenberg, Author of The Man Who Stayed Behind.  Registration and social hour begins at 1:00pm and the program starts at 2:00pm. It is free to attend and guests will have the opportunity to give to Landesa during the program. To register, RSVP to your table host or register online. If you are interested in hosting a table, contact Hilary Anderson at hilarya@landesa.org
---

Internship And Volunteer Opportunities With The Mangrove Action Project
If you care about the environmental, social, and health impacts of our food systems, then consider volunteering or interning with the Mangrove Action Project. MAP seeks interns and volunteers with excellent writing and verbal skills, the ability to multi-task, and an interest in food issues and sustainability. College credit may be available for students.
Projects may include: developing outreach and education materials; planning and implementing events; translating from Spanish and Portuguese; creating and maintaining web-based content, including for MAP's website, blog, newsletter, etc; knowledge of Plone CMS a plus; researching and writing about local and international issues related to seafood consumption and mangrove ecosystems; and other options available depending on skills and mutual interests.
How to Apply
Please complete the Application Form (to be found at http://mangroveactionproject.org/get-involved/volunteer/U.S.-based-opportunities) and send your resume to volunteer@mangroveactionproject.org.
---

Atlas Corps Seeking Host Organizations For 2012 Fellowships
Atlas Corps brings nonprofit leaders from all over the world to work at organizations in the United States for 12-18 months. Fellows are highly skilled, experienced, and college-educated. Atlas Corps covers logistics and host organizations pay 75% of the expenses associated with the fellowship.  This is a great opportunity to have a quality professional to add diversity and experience to your team. For more information, contact partners@atlascorps.org.
---

Julia Bolz Receives Global Citizen Of The Year Award
Julia Bolz, Founder of Ayni Education International, has been chosen as the 2011 recipient of the Seattle World Affairs Council's Global Citizen Award for her work providing educational opportunities to girls in Afghanistan. The award will be presented by President Jimmy Carter at the World Affairs Council's 60th anniversary celebration on Tuesday, January 31st at the Paramount Theater in Seattle. For more information or to purchase tickets, visit http://www.world-affairs.org/events-president-jimmy-carter. Congratulations Julia!
---
Anyone interested in global health will love this new blog from PATH featuring stories and information about the work PATH is doing around the world. Be sure to bookmark http://www.path.org/blog/ to stay up-to-date!
---

Business Leadership Expert Is First Speaker In 2012 Author Series
Global Visionaries, in partnership with Seattle University, is hosting leadership expert and author Amy Lyman in February. This is the first event in a Global Visionaries and Seattle University 2012 Author Series. Lyman is the co-founder of the Great Place to Work Institute, which creates Fortune's annual "Best Companies to Work For" list. She will be discussing and answering questions about her new book, The Trustworthy Leader, at Seattle University on February 22nd.  Admission is free. To learn more or reserve your spot, visit: http://www.brownpapertickets.com/event/218390
---

Take Our Global Education Survey And Receive A Chance To Win A $50 Gift Certificate!
The Global Education Initiative needs your feedback! We want to hear what teachers, leaders and community members in Washington State think about global education. Your quick input will be added into the final paper that presents future recommendations for the State of Washington.  Survey respondents will be entered to win a chance to win a $50 REI gift certificate, $10 iTunes gift certificates or ExOfficio merchandise. Click here to begin the survey.  Thank you for your help!
Events
Tuesday, January 31
mHealth and Global HIV/AIDS Control: What Works And Where Is It Going?
Thursday, February 2
Arab Tech Emerging — Enabling the Next Generation of Innovators
Wednesday, February 22
Leadership Expert Amy Lyman Discusses The Trustworthy Leader
Thursday, February 23
World Café: Exploring our connections to Vietnam and one another
Wednesday, February 29
i4 2012 – iLEAP's annual fundraising event
Friday, March 9
Landesa's Seed the Change Luncheon
Contributors: Megan Boucher, Bookda Gheisar, Carolyn Hubbard, Sandrine Espie